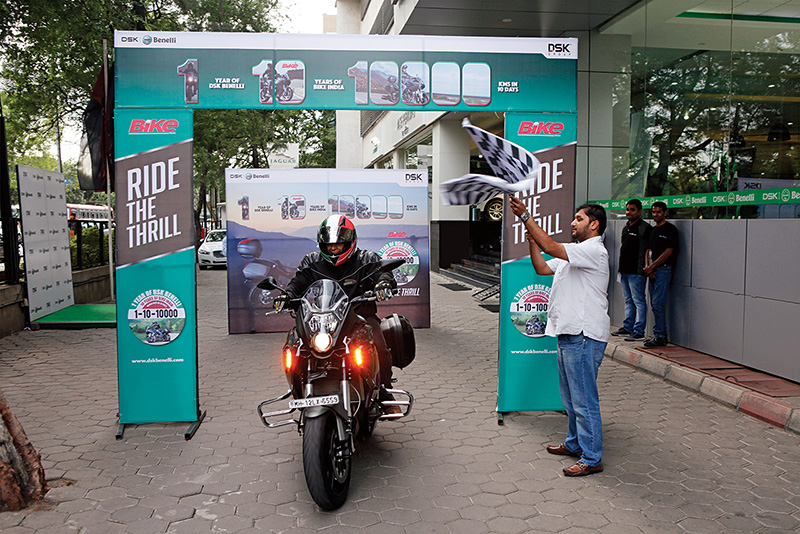 Paying tribute to a decade in print, the Bike India team undertook a massive challenge and overcame all obstacles to celebrate 10 glorious years by traversing 10,000 kilometres in 10 days
Story: Team Bike India
Photography: Sanjay Raikar

Endurance means pushing yourself to the limit to achieve something great. For us motorcycle journos, however, endurance often includes two wheels and since we are celebrating our 10 years of existence, we decided to challenge ourselves to an amazing and epic endurance ride. The Bike India team was to cover 10,000 km in 10 days, a run that an average rider takes longer than a year to cover. We did that in just 10 days. And our partners for the ride were Italian big bike makers, Benelli. The good folk at DSK Benelli were as enthusiastic about the idea as the company was also completing its first year in India and wanted to celebrate it in a big way. And what better way than an endurance challenge like this one? Since this was going to be an endurance challenge, DSK Benelli and Bike India reached an agreement that the Benelli TnT 600GT would be the ideal bike. DSK Benelli commissioned a brand-new TnT 600GT, which was prepped up for the ride by their best technicians and mechanics. DSK Benelli also sent one of their best R&D chaps, Sampat, to take part in the challenge with us and he proved to be a valuable asset on the ride for he made sure that the bike kept running well, whatever the terrain or the weather. The Bike India team consisted of Aninda Sardar, Ravi Chandnani, Ryan Lee, Sanjay Raikar, Piyush Sonsale and Harket Suchde.
We planned for days and mapped a route that would take us from city roads to national highways, state highways and some pretty rough patches. We endured rain, sun, windy weather and some really nasty traffic, but we overcame all the obstacles thrown at us and then some. We went to almost all the corners of the country and then, making our way through its heart, returned home to bring you our experiences of this amazing challenge which no other magazine has ever done.
This challenge was surely hectic, tiring and within just a few days fatigue set in, but we kept pushing through stormy weather, bad roads and pathetic traffic to achieve this ambitious goal that we had set for ourselves.
Here is a log of how the riders completed the challenge, in their own words.
Day One: Pune–Salem (1,045 km)
Ravi: Pune–Halaga (342 km)
We set out on our epic adventure just after the flag-off from DSK Benelli's Pune showroom. I had the privilege to start from kilometre 0. We negotiated our way through the city traffic and soon reached NH 4. The TnT 600GT was quite nimble while getting out of the city and on the highway it felt highly comfortable. I rode for 342 kilometres in less than five hours and there were no signs of fatigue at all.
Aninda: Halaga–Davangere (250 km)
On the excellent road from Halaga to Davangere it's easy to get lost in thoughts on a motorcycle as comfortable as the Benelli TnT 600GT. Despite the fine drizzle coating us both, the kilometres flowed by. My stint ended abruptly even as I warmed up to the massive challenge ahead. But we had to preserve ourselves and the machine.
Ryan: Davangere–Bengaluru (250 km)
"Who's riding next?" All agog, I was ready to contribute to our 10,000-km kitty. I started out a little slow, getting used to the Benelli, but soon enough I picked up the pace and was cruising along at good speed. The bike was easy to ride, the weather was clement, and the roads were smooth as a slate. When we reached Bengaluru, I got off the bike grinning.
Sanjay: Bengaluru–Salem (203 km)
I put on my riding boots just before dusk. I took over in Bengaluru en route to Salem. As soon as I got out of Bengaluru, the weather gods went crazy as it started raining heavily. Nevertheless, I and the bike were able to fight our way through the downpour, reaching Salem safely in just over four hours.
——
Day Two: Salem–Visakhapatnam (1,160 km)
Ravi: Salem–Karanodai, Tamil Nadu (377 km)
I was once again playing the role of the first man on the Benelli and, riding through darkness for two hours, I had already covered more than 140 km. As the sky turned blue from black, I was working through that slick six-speed gearbox of the GT to pick up pace and head towards Chennai where I handed over the bike to Sampat, quite unwillingly.
Sampat: Karanodai–Chilakaluripet (351 km)
The ride out of Chennai took a while due to heavy traffic but once we left the city behind, it was a smooth ride. The highway connecting Chennai with Vijayawada is in a very good condition but the average speed was a little less than planned since I rode in heavy rain.
Ryan: Chilakaluripet–Vijayawada (80 km)
We had already done 700 km today and it was my turn to ride. Wearing spectacles while riding in the dark was not my cup of tea. It was a difficult ride, especially with the glare from oncoming traffic coming straight at me, so Sampat took over as we made our way towards Vizag.
Sampat: Vijayawada–Elluru (65 km)
My short stint saw me go from the thick of Vijayawada traffic to the wide open NH 5. I did encounter some rain but most part of my stint was done in dry conditions. I stopped just after crossing the town of Elluru for a rider change. The bike was running fine, which made me happy.
Ravi: Elluru–Devavaram (211 km)
Wow, second stint of the day! I was so excited to get back astride the bike. Riding in the dark I was a little sceptical about the highway. We were already into Andhra Pradesh and these highways have a bad reputation for reckless trucks. Fortunately, three hours and 200 km later, I and the bike were still in one piece. "Hey, Aninda, it's your turn on the bike now."
Aninda: Devavaram–Visakhapatnam (84 km)
Though short, my stint didn't lack challenges for it was past 11.00 pm and pitch dark. Headlamps from oncoming traffic only worsened things. Mercifully, roads weren't bad and we made decent time to Visakhapatnam where we explained our way through a bunch of cops on patrol duty who thought us a bunch of lunatics to attempt something so incredible.
——
Day Three: Visakhapatnam–Kolkata (924 km)
Aninda: Visakhapatnam–Brahmapur (275 km)
In the east, the sun rises early as do people. So even at 6.00 am there was traffic. Good roads, however, meant we kept pace until we it started raining. We forged ahead through the drizzle in places, a downpour in others. When I finished my stint the sun had just started to peek out of the grey clouds. Rotten luck!
Sanjay: Brahmapur–Bhubaneswar (172 km)
From the border of Andhra Pradesh to the capital city of Odisha, I was commanding the 600GT. Good roads allowed me to put the bike through its paces and it impressed me immensely. I also enjoyed riding on the stretch of highway where I was able to spot the famous Chilika Lake which was quite a lovely experience.
Ryan: Bhubaneswar–Sonakania (292 km)
After yesterday's escapade, my team made sure I got to ride during the day. Sanjay handed the bike to me at Bhubaneshwar, and I stopped to change over at Sonakania, just as it started getting dark. I did manage to carry a good pace though the rain and the bumpy roads, though.
Sampat: Sonakania–Kolkata (185 km)
Visibility was an issue during my stint since I took over after dark and it was raining heavily. As we got closer to Kolkata, we also encountered heavy truck traffic and the road was bumpy in places. So the average speed had dropped to about 40 km/h and I was drenched to the bone by the time we reached our hotel in Kolkata.