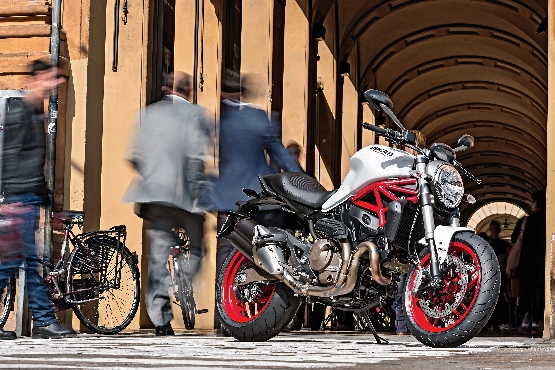 The riding position on the 821 is fairly upright with an ever-so-slight hunch, which is indicative of its versatility and ability for use in the city-streets as much as the open roads. The riding position is just about perfect thanks to the excellent foot-peg-handlebar-seat positioning. The bike is very easy to flick around corners and is effortless to ride in city traffic too. You can drop the 821 into corners without a worry too, because the handling is quite sublime. There were a number of bends en route the ride, and the Monster's flickability was a definite asset in these situations.
The ride quality is definitely on the firmer side, but pliable enough to soak in the little bumps and cracks the roads kicked-up along the way. The 821 is so easy to ride that the hours just seem to melt away, the bike doesn't pile on the exhaustion when on long stints, encouraging you to go further and further.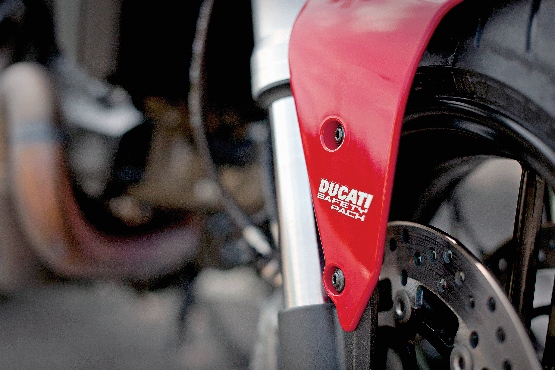 Stopping is accomplished by Bosch ABS equipped Brembo disc-brake setups in the front and back,and the bike quickly comes to standstill without any drama. There's even an eight-stage traction control system on board for added stability.
Anyway, that's all you're getting out of us for now, if you want the complete low-down on the Ducati 821 Monster you're going to have to wait for the June 2015 issue of BIKE India magazine. But don't be disappointed, because the May issue of BIKE India is just as exciting with an exclusive ride of one of the most coveted motorcycles of this year!