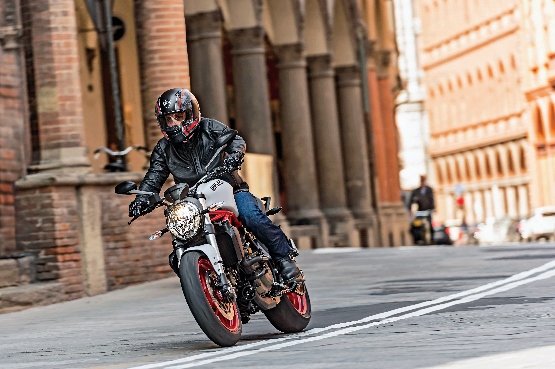 We've just completed a lengthy run astride the Ducati 821 Monster in Chiang Mai. Here's a glimpse into what this naked street bike is all about
Story: Harket Suchde
Photography: Ducati
An array of gleaming, red, feral beasts await our pleasure as we walk out onto the parking lot before setting off for the 821 Monster ride. The ride stretches across 230 kms in and around the outskirts of Chiang Mai city, which is nestled in amongst some of the highest mountains in Thailand. That can mean only one thing – we're going to have blast around the bends.
The words 'Ducati Monster' adorn the fuel-tank, and the machine definitely lives up to the moniker. The 821 is a spitting image of its bigger sibling, the 1200S, and that's a very good thing. The 821 looks like a wild-cat on the chase – haunches down and ready to pounce.
Drop a leg over the saddle, and fire up the ignition and that wild-cat analogy starts to make even more sense; this Monster bellows with a throaty roar. Are the claws as sharp as the roar? In a word, yes. That 821cc liquid cooled 90-degree V-Twin with four valves per cylinder, and it pumps out a maximum of 112 PS at 9250 revs and 89.4 Nm of torque at 7750 RPM. However, the Monster is not all about performance; it is more about practicality and user-friendliness, and that is exactly what Ducati have achieved. Liquid-cooling not only helps in optimising engine efficiency, it also helps refinement. The biggest plus-point is its bottom-end and mid-range rideability as it can cruise at 65 to 70 km/h in the sixth gear. You can also pick between three riding modes Urban, Touring and Sport, based on your surroundings and immediate preferences.