Michael Doohan
Mickey Doohan, born 4 June 1965, was a champion motorcycle racer.
That is a statement that conveys cold facts but comes nowhere even remotely close to giving an insight into the man or the way that the championships were won.
Five premier class 500-cc world championships.
Now you sit up a bit straighter and start to take notice. Not full wide-eyed attention, but, oh, all right, five 500-cc championships need to be respected whichever way you like to look at it.
But now the plot thickens. Five premier class 500-cc world championships consecutively.
Now, if that doesn't get your undivided attention, you need to get your head examined.
Mickey Doohan was one of just a few 500-cc world champions to have won a world superbike race. More than the wins and championships, however, is how Doohan overcame serious injuries to achieve those victories.
The 500-cc 1992 season got under way with Doohan winning the first four races. In the fifth in Italy Doohan finished second, behind Kevin Schwantz. In the next round he was sent behind Wayne Rainey. The next round in Germany saw Doohan back on the top step of the podium and winning the championship seemed just a formality with his 65-point lead. Destiny, however, had other plans.
For the next round, the Dutch TT, while practising, Doohan crashed but what complicated things was that his bike fell heavily on his right leg, breaking it in two places. To add to Doohan's woes, some complications arose from lack of proper medical procedures and the leg never recovered sufficiently to allow Doohan to use it the way a racing motorcycle required.
In spite of the handicap Doohan returned after missing five races, but could manage just one points finish in sixth place in the two remaining races, which allowed Rainey to take the championship by just four points.
The following year Doohan struggled to provide results merely to retain his place in the team. Most importantly, he developed a thumb-operated rear braking system fitted to the left handlebar. Displaying amazing determination and overcoming handicaps that would have caused lesser men to have a nervous breakdown at the mention of motorcycles, Doohan won the next five 500-cc world championships.
More than the world titles and race wins, I feel it is the way that Doohan overcame his near crippling injuries to reclaim his life and his passion that defines him.
Michael 'never say die' Doohan.
John Surtees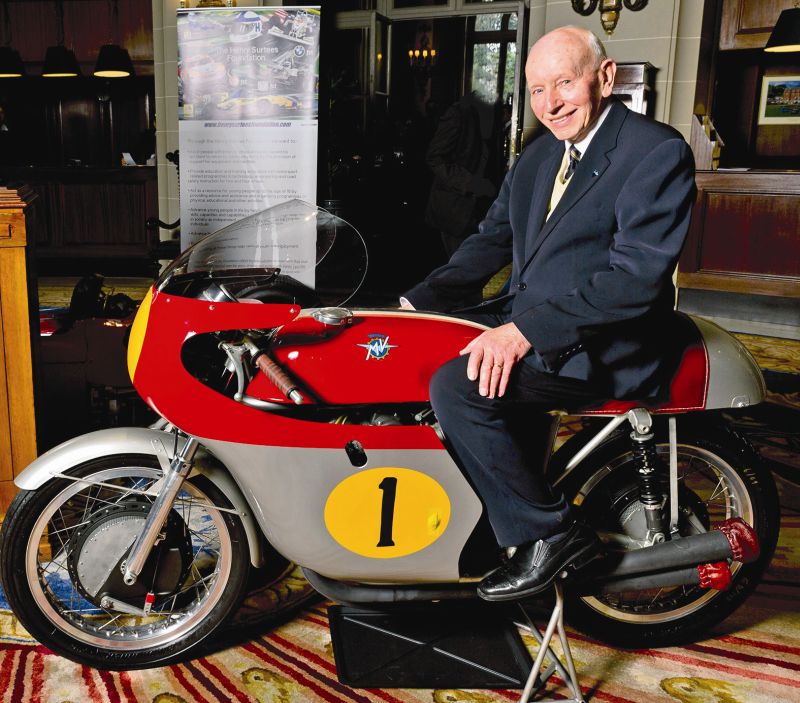 John Surtees is indeed a rarity in the super competitive world of motor sport.
In the years from 1952 to 1960 riding Nortons, and later MV Agusta, John won seven world championships, three in the 350-cc class and four in the 500-cc class.
In what might have been a testing switch to four wheels, Surtees secured a second place in just his second race, the 1960 British Formula One, and, spurred on by his early success, remained in Formula One. In his third race, the Portuguese Grand Prix, John qualified in pole position.
Many motorcycle champions have swapped two wheels for four. Some have had moderate success but most have had to quit before they tarnished their reputation even more than they had.
The early promise that Surtees showed was not a flash in the pan and after two years with Reg Parnell-managed Yeoman Credit Racing Team, and later with the Bowman Racing Team, also managed by Reg Parnell, Surtees moved to Ferrari and won the drivers' championship for 1964 in the very last race of the season. Jim Clark, Graham Hill and John Surtees were all potential winner depending on the final results. Hill was pushed back following a collision with Bandini earlier in the race and Clark stopped on the last lap with an oil leak. Ferrari signalled Lorenzo Bandini, who was running in second place, to let Surtees through. Dan Gurney won the race and Surtees in second place was one point ahead of Hill who finished in the 11th place.
That did not deter Surtees from continuing in Formula One but in 1966 he quit on the spot when he was not included in the team to drive at Le Mans. According to team manger Dragoni, he was not considered fit to drive long-distance races.
Surtees ended the season winning the last race in a Cooper-Maserati and second in overall standings, 14 behind champion Jack Brabham.
Surtees formed his own racing team in 1970, called Surtees Racing Organisation, and retired from competitive driving in 1972, the year the team got its best result when motorcycling legend Michael Haywood won the European Formula Two Championship. The team was disbanded in 1978.
Motorsport has given John Surtees great success and taken him to heights no one has reached so far and probably no one will: world championship titles in both disciplines, two wheels and four.
Surtees is the oldest surviving world champion both on two wheels and four.
Valentino Rossi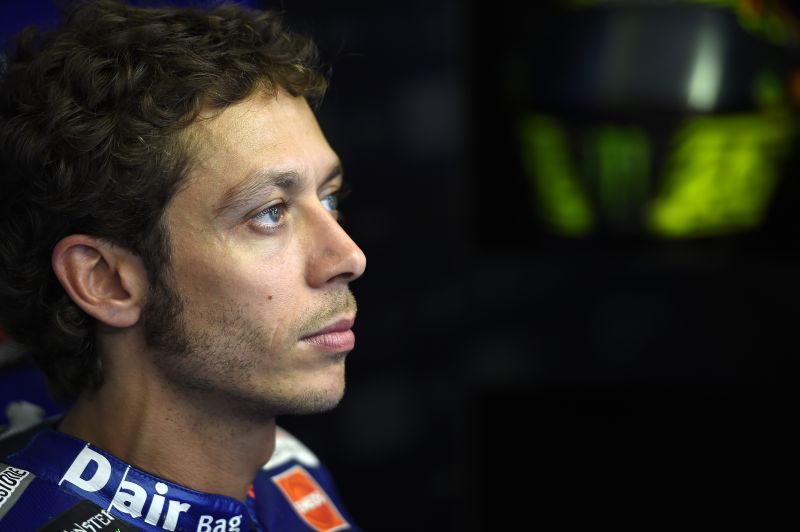 The biggest problem while writing about Valentino Rossi is to find the right adjectives. So without trying to do so, let's just say that to describe the man and his life on a racing motorcycle is not the purpose of this article. It is to pay respect with no contamination of ifs and buts. And with no conceivable doubt whatsoever, Valentino Rossi is the greatest active racing motorcyclist of all time.
Valentino started out when his father, Graziano Rossi, a former motorcycle racer himself, bought him a kart instead of a bike at the insistence of his mother, who felt a kart would be safer than a bike. After numerous successes, the regional kart championship followed by fifth in the national karting championship, Valentino moved up to minimoto and then on to 100-cc bikes, and from there in a sort of natural progression to the 125-cc class on an Aprilia.
Valentino secured the world title in 1997, the 250 title with Aprilia in 1999 and the 500-cc world championship in 2001 on a Honda. He repeated the victories in 2002 and 2003.
It is said that Rossi was contemplating a switch to Yamaha for the 2004 season, probably because it was rumoured that Rossi's success was due mainly to the Honda's superiority rather than his own riding skills. Honda understandably were annoyed and the officials made a statement that if Rossi did move, they would break him, career-wise.
Whatever the reason, Rossi did move and created history by winning consecutive races on two different makes of motorcycles: the last race of the 2003 season on a Honda and the first race of the 2004 season on a Yamaha. He went on to win the championship and three more before moving to Ducati.
Rossi never did get along with Ducati and returned to Yamaha in 2013.
Last year Rossi finished in the second place, behind the rising star, Marc Marquez.
Currently, at 36 years of age, Rossi seems to have got his second wind and, at the half-way mark with nine races to run, he heads the standings, 13 points clear of team-mate Lorenzo.
So there is a lot more to go in the Valentino Rossi story.
Joey Dunlop
To truly understand the man's skill and courage in racing a motorcycle and winning repeatedly on the most dangerous road circuit in the world, one has to have some knowledge of the dangers associated with the Isle of Man TT mountain course.
Picture narrow country roads, lined by cottages and houses, stone walls and trees, 37.73 miles (60.72 km) long with over 200 corners and in places climbing from sea level to over 1,300 feet above sea level.
The unofficial top speed registered at the end of Sulby Straight stands at 206 mph (332 km/h) on a 1,000-cc Suzuki.
The men who race regularly on the mountain have often been categorised as insane. It is easy to understand why.
Joey Dunlop was not insane but highly gifted and skilful as a mountain specialist.
Joey Dunlop, 'the king of the road' as he was known, has 26 victories on the mountain course, the Isle of Man, and has won the Ulster GP on 24 occasions. He also won the North West 200 as many as 13 times.
As is true of so many great sportsmen, Joey was highly superstitious as was evidenced by his use of a red T-shirt under his leathers and a yellow helmet. Furthermore, he always insisted on travelling to the Isle of Man in a fishing boat, which on one occasion sank but everyone aboard was rescued.
In addition to his superstitions, he was extremely charitable. One less well known aspect of Dunlop's life was his tireless work for charity. He made endless trips to Romania, bringing van-loads of aid to orphans and their caretakers in that country. These were undertaken mostly by Dunlop himself on condition that it would take place before the beginning of each racing season. Dunlop stated that his proudest award was his OBE for charity rather than any achievement in his very successful racing career.
On 30 January 2015 Joey Dunlop was voted Northern Ireland's greatest sports star by the readers of the Belfast Telegraph.
Joey Dunlop died in Tallinn, Estonia, in 2000 while leading a 125-cc race (he had already won the 750-cc and 600-cc events) on Pirita-Kose-Kloostrimetsa Circuit. He appeared to lose control of his bike in the wet conditions and was sure he would lose control so let the bike go and he was thrown into some trees at the side of the track and was killed instantaneously.