Whenever we set out to choose outstanding performers in any field – be it sport, art, business endeavor or any activity where an individual's performance can be compared to others in the similar area – the task is riddled with ifs and buts.
Story: Ashraf Sheik
Coming down to specifics, when we wish to compile a list of the best motorcycle racers in the world, we need to examine an individual's performance from a wide variety of areas. It is virtually impossible to bring parity to the conditions when comparing riders from different eras.
And with ever-spiralling advances in engineering and tyre technology, it would be futile to consider pure speeds and lap-times as a determining  factor.
Results, as wins in a number of races or championships won, also need to be examined in a broader sense rather than be taken as the most important deciding parameter. Admittedly, winning is the point of any competitive sport, and wins, in a majority of cases, would be an important issue.
So in celebration of Bike India's landmark 10th anniversary, we have chosen 10 motorcycle racers, who, in our opinion, deserve a place in the top 10 racers' listing as of  today. The list is random and not in any order of merit.
Mike Hailwood
Mike 'the bike' Hailwood, as he was often referred to, was indeed a rare breed. You would have to look beyond the result-sheets of the innumerable races that he won to get some idea of the kind of man Hailwood was.
He came from a motorcycling background by way of a prosperous family motorcycle business. His father had raced bikes in the pre-War era and so it was in a way natural that Mike started racing at an early age. His natural ability to go fast on any capacity bike, be it a 125-cc lightweight or a 1,000-cc monster, mattered little to him. Similarly, he was at home on any kind of terrain. Closed circuit short tracks or the long road course of the Isle of Man TT, with its ever-changing conditions and considered the most dangerous race venue in the world, were just a means of establishing himself as the fastest man alive. This unique gift earned him the tag, 'the bike'.
In the 1950s and '60s motorcycle racing was considered highly dangerous and Hailwood reflected a similar here-today-gone-tomorrow attitude in his personal lifestyle too. Mike would jet-set to various racetracks around the world, win races, establish records and return to his bachelor apartment in London to relax and party. It is even reputed that he was responsible for introducing F1 driver James Hunt to partying.
But Hailwood was much more than just a party animal with a gift which endowed him with the ability to ride a motorcycle faster than most of us can even imagine. His nine world championships, 76 Grand Prix wins and 14 wins on what many have considered the most dangerous race circuit in  the world, the Isle of Man TT, are ample proof of why many knowledgeable motor sport fans and insiders consider him to be the greatest motorcycle racer of all time.
Hailwood, like many other bike racers, tried to emulate his success on two-wheelers in single-seater four-wheelers. Success-wise his time  in race cars can be termed moderate. Mike won the Formula Two world championship in 1972. He managed just two podium finishes in Formula One, and a podium finish in the 24 Hours of Le Mans.
During the 1973 Formula One South African Grand Prix, his car collided with fellow driver Clay Regazzoni's car which burst into flames. Mike pulled to the side of the track, jumped out and without any hesitation rushed to the burning car and within a second was himself engulfed in flames. There was quick action on the part of a fire marshal who doused him with a fire extinguisher and Mike rushed back a second time and managed to pull Regazzoni out of the car and save his life.
Jackie Stewart, who won that race, said, "That is the mark of a brave man, the mark of a great man and so typical of Mike Hailwood." He was awarded the George Medal, the second highest gallantry award that a British civilian could win.
The following year in the German Grand Prix, Mike crashed, suffering a badly broken leg and decided to retire from racing. However, to the astonishment of many, and also to the dismay of most, after being out of racing for almost a decade, he returned. He was now pot-bellied and unfit and all his admirers were sure he would end up tarnishing his image by this foolishness. But the treacherous Isle of Man TT course had always been Mike's happy hunting ground and he rode a Ducati 900 SS to a hugely popular win in the Formula One event, which was for production-based machines. This is the stuff that legends are made of and very correctly the FIM named Mike Hailwood a 'Grand Prix Legend' in 2000.
Mike and his nine-year-old daughter are buried next to each other after they were killed in a tragic road accident. The inscription on Mike's black headstone reads: 'Too good in life to be forgotten in death.'
Giacomo Agostini
Anyone who has had any interest in international motorcycle racing has heard of the 'Legend' Giacomo Agostini.
If world championship titles were the only yardstick to determine the greatest racers of all time, then 'Ago' would be at the head of the list.
If we were to dig deeper and include the total number of race wins in individual classes or wins across all classes, then the picture becomes very interesting. There is no denying that Agostini was in a class of his own whenever he swung a leg over a racing motorcycle.
Apart from being a great racer, Agostini must have been a good fortune-teller, too, when you consider that although MV Agusta had been his more than able partner in his world championship winning rides, he surprised everyone by opting to ride for Yamaha in the 1974 season, and went on to win the most prestigious American race, the Daytona 200, in his very first outing for them. He also won the 350 world championship that same year. The following year he won the 500-cc title, the first time a two-stroke had won the premier class.
Debates and differences of opinion will never cease when viewing careers and events in retrospect and many are of the opinion that many of Agostini's wins can be attributed, to a great extent, to the lack of serious competition in terms of riding skill as also the clear-cut superiority of the MV Agusta over the rest of the competing machinery prevalent at the time. But there are no rules on that and, in all fairness, Agostini will remain one of the greatest motorcycle racers of all time, and at the time he was racing, he was undoubtedly the best.
If there is anything that detracts from Agostini's exploits in motor sport it is his foray into four-wheel single-seater racing. His BMW-powered Chevron B42 may have been competitive but Agostini certainly wasn't.
The ultra-competitive nature of the European Formula Two Series is evidenced by the fact that Agostini could not even qualify on seven occasions. On the four occasions that he did, he could manage just a disappointing eighth-place finish.
Agostini moved to the British Aurora F1 Championship Series, hoping to revive some semblance of success, and although he did finish on the podium on four occasions, it was more due to the depleted grids and the lack of top-notch competition.
Agostini retired from racing in 1980 but returned in 1982 as head of Team Yamaha Marlboro Agostini. Under his management the team won three premier class 500-cc world championships, ridden by Eddie Lawson. The team also managed the great Kenny Roberts and the double world champion, Freddie Spencer, at some point in their respective careers.
Thus although Agostini's association with four-wheelers was not what he may have desired, motorcycles gave him highly rewarding experiences whether he was riding or guiding the fortunes of other riders. I doubt whether he could have wished for more.
Jarno Saarinen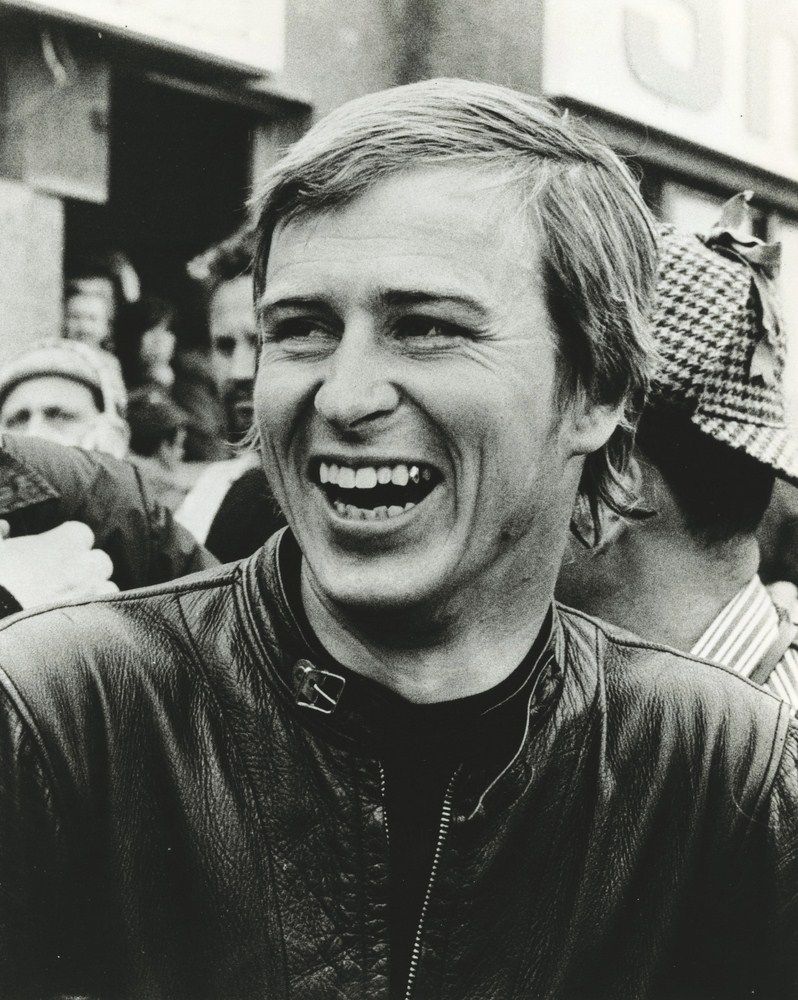 Jarno's short-lived motorcycle racing career  gives rise to a lot of ifs and buts.
If only the track marshals and officials at Monza had not been so obstinate and arrogant and turned a blind eye to all the pleas of journalist Christian Lacombe who pleaded with them to clean up the oil spilt on the track from an earlier race. In fact, the journalist was threatened with police action and eviction from the track. Similarly, the Australian rider, John Dodds, was also threatened with police action and disqualification when he pleaded with the officials to stop the race till the track was cleaned up. He then tried to warn as many riders as he could before the start of that fateful race that claimed the lives of two of the most promising riders at the time.
On the very first lap approaching the 135-mph (217-km/h) Curva Grande, Renzo Pasolini slid on the oil all over the track. Jarno Saarinen, who was close behind, somehow managed to avoid hitting him but couldn't make the corner and crashed heavily into the hay bales covering the Armco barrier and was killed instantly. Fourteen other riders were involved in the crash and Pasolini may have been hit by some of them. There was total chaos and in spite of the serious nature of the crash, it took two more laps for the stubborn and callous officials to stop the event.
The question as to where the highly talented Finn would have reached in his chosen profession will never be answered, but there is doubt that he would have established himself as one of the greatest racers ever to hang off the side of a racing motorcycle in the corners — a style that he initiated and the great Kenny Roberts was quick to adapt to, and which has become the norm for almost all riders today.
Jarno loved life and once remarked, "I want to live to be a very old man." Sadly, it was not to be.
Nevertheless, in the time he spent racing a motorcycle he wrote stories that will be remembered and treasured by his adoring fans round the world for as long as there are motorcycles and motorcycle racing.
Saarinen graduated to road racing after winning the Finnish Ice Racing Championship. He had studied mechanical engineering which helped him modify and set up his bikes to get the best from them.
His performance on his privately entered Yamaha was so impressive that initially he was given the TD3 and the TR3. But when Barry Sheene complained about the performance of the factory racer, a second works YZ 635 was given to Saarinen, who rewarded Yamaha by winning the 250-cc world championship. He also finished second in the 350-cc championship, giving ample warning to the defending champion, Giacomo Agostini, for the coming season.
The 1973 season was a fairy-tale start for the man who lived to race. Taking time off to ride in the most prestigious race in America, the Daytona 200, he shocked the racing fraternity by winning on a Yamaha TZ 350 against the much larger capacity 500- and 750-cc engined competition. It was the first time a two-stroke had won.
Saarinen returned to Europe and, continuing his winning ways, won the first three 250 races with ridiculous ease. Yamaha had developed a new four-cylinder two-stroke race bike. Saarinen was the logical choice to ride it.
And ride it he did to a début victory and followed it up with a second win. In the third race in what seemed like a prelude to what was in store for him, the chain broke while he was leading.
Jarno Saarinen was snatched away in a racing crash that many feel could have been avoided. How many of us have wished that it had been.