Barry Sheene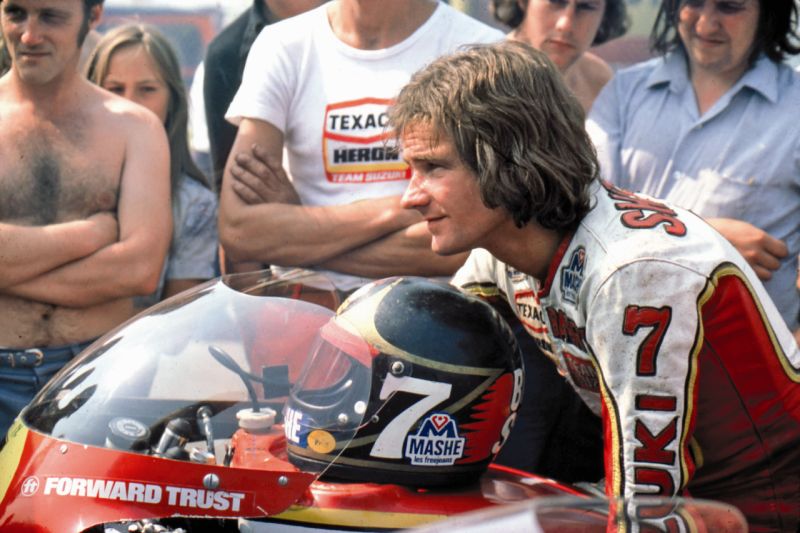 Barry Sheene won two consecutive 500-cc world championships in 1976 and '77. You must wonder why he finds a place in this list of motorcycling greats. There is more to achieving greatness than just winning. Barry Sheene won the hearts of motorcycle racing fans all over the world by his fierce fighting spirit.
He crashed heavily when the rear wheel of his TR750 Suzuki locked up at 170 mph (273 km/h) just coming off the banking at Daytona. By some miracle he remained conscious throughout and described the crash and how he felt in detail as he lay in his hospital bed.
Barry's racing career was no doubt adversely affected by two major crashes that are for ever a part of motorcycle racing history. He suffered a shattered left leg, smashed thigh, six broken ribs, a wrist, and his collarbone. When he awoke at the hospital, he didn't miss a heartbeat and asked the attending nurse for a cigarette!
The second came in 1982. The two-time world champion crashed coincidentally again at 170 mph (273 km/h) at Silverstone during practice for the British Grand Prix. Barry later recalled, "Wasn't my fault; I came over a hill and there was a wreck right in front of me." They feared he'd never walk again, let alone return to the racetrack. The doctors compared his legs to "crushed eggs", taking all of eight hours to piece them back together with the aid of two stainless steel rods, two steel plates and about 30 stainless steel screws. When Barry was told he might be able to bend his knees in three months' time, he scoffed at the suggestion and did it in two-and-a-half weeks, and returned to racing the following year. That's when people started calling him 'Bionic Barry'.
It was this indomitable spirit that time and time again allowed Barry to rise from the ashes, so to speak, which endeared him to all his loyal fans.
Barry Sheene lived life on his own terms. When not racing motorcycles, he would party along with Formula One driver James Hunt. He was also known for his passion for cigarettes. He even had a hole made in the chin-bar of his helmet that allowed him to have a few puffs while waiting on the starting grid.
It was inevitable that his excessive partying, alcohol and smoking would catch up with him some time. Even when he was diagnosed with cancer of the oesophagus and stomach in 2002, he stayed true to his convictions. He refused conventional allopathic treatment, opting instead for a diet designed to kill the cancer.
One of Sheene's fans described him succinctly when he said, "Every woman wants him; every man wants to be him."
Freddie Spencer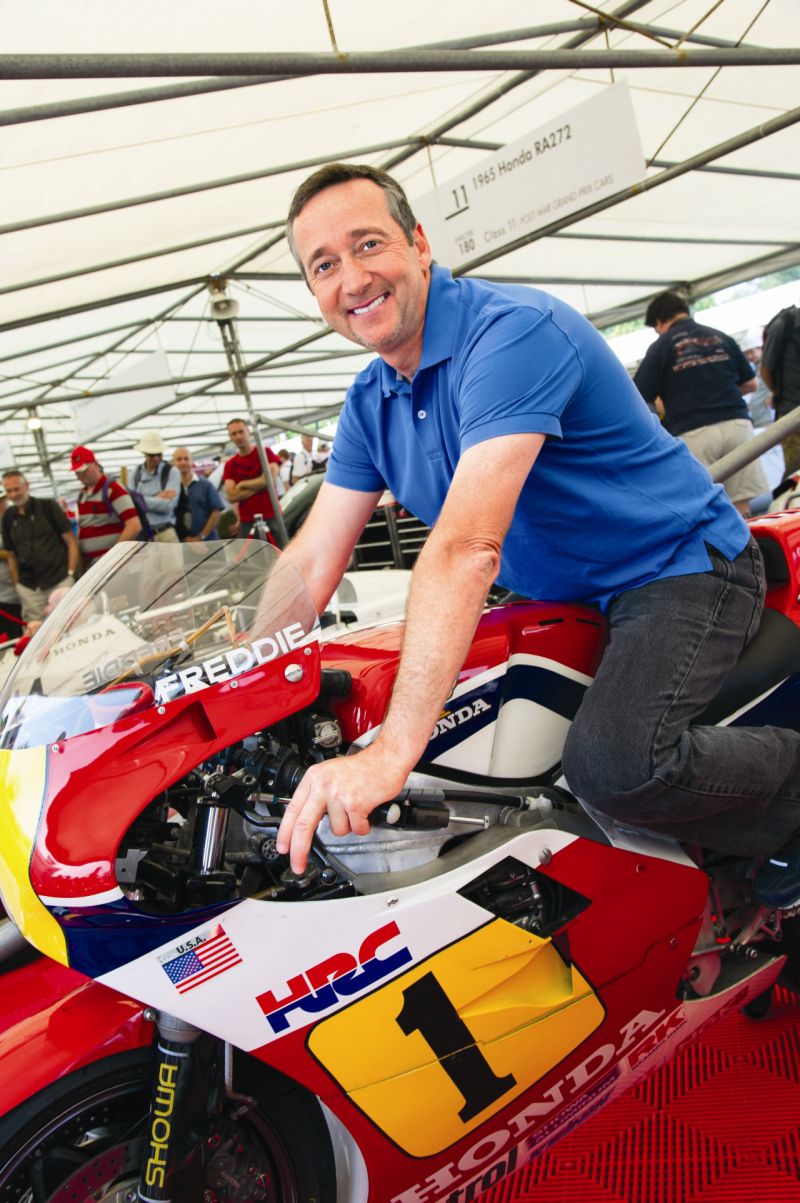 In the 13 years that 'Fast Freddie' raced motorcycles, he beat the best.
By that fact alone he is assured of a place among the all-time greats.
When Honda picked Freddie to ride for them when they decided to enter 500-cc world championship competition after being out for 25 years, they did it because they had been witness to his speed when he won the US National Road Racing 250-cc championship in 1978. Spencer then went on to win Road America in 1980 on his first attempt as a factory Honda AMA superbike rider. This was in spite of Spencer not having any international experience at the time.
All that changed very fast when, during the trans-Atlantic series, he won both legs at Brands Hatch, beating Kenny Roberts and Barry Sheene, both world champions, on an Erv Kanemoto-tuned TZ 750.
Honda retained Spencer to ride in the American AMA superbike series as well as the European grand prix circuit. Spencer at this time also helped to develop the ill-fated oval-piston NR 500 four-stroke racer.
In 1982 Spencer got promoted to full-time service on the newly developed NS500 three-cylinder two-stroke racer. Honda had given up development on the NR 500.
The year 1983 saw one of the most closely contested 500-cc class. Kenny Roberts and 21-year-old Freddie Spencer had won six races each. At the penultimate round in Sweden on the last lap Roberts and Spencer collided and Roberts ran off the track, allowing Spencer to win.
In the last race Roberts won, but Spencer finished second and took the championship by two points. This was the first of the two 500-cc world championships that Spencer would win.
The year 1985 was to be Spencer's year. He won the season opener, the prestigious Daytona 200, and followed it up with victories in the 250-cc and the superbike events, too, making him the only rider to have accomplished this triple grand slam of motorcycle racing in the same year. He continued to realise his potential in a big way. He won both the 250-cc and 500-cc world championships too.
But then as if destiny had other plans for Spencer, he developed a problem with his wrist that persisted even after numerous surgeries.
Spencer was left with no option but to retire.
Nevertheless, in the short time that he raced, he had found a place in the hearts of many adoring fans.
Kenny Roberts
Kenny Roberts will probably be remembered best for the three consecutive 500-cc world championships that he won from 1978 to 1980.
Kenny's journey on motorcycles began at a very early age when he coupled a lawn-mower engine to a bicycle frame. Encouraged by his father, who bought him a more powerful Hodaka motorcycle, 12-year-old Kenny set out on what was to become a memorable life mission. His natural ability to ride fast on dirt-tracks, which were the mainstay of motorcycle racing in America during those years, laid the foundation for Kenny to make a successful transition to road racing.
The American Grand National Racing series required participation in four distinctive dirt-track events and road racing also. Kenny's natural ability on dirt allowed him to compete successfully with the underpowered Yamaha against the Harleys, better suited on dirt. But paved surfaces continued to present a problem, especially round corners.
The year 1973 started to change all that for Kenny. He watched Jarno Saarinen destroy the much larger capacity and powerful Harley-Davidsons and Triumphs on a TZ 350 Yamaha at the Daytona 200. Of particular interest to him was the way Saarinen would hang off the saddle, shifting his body weight towards the inside of the corners. The conventional dirt bike cornering style required the rider to lean away in the corners. This did not work well on tarmac.
Kenny decided to try it and developed it further by sticking his leg out with the knee almost scraping the ground. Combining this with the dirt bike technique of breaking traction on the rear wheel and sort of rotating the bike round the corner did wonders for Kenny's lap times.
When it was announced that Kenny Roberts, the American farm boy, was to take on the might of the established European road racing contingent, not much attention was paid. In fact, Barry Sheene, the reigning 500-cc champion, remarked, "No threat." This, more than anything else, convinced Kenny to race in Europe. The rest is history. Kenny's three consecutive 500-cc world championships left quite a few red-faced non-believers.
On and off the track Kenny Roberts had motorcycle racing at heart. His several battles with the FIM to improve safety standards and provide better prize money are responsible for the much improved conditions in both respects today.
Kenny ventured into running his own Grand Prix team with their own purpose-built engine. The venture ran into trouble when funding started to dry up following the team's inability to come up with a competitive engine.
In 2000, Kenny Roberts Junior won the 500-cc world championship, making them the only father and son duo to win the premier class world championship.