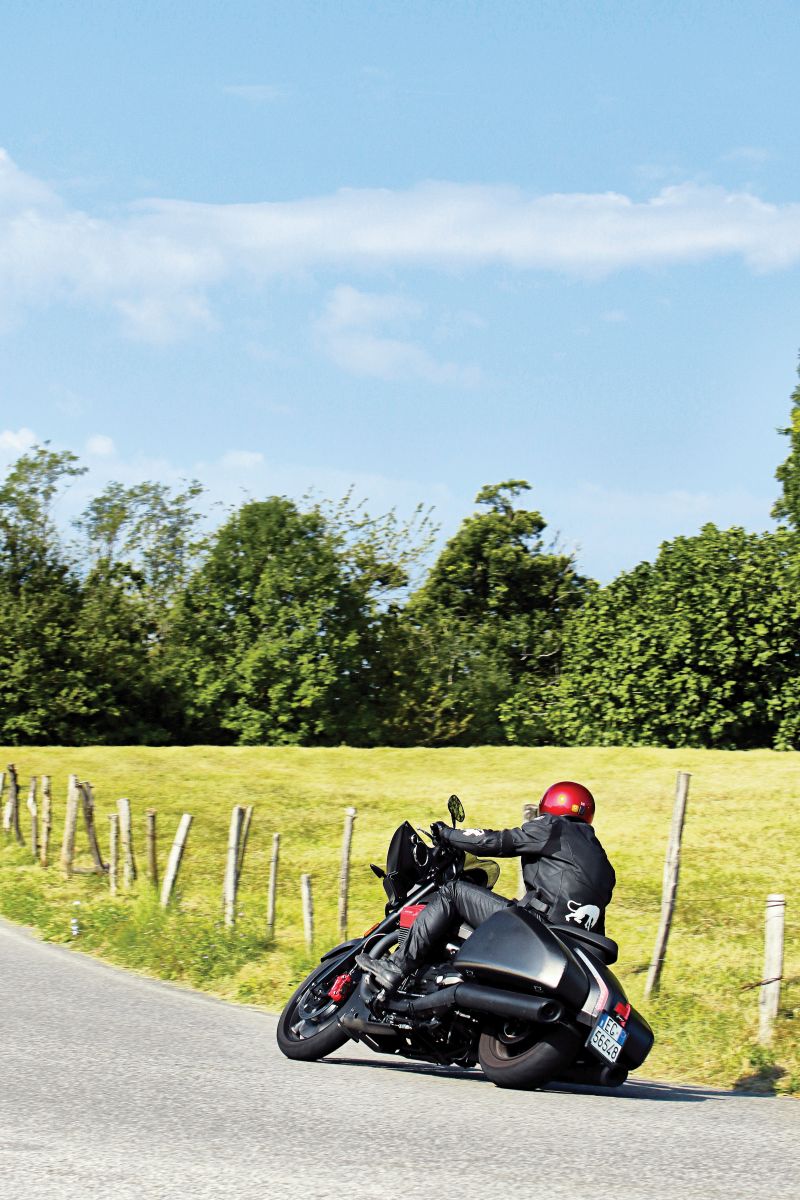 On the launch route from Milan to Guzzi's Mandello base and back, the Fortress chassis' performance was mixed. That big, carbon-covered front wheel is seriously heavy (Guzzi wouldn't say how much heavier than the other Cali models' smaller wheels it is), and tends to make the bars flop into slow turns. So the firm has developed a special steering damper that it calls a "manoeuvring assistance system", which gives increased resistance as the bars approach full lock.
This presumably helps, but it can't prevent the MGX feeling distinctly unwieldy at low speeds, even by the standards of other big cruisers. Perhaps, it's because the damper doesn't cut in until the bars have turned by 10 degrees in either direction, but the non-linear resistance seemed to make the bike harder to balance, for example when making a U-turn. Or, perhaps, it's the huge amount of trail; at 187 mm, more than 40 mm up on the Audace and Eldorado. Shorter riders, in particular, found the bike hard work in traffic. And adding a pillion would make it even more demanding.
At least the seat is pretty low, at 740 mm, so allows most riders to get both feet down when stationary. And at higher speeds the handling was much better. In medium speed turns the Guzzi felt very composed for a shaft-drive cruiser that weighs over 340 kg without fuel. It seemed to shed most of that weight on the move, and was reasonably easy to aim into bends with a nudge of the wide handlebars.
Presumably, the stiffer frame contributed to the bike's stability, and its suspension also worked well, combining a fairly plush ride with sufficient damping for reasonably enthusiastic cornering. Ground clearance was good by cruiser standards, as you'd expect of a Guzzi, and the Dunlop Elite tyres were well up to the job. So, too, were the brakes, with those radial four-pot front Brembo callipers biting hard, and the single rear disc adding some useful force at times, along with a well-sorted ABS system.
The twisty launch route meant I didn't have much need of the MGX's standard fitment cruise control. I was still grateful for the protection from the fairing, which shields hands well. But at much above town speeds its screen generated enough wind turbulence to drown out the standard fitment sound system — a bagger essential — despite its 50W per channel output. That is a common failing of baggers, with their typically low screens, but annoying all the same.
The Fortress's sound system was clever enough to pair easily with my phone's Bluetooth, and incorporates Guzzi's Media Platform which allows a smartphone app to display and record various aspects of the ride. There's also a handy USB port below the instruments, although you'll need an accessory to hold a phone because the bike has nowhere to store it. Talking of accessories, there's a predictably large number, including a taller screen, numerous billet aluminium and extra carbon-fibre parts, comfort seats, leather luggage and California-style footboards to replace the standard foot-rests.
Even in standard form the MGX-21 is expensive, costing roughly 15 per cent more than the identically powered Audace, which many riders would find easier to get on with. But the Flying Fortress has the fairing, the sound system, the bags, and, most of all, the radical, carbon-clad look. It also has exclusivity on its side, because it is being produced in a relatively small number, and sold only in a handful of Guzzi dealers in each main market.
If you like the MGX's radical look you'd probably enjoy riding it, too, although the feel of that front wheel won't be to everyone's taste. Either way, the big, bold bagger looks like giving Moto Guzzi's profile a useful boost, especially in the US, as the old firm heads towards its 100th anniversary in 2021.