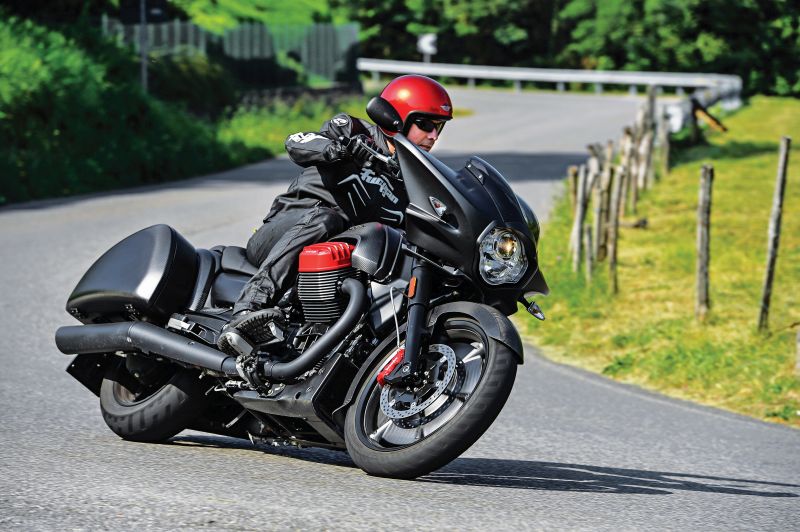 Moto Guzzi have released a new model in their California family, MGX-21 Flying Fortress by name. We rode it from Milan to Moto Guzzi's Mandello base and back.
Story: Roland Brown
Photography: Milagro (Cervetti/Zamponi)
There's a good reason why this new model in Moto Guzzi's California family is the MGX-21 Flying Fortress: a "bagger" with an American name, batwing fairing, gigantic 21-inch diameter front wheel, and a blend of carbon-fibre bodywork and red highlights that help make it one of the most visually striking cruisers of recent years.
Guzzi are desperate to make an impression in the American market, where you might think Italy's oldest bike firm would be pretty successful, given the Stateside popularity of big, air-cooled V-twins with a heritage theme. On the contrary, Italy's oldest bike firm is so little known across the Atlantic, even among owners of American V-twins, that US sales accounted for less than 10 per cent of last year's modest total sale of 8,000.
The MGX-21 has been created primarily in an attempt to boost Guzzi's presence and profile, especially in the States. Like the now four-year-old California and its Eldorado and Audace spin-offs, it was designed in Pasadena, California, at the Piaggio design studio headed by Miguel Galluzzi. Guzzi say the 'X' in its name stands for 'eXperimental', and that the '21' refers not only to the front wheel diameter but to 1921, the marque's first year of production.
The MGX seemed pretty experimental when the radical bagger was unveiled as a concept at the EICMA show in Milan in 2014. Almost two years later it's entering production looking almost identical, following positive feedback at US customer clinics. Further American influence is clear in the 'Flying Fortress' name, inspired by Boeing's B-17 bomber from World War II.
It's a striking bike, featuring carbon on its tank and pannier covers, front mudguard and belly-pan, as well as the centre of that big front wheel. The sharp-edged fairing holds an LED front light. Splashes of red on the Brembo front brake callipers and cylinder-heads add contrast to a bike that is otherwise mostly black.
Despite those "Testa rossa" heads, the 90-degree V-twin lump has the same level of tune as the other California-based models, so kicks out a maximum of 96 PS at 6,500 revolutions per minute. It also follows the others in having three riding modes — labelled Veloce, Turismo and Pioggia (Fast, Touring and Rain) — and a three-way adjustable traction control system.
The California's method of rubber-mounting the motor is also retained but the chassis is beefed up, with the tubular steel frame being strengthened for increased rigidity with thicker front tubes and a reinforced rear section. Up front, the 45-millimetre forks are kicked out at a lazy 32 degrees and give just 107 mm of wheel travel. Behind the panniers are twin shocks with remotely adjustable preload and a relatively generous 120 mm of travel.
Lined up outside a Milanese hotel for its European début, the Flying Fortress looked like no other Guzzi, but much about it was familiar. The bars are wide and pulled back. The transverse V-twin motor came to life with that age-old rock to the right as I blipped the throttle. It jiggled around in the frame at idle, and chuffed in familiar fashion through the black-finished pipes.
That abundance of low-rev torque sent the MGX pulling forward effortlessly when I let out its light-action clutch, the sweet ride-by-wire throttle response helping make it responsive but not remotely snatchy, even in the slightly sharper Veloce mode. (There's little difference between the main two modes.) The softly tuned V-twin generates a hefty maximum of 121 Nm of torque at just 3,000 RPM, and the near-flat curve contributed to its laid-back character.
The Fortress was happy to cover ground quickly when required, although for maximum acceleration I had to use the revs but make sure to change up before the rev-limiter cut in at around 7,000 RPM. The twin, circular clocks are stylish but I found them slightly hard to read, especially in bright sunlight. Generally, it was best to short-shift through the fairly sweet six-speed box and enjoy the bike's ability to sit smoothly at 125 km/h or more in typically long-legged Guzzi fashion.
The MGX should also live up to its heritage by being able to cover serious distance. The tank's fairly generous 20.5-litre capacity should give most riders a range of 300 kilometres. I found the stepped seat fairly comfortable, too, though the pillion doesn't get as much room. The panniers are useful, large and easy to open, and come with inner bags, but aren't big enough for a crash helmet.