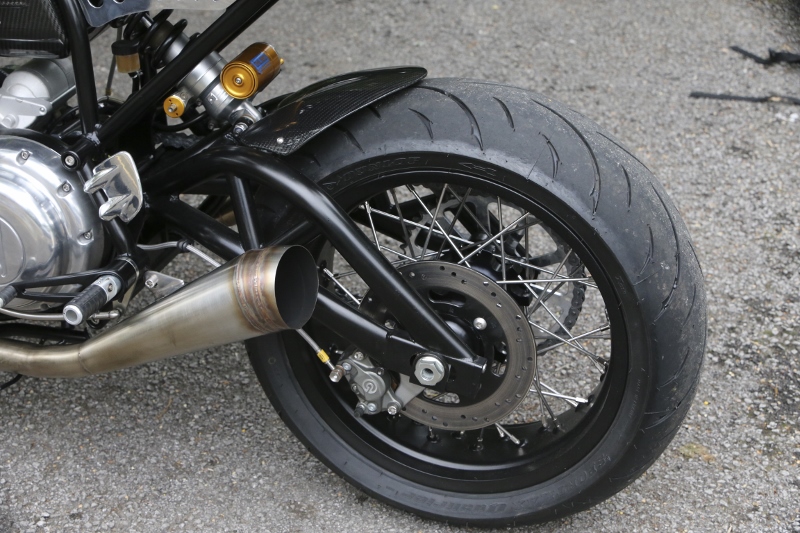 It's one of those rare bikes that you could spend hours simply admiring, but I didn't have time for that. I threw a leathered leg over the fairly low seat, its padding just a thin piece of foam, and leaned forward to a pair of low, slim, angled-back clip-on handlebars. The ignition key sits below the pair of neat, black-faced dials. A press of the button brought the 961-cc, pushrod motor to life with a deep, thunderous blast of sound (the SS also comes with homologated silencers) like something from a classic-race paddock.
The rearset pegs are fairly high, but the Dominator felt reasonably roomy as I trod into gear… then trod again to make sure. Selecting first could be slightly tricky, perhaps because this first SS – boss Garner's personal machine – had covered very few miles. But the beefy parallel twin had plenty of low-rev grunt, and was so low-geared that it would happily have pulled away in second if requested.
It was also very sweetly fuelled, with a light throttle action and a very responsive feel. Despite the aggressive café-racer image there was no snatchiness or hesitation; just a strong, instant punch of acceleration, combined with a deliciously broad spread of torque. And, when I shut the throttle, with another wonderful sound as the exhaust spluttered and crackled.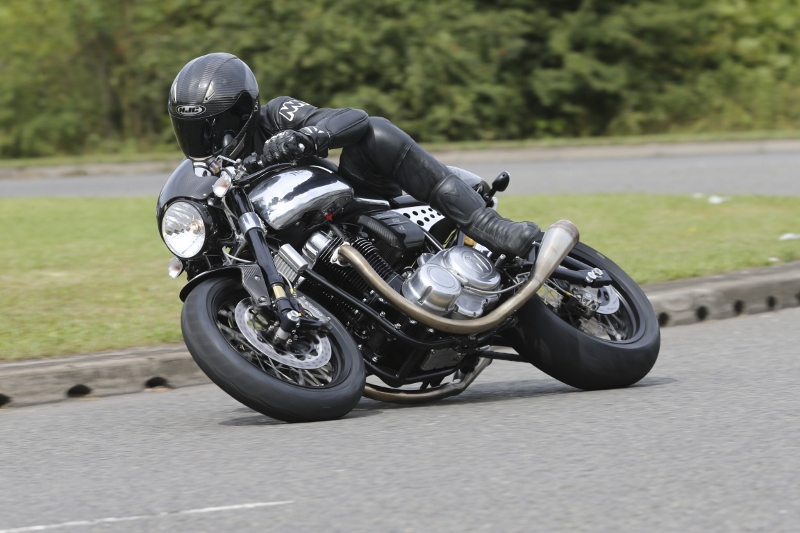 That free-breathing pipe adds a few horsepower to the 80 PS at 6,500 RPM that the Commando delivers as standard. With the peak torque figure of 90 Nm delivered at just over five grand there was more than enough acceleration for back-road fun. Once under way, the 'box shifted sweetly, and the Domi always seemed to be ready to shoot forward when given a tweak of its throttle, helped by that low gearing that meant it was doing 5,000 RPM in top at 120 km/h.
A bit of buzzing came through the rearsets and thinly padded seat as the tacho needle swept towards the eight-grand red-line. This isn't a bike for much motorway use but it was fine when I reached a broad, curving main road, increasing its pace towards a top speed of just over 200 km/h. And for back-road blasting it was ideal: quick enough to be exhilarating with the hedges rushing past on either side, its performance emphasised by the din and the wind pulling at my shoulders and neck despite the tiny carbon flyscreen.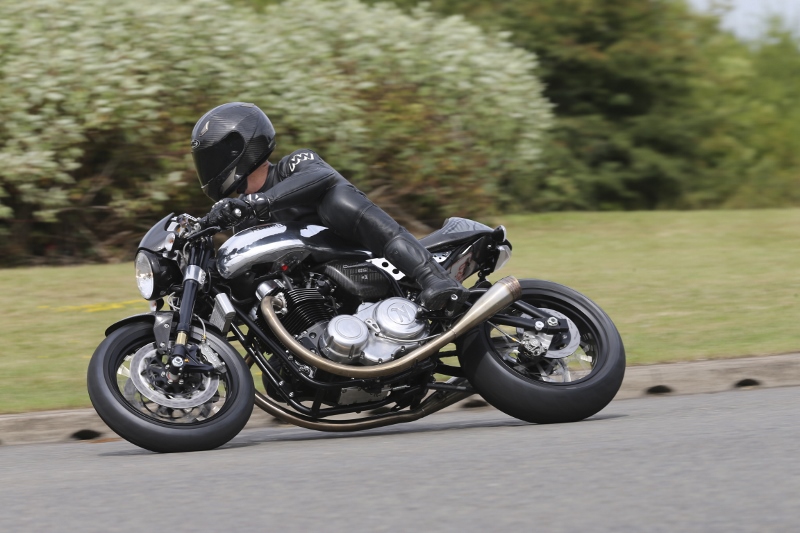 Chassis performance was well up to the job, as you'd expect from a relatively light and simple bike with a descendent of the famous Featherbed holding it together. Those old Dominators didn't have the benefit of a beefy, well-braced swing-arm like that of the SS; or of top-quality Öhlins suspension at each end. The multi-adjustable USD forks and piggy-back TTX shock gave a respectably compliant ride. And when I thought the shock could use a touch more damping, it was easy to lean down and tweak the easily accessible knobs.