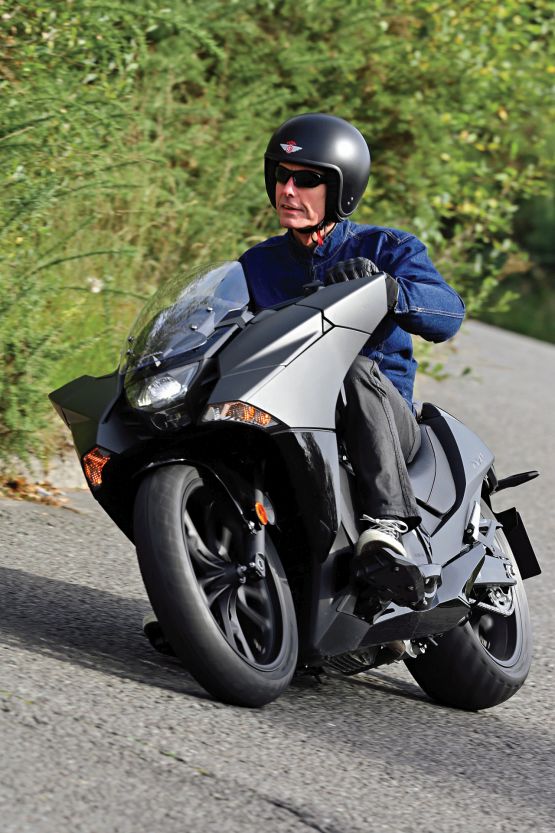 There was even enough ground clearance to put the Dunlops to good use in bends, before the foot-boards started to scrape. The only part of the chassis to let the side down was the brakes. I thought the twin-pot front and single-pot rear callipers surprisingly feeble for a machine of this weight, and the ABS system cut in far too early. You also have to move your foot a long way to use the pedal, adding to stopping distance.
Disappointingly the Vultus falls down in much of its detailing, suggesting that its youthful design team have more experience of reading comics than riding motorbikes. The screen is so low that it directed turbulence straight at my head, making for a loud ride. A simple adjustment system could have dramatically improved it. At least a taller screen is available as an accessory.
The fairing gives reasonable protection to the upper body. But its broadest part, which holds the mirrors, is too low, so my hands didn't get much wind protection and the mirrors showed mostly forearms. In cold weather you'd need heated grips, another accessory. The fairing lowers give some protection but the Vultus wouldn't keep the rain off your legs as efficiently as most scooters.
The fairing pockets are not only small but poorly designed. The left one holds an electrical socket but I didn't fancy the idea of my fragile phone rattling around in a hard, irregularly shaped compartment that could surely have been made much more accommodating. The pillion seat hinges to form a useful backrest, but it's a shame Honda didn't design it to reveal a luggage rack with bungee points, as the hinged seat of BMW's R1200C did almost 20 years ago.
There was no chance of using a tank-bag on the steeply angled, plastic fuel-tank cover so I had to lash my bag to the backrest, and risk wearing away the paintwork. The Vultus was originally displayed at Japanese shows with integrated panniers. These are available as an accessory but would have been usefully included as standard, although they aren't very big. The pillion seat is a reasonable size but the passenger gets only a strap to hold.
By contrast, the Vultus design team did a good job with the instrument console, whose digital display illuminates in a choice of 25 colours. Better still, it can be set to change colour with the different riding modes: blue for Drive, pink for Sport and orange for Manual. All right, so it's hardly a game-changer, but I thought it was a cool feature. The display is legible and includes most information, including a fuel-gauge, though not a consumption reading. With a capacity of 11.6 litres the Vultus holds less fuel than the Integra, but with the economical twin sipping gas at 3.7 l/100 km or less it should still give a reasonable range of well over 250 km.