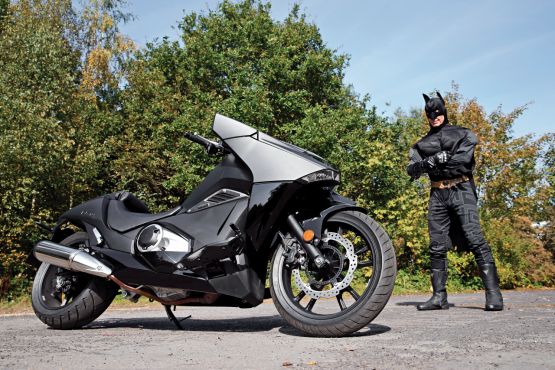 We rode the Japanimation-inspired Honda NM4 Vultus recently. Here is what the experience was like
Story: Roland Brown
The Vultus is one of the strangest looking bikes for years, and one of the most distinctly Japanese. Its stealth bomber/Batbike like shape is inspired by Japanimation, the style of cartoons, often featuring super-heroes, that is popular in Japan. Yamaha have tried to generate some of the same feel with the "Dark Side of Japan" advertising for their MT models. The Vultus takes the approach to a whole new level.
How much this appeals to people outside Japan (or Gotham City) is a moot point, but there's no doubt the Vultus is a striking bike that generates plenty of interest. Essentially, it's a re-styled version of Honda's Integra, the large-wheeled scooter-come-motorbike. According to Honda, the Vultus was created by a young team of designers who were given a completely free hand, and are trying to attract a new kind of rider to motorcycling.
Beneath the angular bodywork is the 745-cc, liquid-cooled parallel twin engine that powers the Integra. As with that model it comes with Honda's Dual Clutch Transmission as standard, rather than as an option as with the NC750S roadster and adventure styled NC750X that also use the same lump. Maximum power output is an unchanged 54.7 PS at 6,250 RPM but this SOHC, long-stroke engine, which began life as half a Honda Jazz car unit, is all about gentle performance, broad torque spread and fuel efficiency. As with the Integra, its chain final drive seems slightly incongruous for what in most respects is a giant scooter.
Chassis layout also follows that of the Integra, based on a steel frame, with non-adjustable front forks, a single rear shock with Pro-Link linkage, and a single wavy brake disc at each end. Wheels are from a motorcycle rather than a scooter, with 18-inch front and 17-inch rear diameters. The Vultus differs from the Integra in having thicker, 43-mm forks and a fatter, 200-section rear tyre.
One notable difference from most bikes, and even the Integra, is its riding position. That seat is knuckle-draggingly low at just 650 mm, and the foot-boards are set well forward, giving a riding position that feels almost more like that of a sports car than a typical scooter. The rider's part of the seat is as broad as it's low, and the pillion section hinges to form a backrest that can be adjusted for angle, and also forward and back through several positions.
Inevitably the riding position means the Vultus is very long, with a 1,645-mm wheelbase, and that bulky bodywork contributes to it weighing a hefty 245 kg. Unfortunately, it shares the Integra's drawback of having an un-scooter like lack of storage space, because its fuel tank and engine are in the familiar motorbike place, ahead of the rider, and its low seat leaves no room underneath. Instead there are two compartments in the fairing, one lockable and just about big enough for a phone, the other slightly larger and not lockable.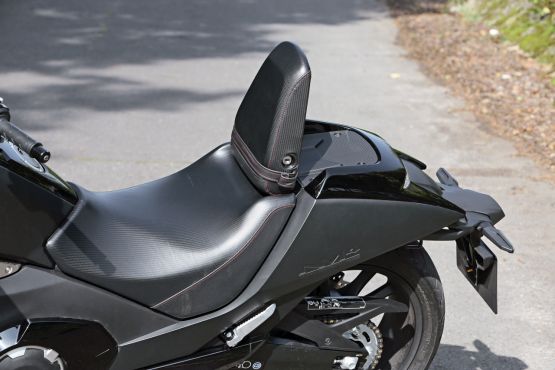 More on page 2>