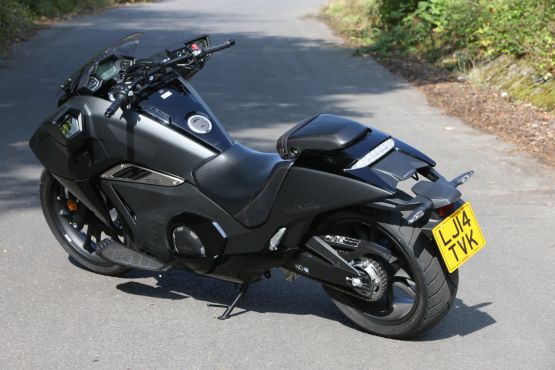 The basics of engine and chassis performance are mostly quite good, if what you want is a slow-revving, respectably fast and very stable giant scooter. The weight can make it feel unwieldy at low speed, not helped in traffic by the fairing's width and the DCT system's slight jerkiness and lack of clutch. But at least the low seat will enable riders of all sizes to put a foot down easily.
Honda's low-revving parallel twin engine is well-suited to a laid-back machine, and bikes don't come much more relaxed than the Vultus. Low-rev and midrange response is enjoyably strong, giving plenty of pulling-away performance and a respectable burst of acceleration for overtaking. The SOHC unit is smooth and even has a reasonably pleasant and long-legged character, giving the ability to cruise effortlessly at an indicated 120 km/h, and a top speed of over 160 km/h.
Once up to speed, the Vultus rumbles along very pleasantly, and the dual-clutch system complements it well. As with Honda's other DCT models, you get a choice of manual shift, using your left hand's index finger and thumb to go up and down through the six-speed box; or automatic, which can be set to 'Drive' or 'Sport' (via a button on the right bar), the latter allowing more revs before the system seamlessly changes up.
As with other DCT bikes, I found that even in the 'Sport' mode the system tended to change up slightly too soon, occasionally when I really didn't want it to (for example, in the middle of a roundabout). But the system has been usefully updated since its launch five years ago. Its auto modes gave a pleasantly relaxed feel, and the manual mode's paddle change was impressively slick. In auto the thumb paddle can now be used to add a quick down-change when slowing for a bend, after which the system will return to its previous mode. In town I appreciated not having to bother changing down or finding neutral at the lights, whichever mode the Vultus was in.
The Honda's handling also impressed, its long wheelbase and 18-inch front wheel contributing to a very stable feel at speed and when cornering. The bike felt a bit ponderous in slow turns, but its steering was nicely neutral. Suspension at both ends worked pretty well, too, and ride quality was very acceptable although most of the rider's weight goes through the seat, and there's only 100 mm of rear wheel travel.