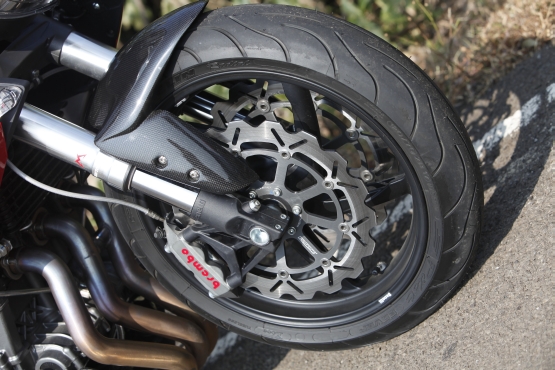 Like acceleration, deceleration too is a ferocious affair. To help this missile come to a stop, Benelli have equipped the TnT 1130R with a pair of 320mm floating discs up front with Brembo four-piston callipers and a single 240mm disc with twin piston calliper at the rear. Squeeze gently on the front right lever (we never really bothered with the rear much) and you will – quite literally – feel the weight shift forward as your forearms load up. There is a degree of dive on the pair of 50mm Marzocchi forks, but that's not what you notice. What you do notice is how quickly, sharply and accurately the brakes bring the bike to a total stop. Just for the heck of it, I kept trying to hit the brakes at the same spot during the photo shoot for the cover shot and get the TnT to stop at the same point. Seven times out of 10 I managed to stop exactly where I wanted to. Truly, this bike does stop on a dime.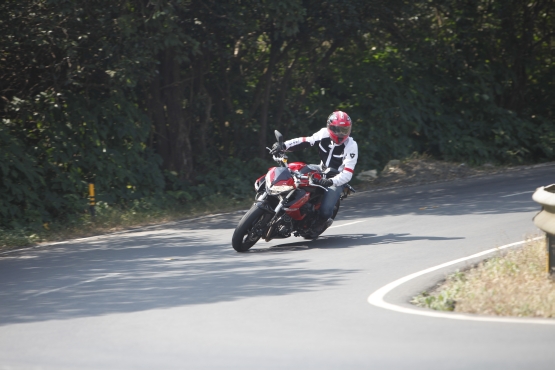 Handling too is sublime. Those Marzocchis and that fully adjustable gas-charged Sachs monoshock at the rear do a fabulous job of holding the bike steady, thus allowing you to trace your chosen line time and time again on the tarmac. Here again, the weight of the bike – or rather the lack of it – becomes evident as you tip it into the corner and then pick it up again. It's so much fun that I was quite tempted to keep going round the corners long after the photo shoot would have been done. While the Benelli TnT 1130R excels on the handling front, it doesn't disappoint when it comes to ride quality. It isn't as stiff as you'd expect a bike of this nature to be on our Indian roads. Of course, you do feel the bumps and ruts on the road filtering through the spine, but they're not bone-jarring.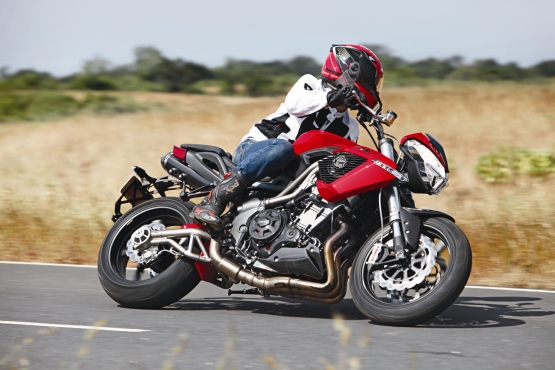 At the end of a couple of days of riding, I kept wanting more. It's then that I realised what it was about this bike that kept pulling me back every time without fail. You see, there are other bikes of similar capacity, perhaps even higher capacity, which will give you great riding pleasure. What differentiates the Benelli from most of these other products is its character. It's got that evil streak that makes you grin wider and wider with every passing kilometre. That's what's special about the bike and that's what will make it worth its money. Provided, of course, the boffins at DSK Benelli price the Benelli TnT 1130R sensibly (by superbike standards).