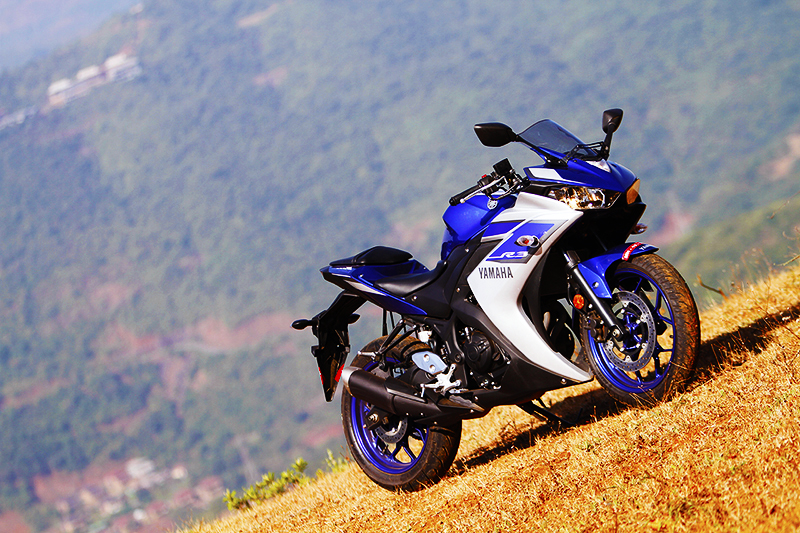 It's fast, agile, compact and powerful just like a Tasmanian Devil, but it's from Japan and we test-rode it in India
Photography: Sanjay Raikar
Where have you been Yamaha? I've wanted to put this question to the great Japanese motorcycle manufacturer for the past two years, because it seemed as if the company had taken a sabbatical from the performance bike segment in India. However, a few months ago, they stunned everyone, including me, by unleashing their baby beast: the YZF-R3. The launch was held at the BIC where our Ed swung a leg over this new performance machine from Yamaha and had some nice things to say about it. Recently, I had the privilege of spending a few days with this new baby from Japan. Was I impressed? Well, read on to figure it out.
Sharp, edgy and a whole lot more; the R3 is impressive on many counts. It is a sensational motorcycle that has the potential, at least on paper, to act as a booster jet, rocketing Yamaha back to the number one spot in the performance game in India. To begin with, the YZF-R3 belongs to the samurai family called the YZF. They are sharp, smart, mean and, most importantly, utterly focused, and can launch an assault on the tarmac at any racetrack. But surprisingly, the R3 appears a tad tamed compared to its siblings. What Yamaha have got right, though, is the design of this baby R bike. Just look at it. The stunning face with a minimalist design, sharp edges and twin-headlamps that clearly disguise those tiny air ducts shouts aggression. The multi-layered fairing, which seems as if it was designed during a geometry class, looks utterly proportionate and edgy. The sleek and slim rear end with a step-seat, which seamlessly blends the rear of the bike with the front, looks absolutely gorgeous. Moreover, everything is designed keeping aerodynamics in mind and that is the reason why this bike looks fast even when standing still. The R3 may not have the curves and creases that you see on Italian bikes but the sharp, futuristic angular design is contemporary and will entice every kind of rider. After all, being different gets you noticed.
The nitty-gritty bits such as the switchgear, quality of plastic, fit-and-finish and other components are quite well-built and exude good quality. The instrumentation also adds to the flair of this modern design. There is a simple console with a dominating analogue tachometer and a crisp digital display that shows you an array of information that is essential, though I was expecting it to have a top-speed readout and 0-100 km/h time read. Am I asking for too much? Well, these things are present on bigger bikes and since everything from there gets filtered down to smaller machines at some point, I don't really think I am asking for a lot here.