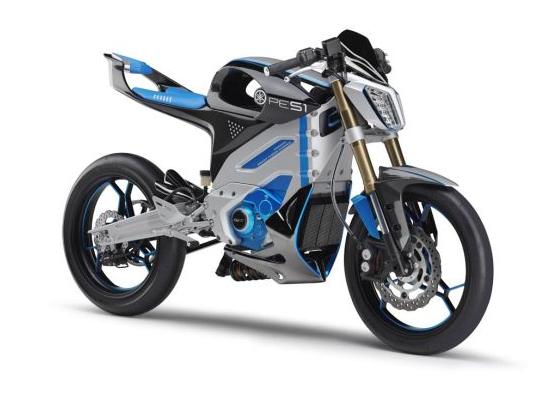 The Tokyo Motor Show is right around the corner, and Japanese heavyweights Yamaha have released a few details about the concepts that they'll have on display there. Judging by their cast at Tokyo, they're taking a definitive step towards the electric vehicle scene – and how!
Of the three electric two-wheelers on display, the first two, and probably the most exciting ones of the lot are the PES1 and PED1, street and dirt siblings based on the same electric motor. The bikes are designed on a monocoque frame, and will both weigh under 100 Kg. They will be propelled by Yamaha's Smart Power Module, and will run on conveniently interchangeable lithium-ion batteries. As Yamaha are going for the next gen Electric Vehicle (EV) motif, they will also feature smartphone integration of some form, and come pre-equipped with a switchable automatic and manual transmission system.
Next up is the EVino, an electric scooter based on Yamaha's classically styled production version that goes by a similar moniker – The Vino. Built to function as a city commuter, Yamaha intend on keeping costs down so that this EV can challenge for the mantle of ultimate short-distance scooter. This too will feature a similar swappable battery power module as the PES1 and PED1, and Yamaha have paid special attention to the bike's weight balance, with low-speed handling convenience in mind.
The last bike making its global début in Tokyo for Yamaha is the Bolt Café concept. Based on the Yamaha Bolt that came out some months ago, the Bolt Café concept showcases the bike's versatility and massive potential for customisation. Built around the same frame and powered by the same 950 cc V-Twin, this concept features handlebars that point downwards, and upside down rear-view mirrors, along with a leather-wrapped single cowled seat. This concept is basically Yamaha's way of putting their money where their mouth is, anyone can claim that a bike is customisation friendly, Yamaha however are actually acting upon this claim.
We'll be at the Tokyo Motor Show, and will keep you updated with more in-depth details about all these bikes as soon as they're announced there, so watch this space.
Story: Harket Suchde