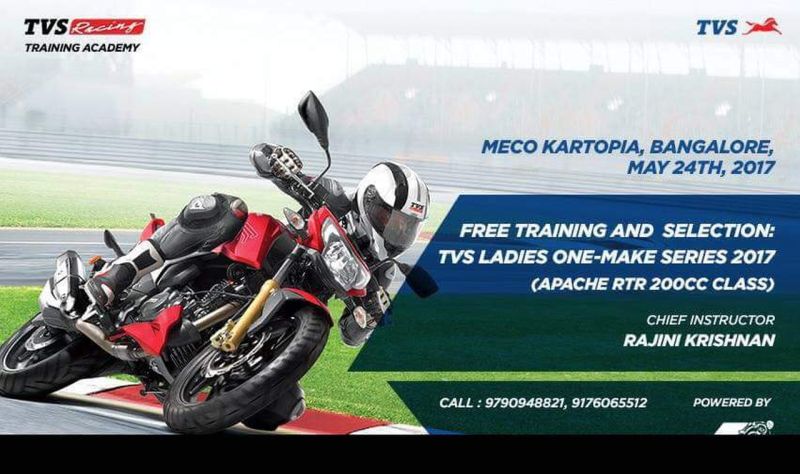 TVS Racing have tied up with Rajini Academy of Competitive Racing (RACR) to support women racers. RACR will aid TVS in selecting and training the riders for the One-make races.
TVS have always been extremely supportive of the racing community in India. This time they have extended their support to the growing number of budding women racers as well. Women who have reasonable experience riding a motorcycle and the passion to race are welcome to apply. 25 deserving women riders will undergo a one-day training program and a selection camp in Bengaluru on May 24. From the selected candidates, the top 15 racers will be shortlisted to compete in the first edition of the TVS Ladies One-make Series 2017.
The shortlisted candidates will undergo a year-long training and racing programme under the watchful eye of the most accomplished motorcycle racer in the country today, Rajini Krishnan, and other trainers from RACR. Incidentally, Rajini used to be a TVS rider himself in his early days. TVS Racing champion riders Jagan Kumar and Harry Sylvester will also be part of this academy as instructors.
For those of you who are interested, the details of the programme are as follows:
Any girl over 13 years of age who has been riding a motorcycle for at least two years is eligible to apply for the programme.
Based on the entries, 25 candidates will be selected and will attend an intensive training programme for a day. This will include six theory sessions followed by a practice session on the track and ends with a short race.
15 successful candidates will be selected on the basis of the time recorded for the three-lap race.
The formal training school for the women racers will commence from June 2017 and they will use the race-spec TVS Apache RTR 200 motorcycles. There will be four races in the TVS Ladies One-make Series 2017 as part of the One-make Championship across the year. The winner will be declared the TVS Ladies One-make Champion. Registrations for TVS Racing – Training Academy for Women have commenced. Interested candidates can visit TVS Apache's Facebook page for further details.
Story: Joshua Varghese