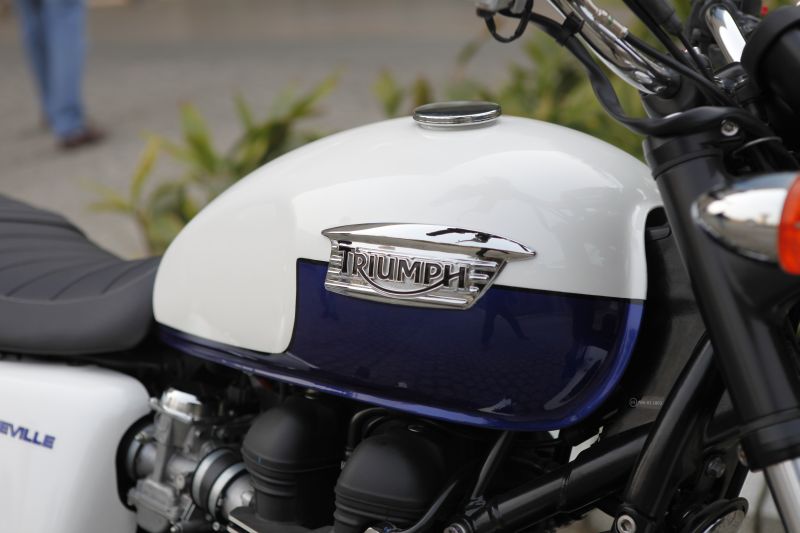 We rode the standard Bonneville, which, just like the 70's model, comes with cast aluminium wheels and an analogue speedometer with odometer, clock and trip information. The 17-inch alloy wheels shod with modern Metzeler tubeless tyres provided ample grip on the go. Upfront you get a massive 310-mm single disc and a 255-mm disc in the rear with good stopping power, but it could do with some more feel. The bike comes with the classic suspension assembly of KYB front forks and chromed spring twin rear shock-absorbers, which felt firm for our roads.
A simple tubular steel cradle chassis holds an 865-cc parallel-twin motor which puts out a healthy 68 PS at 7,500 RPM and 68 Nm of torque at 5,800 revs. The air-cooled engine has gained reputation for reliability over the years and innumerable Bonneville aficionados will vouch for it. It still is based on the original design of wide bore and short stroke, which not only helps in improving efficiency but also ensures low wear. To keep the old-school theme going, the Hinckley-based company has camouflaged the fuel injection system, which, from the outside, appears like modern day carburettors.
The Bonnie delivered power in a predictable and linear way, and offered adequate speed and torque for everyday riding. Its five-speed gearbox is well spaced out and with the ample supply of torque, it allows you to quickly shift up to the top gear to cruise effortlessly at 120-130 km/h. I never expected it to be as quick or sharp as a sports bike of similar capacity, but you'll never be disappointed. Keeping to the old-school theme, the ignition switch is on the side of headlight bracket, there's a separate key for the handle-lock. Then the fuel tank cap doesn't have a lock.
At just Rs 5.7 lakh (ex-showroom, New Delhi) the Triumph Bonneville can be the practical big bike you've been looking for, and with its rich heritage would enhance your pride of ownership as well.
Story: Sarmad Kadiri
Photography: Sanjay Raikar