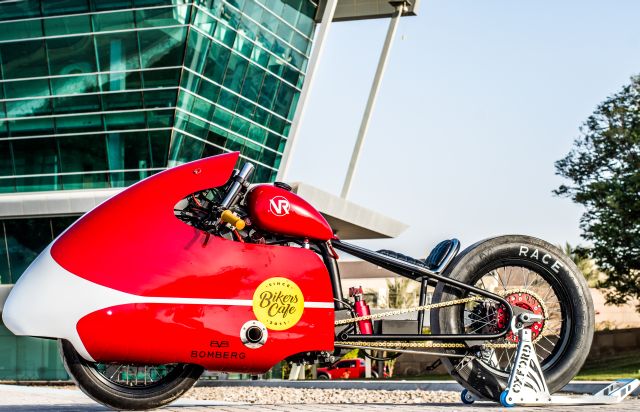 Dubai-based VR Customs transform a dewy-eyed Hero Xtreme 150 into a turbocharged, hard-tail retro drag bike. We bet it's the coolest thing you've seen in a while…
Pop Quiz: What comes to your mind when I refer to a full-blown streamliner fairing, old-school fuel tank, low clip-ons, and stretched-back seats? Yes, it is a custom drag bike! I bet you'll rub your eyes in disbelief if I tell you that this one is powered by a Hero Xtreme's 150-cc air-cooled single. Now you must be wondering how did a Hero end up at a custom shop in Dubai and what prompted this "Xtreme" makeover? Well, here's the background:
Biker Café (Dubai's very own "Ace Café") organizes an annual custom bike build-off challenge and hands over new motorcycles to local customizers to promote talent and love for biking. In the latest edition, the customizers were given the Hero Thriller 150, a re-badged Xtreme 150, which is one of the popular pizza delivery bikes in the cash-rich Middle-Eastern country. (Also read: Hero Xtreme 200R First Look)
Although there were other entries, it was this VR Customs' radical take — a stretched, drag-race bike — that eventually garnered the popular vote. The cool concept with intricate detailing, craftsmanship, and custom parts helped them win top honours. And by "them" I mean the duo from VR Customs, Marc Roissetter and Alan Boyter, two expats based in Dubai who bond over their love of motorcycling. A quick chat with Marc revealed that they prefer not to be called a custom shop, but "just two guys with basement space that enjoy building bikes". Modest? Yes. Because their website boasts of some pretty awesome builds, including a stunning Ducati Monster 1100 EVO café racer.
Shedding light on the Hero Xtreme build-off, Marc says, 'The rules of the competition said that the engine must remain standard, but that was about it. It gave us the opportunity to go a bit crazy and build something unique.' As the duo started on the drawing board, the idea took off from building a "mean" concept which soon escalated to "crazy" and the idea eventually snowballed into something absolutely outrageous — a slammed down, stretched, hard-tail drag-racer. As insane as it sounds, the 150-cc engine has been equipped with a turbocharger, making the Xtreme perhaps the world's fastest pizza delivery bike! They call it, "The World's Fastest Indian (Made) By VR Customs". Well, it may not be able to shatter Burt Munro's land-speed record, but it sure looks super cool.
The custom builder duo have completely dissembled the Hero Xtreme and there's not much left of the brand-new donor bike. The original parts made way for a custom-made and highly rigid frame, a hard-tail rear end and a completely hand-made bent-pipe. The streamliner bodywork is a replica of the 1950s MV Agusta MV175 and it takes just 60 seconds to remove the entire thing off the bike. A custom-made exhaust system sticks out from a hole on the left side of the fairing and looks pretty neat.
The other cool design elements include a 7.5-litre peanut-shaped fuel tank, a hand-made seat pan and a Honda CB750 café racer seat. The seating geometry is hardcore drag style, thanks to a set of Triumph Bonneville rear sets and billet clip-ons mounted low on the front fork. The custom-built information console consists of a tachometer and boost. (Also read: Harley-Davidson University: Apprentice to Alumnus)
Underneath the bodywork is the puny engine with the mounts lowered to serve the drag racer's intent. Sticking to the custom build-off rule book, Marc and Alan didn't fiddle around with the Hero's engine much but couldn't resist tinkering around a just a wee bit. And by that I mean a PE30 Keihin carburettor and, of course, a turbocharger for small-capacity engines. New bits also included a silicon intake pipe along with a new oil tank and pump.
To be honest, these upgrades do not make the 150-cc a scary ride. Marc revealed that the jetting right was quite easy, which they managed in their second attempt, and she runs well up to the limiter. Though he would have liked to install a CR150 cam in and trick up the engine for more horsepower, the build-off rule doesn't allow this modification.
In fact, Marc shared an endless list of body parts on the Turbo Xtreme which have been borrowed from a variety of bikes. For instance, the front fork and brake caliper are from a Suzuki GSX-F750, the 17-inch front wheel has been borrowed from Honda CRF supermoto. The rear wheel's a concoction of a Honda CRF supermoto hub and an 18-inch CRF MX rim. The OEM-fitted front caliper of the Hero now does duty on the rear wheel, with CRF wavy disc brakes at both ends. The front wheel comes with Metzeler Racetec, with an M&H vintage drag slick out on the rear wheel.


The rear-sets have come off a Triumph Bonneville and the rear master cylinder is taken from a Triumph 675. Obviously, many of the parts had to be machined and modified for seamless operation. Marc revealed that many of the parts were lying around from other builds and the only bits they had to buy were the fairing, turbo kit, and rear tyre. Rounding off the build are specially made steering stops, triple clamps, a new gear-shift linkage, a throttle tube from a two-stroke, braided brake lines, and a pair of Bitwell grips.
The end result is this exotic machine. A cool and radical custom job which has managed to win the hearts and the acclaimed Biker Café custom build-off challenge.