For 2021, Triumph have launched an all-new Tiger, the 850 Sport, which replaces the standard Tiger 900. Here is our first ride report.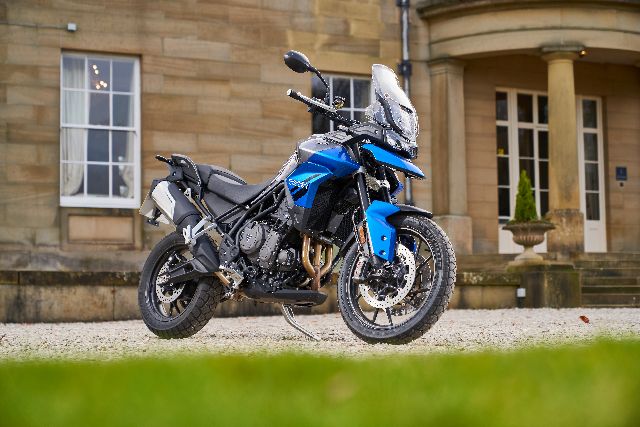 Story: Adam Child 'Chad'
Photography: Joe Dick
The Triumph Tiger 850 Sport has many similarities with the highly acclaimed 900, including the same capacity of 888 cubic centimetres (cc), but Triumph have electronically detuned the engine to make it more user-friendly and road-focused. Furthermore, unlike the Tiger 900GT, the new 850 Tiger Sport can be converted to A2 for the European market.
Lean-sensitive rider aids and the IMU have been removed and replaced by conventional traction control and ABS, while the suspension is no longer multi-adjustable. However, this lower specification is reflected in the price, £9,330 (Rs 9.33 lakh), which is over £2,000 (Rs 2 lakh) cheaper than the base Tiger 900GT (£11,400, that is, Rs 11.40 lakh). On price alone it's tempting and, after our first ride, I can tell you the words "base" and "entry-level" shouldn't dampen your enthusiasm for this new model. It may just be the most surprising bike of 2021.
It's just seven degrees outside and I have a ton of jobs to do around the house which I can't, and shouldn't, put off again. But instead of knuckling down to some DIY in the warm, I'm trying to find the key to Triumph's new Tiger 850 Sport and hoping the wife will understand when I'm gone for a few hours.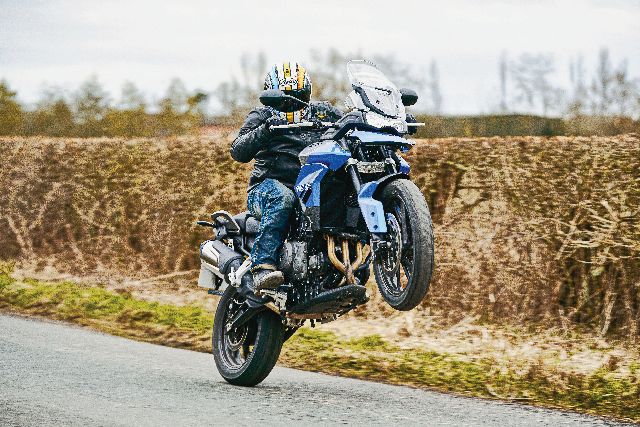 Like a child with a new toy on Christmas Day, I can't leave the 850 Sport alone, it's such a great bike and far more satisfying than I expected. Yes, it may be a diluted Tiger 900 (which it replaces), but it hasn't lost any of its spirit. Beer with the alcohol removed? Bond without a car chase and gadgets? Anything but.
Some in the media, including myself, have used words like "entry-level" and "budget" to describe the new 850 Sport, which is a bit like describing the Foo Fighters as mildly entertaining middle-aged men in a band: correct but unfair. As soon as I took delivery of the triple, I started to smile and it hasn't worn off yet. It has been a long time since a
sub-£10k (sub-Rs 10 lakh) bike has been so much fun as well as versatile.
The Tiger 850 has the same engine capacity as the Tiger 900 range, 888 cc, but has been detuned to make the bike more accessible for new or inexperienced riders. Peak power is now 85 hp at 8,500 rpm, compared to 95 hp at 8,750 rpm in the case of the older Tiger 900, and peak torque is 82 Nm at 6,500 rpm, compared to 87 Nm at 7,250 rpm in the case of the Tiger 900. The 850 is 10 hp down and 5 Nm down on torque, but those peak power and torque figures are produced lower down in the rev-range, thus making the new bike more usable and rider-friendly.
The Tiger 850 shares the same innovative T-plane crank as the 900 with a 1-3-2 firing order that gives the British triple a unique sound — a throaty rasping noise — which also adds character. All too many Euro-5-compliant bikes, of which the Tiger 850 is one, sound dull and soulless, but not this one. I'm not sure how Triumph have managed it, but it sounds good for a stock bike in 2021.
As you would expect of Triumph, the throttle delivery is liquid-smooth and effortless. At low speeds, the throttle connection is soft, which makes riding a doddle around town, especially when performing tight U-turns. As mentioned, Triumph have moved the meat of the torque lower down in the rev-range as compared to the 900 and you instantly feel that. There is lovely, usable drive on tap at low speed, which then builds strongly when accelerating.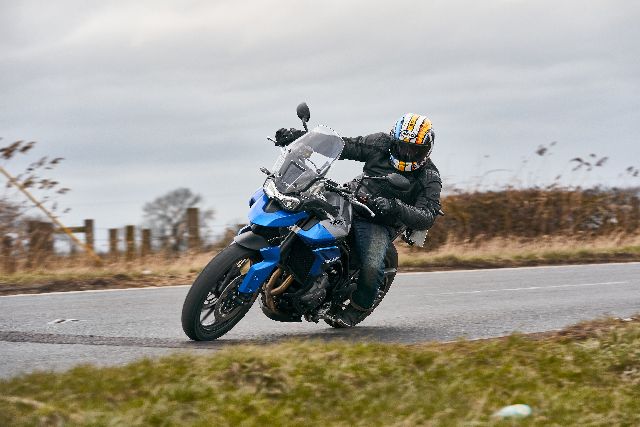 While the 850 is 10 hp down on peak power compared to the 900 and noticeably down on torque, that's only when you're in the top quarter of the rev-range. For the major part of this test, I was nowhere near full throttle, so I never felt short-changed by the power drop. With the TC switched off, there was still ample power to lift the front wheel in second gear, which might not be a particularly scientific approach to engine testing but it does show the new Tiger doesn't want to go to bed at 9.00 pm with a hot chocolate. It's still a fun and rewarding bike to ride.
Even when I danced around on the smooth gearbox and started to explore the sporty side of the Sport's handling, I never felt short-changed or underwhelmed. However, I'm below average height and weight and never rode two-up or with the optional luggage fitted, so I was experiencing the Sport's power-to-weight at its best. It felt a little buzzy at 145 km/h, just above 6,000 rpm in top, which might intrude on long fast rides. And I would imagine fully loaded and two-up, you'd miss the extra power and torque of the Tiger 900. But for everyday riding, most riders, especially the inexperienced ones at whom the Tiger 850 is aimed, will find the power more than enough.
There are two riding modes to choose from, Road and Rain, both with dedicated throttle maps and traction control while ABS remains constant in both modes. Rain still produces full power but with softer power delivery and more obtrusive TC. Frankly, the power delivery is so soft and forgiving in the normal Road mode that it's hardly needed, but I suppose some may prefer the added security and margins it provides.
Comfort is excellent. The screen height is manually adjustable (by 50 millimetres) and just about doable on the move, while wind deflectors on either side provide just enough wind protection. I spent a major part of the test with the screen set to its lowest settings. The seat and bars are both adjustable and, on standard settings, the wide bars, low pegs, and comfortable seat were virtually faultless compared to similar bikes in the category. Cruise control was missed, as were heated grips and hand-guards on those cold mornings, but we have to remember that price tag of £9,300 (Rs 9.3 lakh).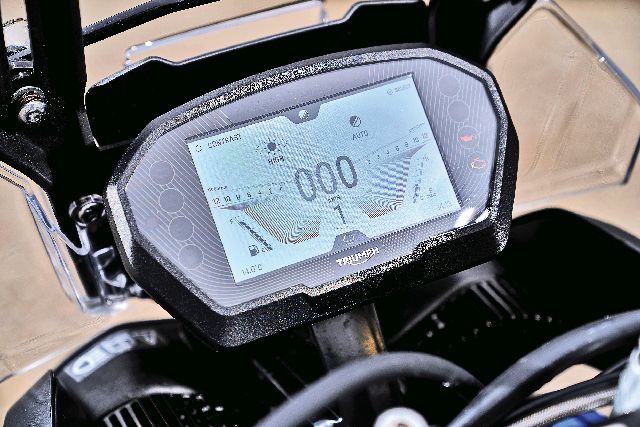 Triumph quote 19.5 km/l, whereas I averaged 16.6 km/l, although this was mainly on country roads and avoiding the motorway while making that triple sing (it really does sound good). On a well-behaved run, I averaged closer to 17.7 km/l, but still not the 19.5 km/l claimed by Triumph. But that isn't bad and while the 20-litre tank gives a theoretical range of about 400 km, it will be at around 320 km or just below when you need to start thinking about fuel.
A distance of 320 km-plus) in one stint certainly shouldn't be a problem in terms of comfort. That high-sped buzz that becomes noticeable at 6,000 rpm and above is felt primarily through the pegs and increases with the speed. It's not annoying but is worth commenting on, especially for those who might be embarking on some high-speed touring.
As you'd expect, to save costs over the more expensive Tiger 900GT, the 850 has reduced the specification of the suspension, with no adjustment on the front and only pre-load on the rear — though the adjuster is remote and easy to access. As with the engine, I was expecting a sharp drop in performance, but the road-tuned Marzocchi 45-mm inverted forks up front and Marzocchi rear shock gave high levels of feedback and support for this type of bike with long-travel suspension. The Michelin Anakee dual-purpose rubber worked well from the off, offering impressive feedback in the cold, damp and dry — a truly universal tyre.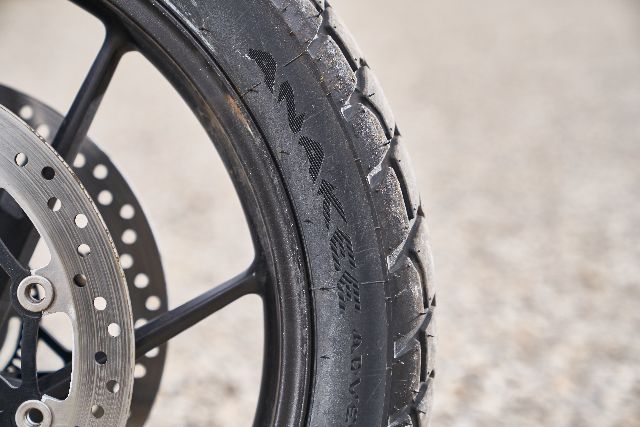 Within a few miles the Sport and I clicked, meaning it felt like my bike, one I'd owned for a year or so, and I was all too happy to throw it to almost peg-scraping levels of lean. It made me full of confidence.
Yes, I made the mistake of underestimating the Tiger 850 Sport and how much riding fun it can deliver. The wide bars allow you to throw it around with relative ease and it remains unfazed by terrible road surfaces and slimy conditions. When I challenged the Sport with poorly surfaced and even unclassified roads at speed, it remained stable and unfazed.
The higher the road speed, the more the front end starts to lift a little and the rear sits and the more aware you become of the Sport's adventure dynamics, particularly its long-travel suspension and large 19-inch front tyre. It doesn't understeer or run wide, but it does take greater effort to flick from side to side at speed.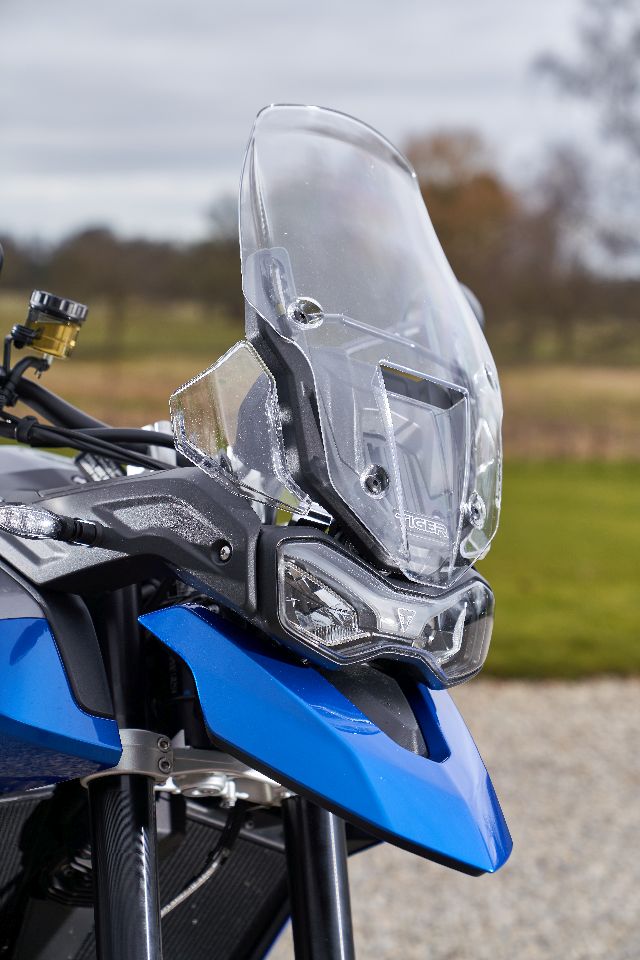 At low speeds and around town, there's a nice balance to complement the smooth fuelling plus a natural seating position and ergonomics that make it ideal for less experienced riders. This Tiger isn't a tiger at all because it's as intimidating as a kitten. But I guess very few people would buy a bike called the Kitten 850.
Triumph describe the Tiger 850 as "a road-focused adventure bike" and, despite the dual-purpose rubber, it was never really designed to take on anything too serious off road, especially with cast alloy wheels. Light off-road work on easy gravel trails is just about within reach, but don't attempt anything serious. You'll have to opt for the off-road-biased Tiger 900 Rally if you want to take on some real off road.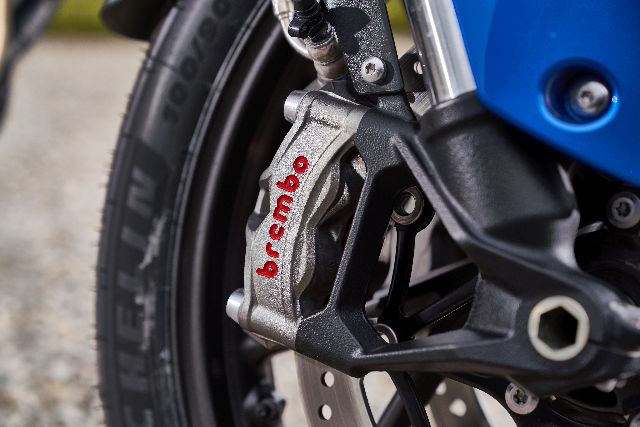 Did someone at Triumph tick the wrong box when they were ordering brakes from Brembo? Why have they fitted top-spec radial Brembo Stylema four-piston calipers? Maybe, there was a special from Brembo on a Friday afternoon…
I'm not complaining, far from it — the better the brakes the happier I am. Obviously, the same brakes that are fitted to some superbikes haul up less than the Sport's 200 kg (192 kg dry) and, on the Triumph, they are far from being too sharp or aggressive and, no, they don't throw you over the bars with one finger resting on the lever. Meanwhile, the ABS isn't obtrusive but, remember, without an IMU, there is no cornering ABS as there is on the Tiger 900GT.
The Tiger 850 Sport replaces the standard Tiger 900, therefore £9,300 (Rs 9.3 lakh) is a two-lakh saving over the base Tiger 900 GT (£11,400, that is, Rs 11.4 lakh). That's a hefty amount and enough for insurance, some new kit, and a long weekend away touring. Compared to the Tiger 900GT, on price alone it's tempting. But let's look at the competition.
BMW have the F 750 GS, which, like the Triumph, performs a similar trick of being described as one thing, a 750, when it's actually another, a (de-tuned) 853-cc parallel twin, an engine that's also found in the 850 GS. The 750 GS starts from £8,600 (Rs 8.6 lakh), is similar on spec and torque, but is significantly down on peak power compared to the Tiger 850.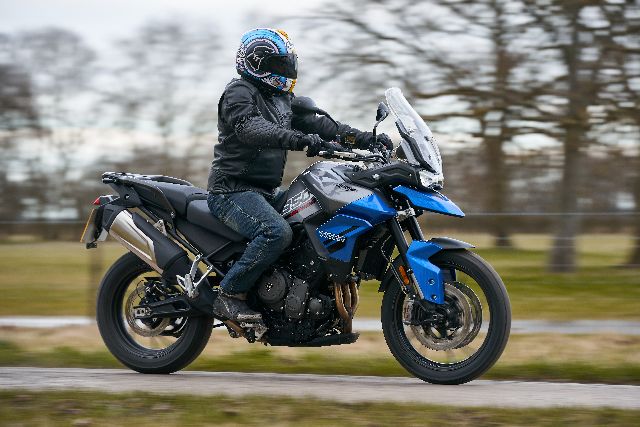 The base BMW F 850 GS has more power than the Tiger 850 and is more desirable than the F 750GS, but its price is just over £10,000 (Rs 10 lakh) for the base model at £10,185 (Rs 10.19 lakh).
Another bike I would throw into the mix is the Suzuki V-Strom 1050. The big V-Strom was updated in 2019 and edges the Tiger 850 Sport on power and torque, although not by much, and the base model is priced at a competitive £9,999 (Rs 10 lakh). The downside of the V-Strom compared to the Tiger 850 is that it's considerably heavier (and can't be restricted to A2).
Ducati have the 950 Multistrada at £11,999 (Rs 12 lakh) and KTM the 890 Adventure at £10,999 (Rs 11 lakh), price points that place them in Tiger 900GT territory. Yamaha have the Ténéré 700 at £9,499 (Rs 9.5 lakh), which, like the Tiger, can be converted to conform to A2, but, with a 21-inch front wheel, it caters far more to off-road riding than the Tiger 850.
To save on costs and so the 850 doesn't compete directly with the Tiger 900, rider aids have been reduced. You still get two riding modes, traction control, and ABS — with those outstanding Brembo stoppers — but there isn't an IMU (inertial measurement unit). What this means is the traction control and ABS are not lean-sensitive, as they are in the Tiger 900.
There are two sides to this argument. One, the Tiger 850 is aimed at a certain type of rider, one who's not likely to be peg-scraping on every apex and chasing a stopwatch. Additionally, the Brembo Stylema brakes are excellent, the standard ABS (just monitoring wheel speed) is also superb, and do you need lean-sensitive traction control on a bike with less than 90 hp and excellent mechanical grip?
The counter-argument is that the Tiger 850 is aimed at new riders who would appreciate the safety net of cornering ABS and TC, especially as they are more likely to be prone to mistakes.
Personally, I think the Rain mode is enough to keep new riders safe in tricky conditions. It softens the delivery, increases the traction intervention, and the standard ABS is more than enough — but again I'm experienced and a new rider may be looking at the specs and lack of IMU with a little trepidation.
Considering the new bike's accessibility in terms of price, the switchgear and five-inch TFT instrumentation are of a high standard. I really like the clocks; the ability to change the style and looks is a nice touch. In fact, the overall finish is of a high quality, with the full LED lights and DRL a spec higher than the 900's.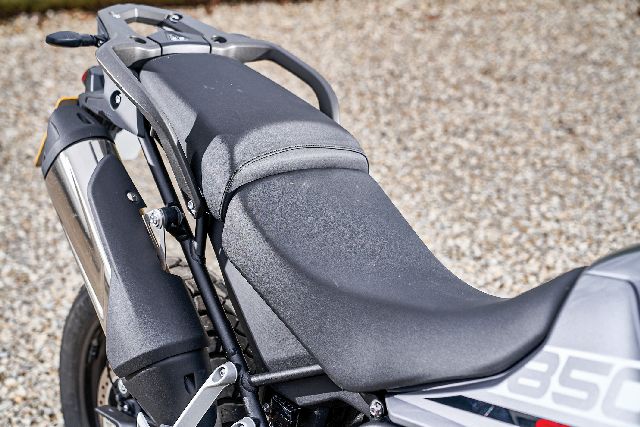 There are 60 accessories to select from, including a low, 790-mm seat option and a range of hard luggage, plus the usual cosmetic trinkets. I think the quick-shifter would be a nice touch and possibly heated grips.
I thought I would feel underwhelmed or short-changed by the Tiger 850 which, put simply, is a de-tuned Tiger 900. But I didn't; it was a pleasant surprise. The lovely sounding triple has real-world performance and loads of useful torque. It's fun and lively, even for experienced riders, while the handling, much like the engine, is far more able than I was expecting. The Sport may be relatively basic, but it works and, for this type of bike, it's hard to fault, especially when compared to the similar competition.
The Brembo stoppers are top-notch, while the clocks and styling are neat — this is an impressive package at an affordable price. If a friend were looking to come back into biking or had recently passed their test and were attracted to the adventure market, then, yes, I'd recommend the Tiger 850 for a test-ride without hesitation. It's a versatile, fun bike, which even has some character to it. It will be interesting to see if new buyers are perturbed by the lack of advanced rider aids.
Also read: 2021 Suzuki Hayabusa First Impressions – Mighty Falcon