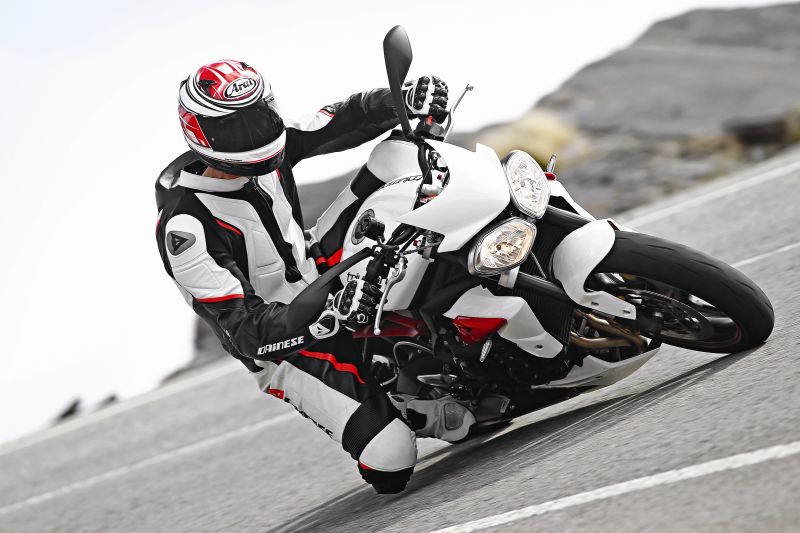 Almost immediately I was reminded of one of the Triple's greatest assets: it's simply so easy to ride. The riding position was natural and reasonably roomy, the controls were light, the power delivery crisp and, perhaps most of all, the handling was deliciously responsive. The 675-cc triple engine was smooth and well balanced, pulling sweetly if not particularly strongly from low down, kicking through the midrange and feeling enthusiastic and eager to rev.
For so many road situations that 105 PS output is just right: enough to make the Triple exciting, yet not so much that you're reluctant to wind back the throttle for fear of getting into trouble. Not that I needed to worry about that, on some gloriously deserted and twisty roads in the Sierra de los Filabres mountains. In particular the Triumph was fantastic fun on the A-349 that twists over the Sierra between Olula del Rio and Tabernas.
It surged forward on the short straights with its addictive intake howl, the programmable blue lights on its tacho flashing as the revs approached the 13,000-RPM red-line through the gears. At speed the wind tugged at my neck muscles despite some welcome protection from the fly-screen. The top speed is about 225 km/h and the Triumph was superbly entertaining even well below that figure.
Especially because it was so good in the bends. The improvement over the Street Triple R that I'd ridden to the airport the day before was dramatic — but that was because my bike's rear tyre is a bit worn and there was a huge kit-bag strapped to the seat. The genuine improvement is more subtle, but I suspect a back-to-back test would show the new R quicker to turn and a bit more stable when on its side, sweeping through a fast turn behind a hard-riding test pilot.
I was initially surprised to discover that Triumph had set up the bikes quite soft, midway between the Standard and Comfort settings in the owner's manual. The piggy-back Kayaba rear shock's spring is about 10 per cent softer than the previous model's, mainly due to the reduced rear end weight. That helped soak up bumps really efficiently, but for hard riding felt just a fraction vague for my 85 kg of weight.