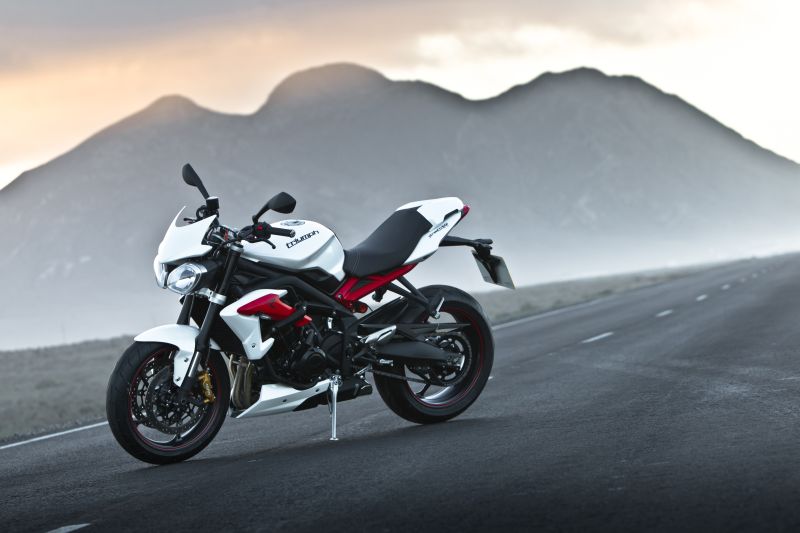 Around that time Triumph also made a couple of other detail changes, but have otherwise left well alone. Until now. For 2013 both models are updated with new chassis and with a single silencer on the right in place of the old Triple's pair of under-seat cans. The resultant slimmer rear end meant the Triple Rs lined up outside the launch base hotel near Almeria looked distinctly different. They were all also fitted with Triumph's accessory fly-screen and belly-pan, colour-matched to paintwork in white, black or matte grey.
There's no change to the 675-cc, 12-valve three-cylinder engine, whose only mechanical mod is a slightly taller first gear. Throttle bodies and injection system are updated to boost fuel economy. Triumph say consumption in town is reduced by a whopping 30 per cent (from 7.1 to 5.5 litres/100 km), though there's a modest 12 per cent improvement at a steady 90 km/h and none at 120 km/h. Power output is unchanged all the way to the maximum of 105 PS at 11,850 revolutions per minute.
There's a lot more new stuff in the chassis, starting with a re-designed aluminium frame made from fewer parts. The bolt-on rear subframe is a new high-pressure die-cast aluminium piece, in the R-model's case finished in red to match the flashes on the side-panels. The main advantage of all this is reduced weight. The new exhaust saves 3.5 kg, a re-designed rear wheel and brake calliper another kilo, the re-shaped aluminium swing-arm is 600 g lighter and other rear-end tweaks shave a further 800 g.
Result of all that is a total six-kg saving that reduces wet weight to 183 kg. Equally importantly, the Triple's centre of gravity is moved forward so that 52 per cent of its weight is over the front wheel, compared to 49 per cent before. This, in turn, allowed Triumph's development team (of whom Felipe and his brother, David Lopez, are key members) to steepen steering geometry slightly and increase trail by a few millimetres to improve stability.
One less welcome change is that the R-model's seat is 15 millimetres higher at 820 mm, so shorter riders might struggle. Rather more are likely to appreciate the improved steering lock that answers one complaint from owners. I can't say I've ever found the old model's first gear too low, but the taller one seemed fine as I followed a line of riders away from the launch base at Vicar, near Almeria on Spain's south coast.