Triumph's first single-cylinder motorcycle for India opened to big bookings. For those who are yet to get an allotment, this may just help you decide.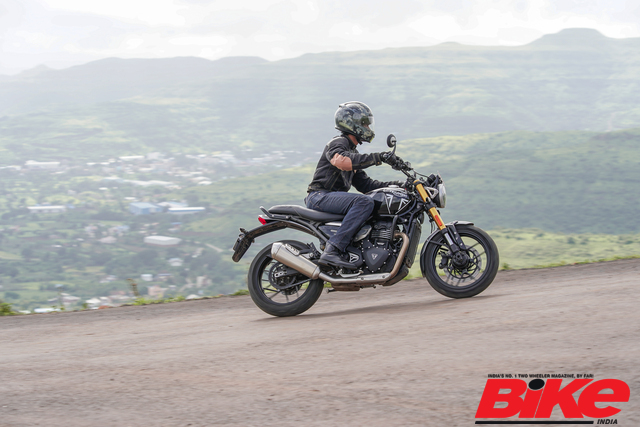 Story: Joshua Varghese
Photography: Sanjay Raikar
With the Triumph Speed 400, the Triumph-Bajaj partnership has taken off to an amazing start. The till has been ringing non-stop even though the introductory price (Rs 2.23 lakh) was limited to the first 10,000 customers. We were also suitably impressed during the first ride of this motorcycle because it lived up to our expectations, so it only made sense to use it comprehensively for a week or so in everyday conditions and we have done just that.
Triumph mastered the concept of modern classic motorcycles with their Bonneville range. Shiny, curvy, and stylish machines that look like they escaped from the pages of history and went on to equip themselves with modern engineering. The Speed 400 has received that treatment wholeheartedly, placing it right at home in the Speed family. Its compact proportions are augmented by a generous helping of attractive shapes that lead the eye; further enriched by interesting colours. It is equipped with LED lights all around. The headlight illuminates the road quite well, making night rides an enjoyable affair.
Before the launch, there was a considerable amount of doubt on social media regarding the quality of this motorcycle. That can be easily settled. This is a well-made product and it is easy to appreciate its levels of quality and fit-and-finish. Personally speaking, I would have preferred an embossed Triumph badge on the curvy fuel-tank; it somehow feels more premium and would have complemented the nature of the motorcycle well. Some may say that spoked wheels are most appropriate for modern classics and I agree but alloy wheels are just easier to maintain. Plus, they offer better levels of feedback. Triumph's choice of 17-inch 10-spoke alloy rims make sense for our road conditions.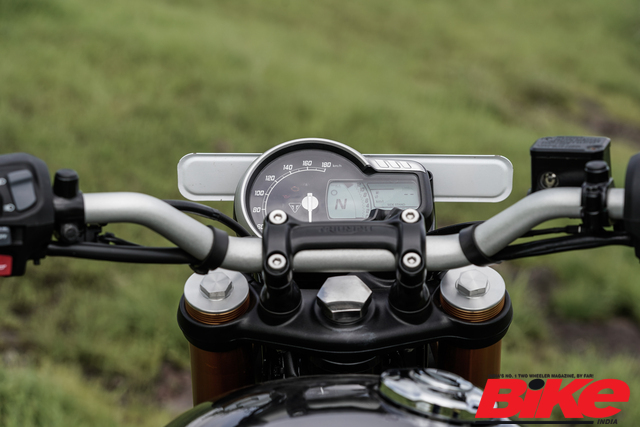 The single-pod instrument cluster features an analogue speedometer and a digital tachometer in addition to the essentials. Similarly, the switchgear layout is simple and there appears to be no compromise on quality. The riding position on the Speed 400 is upright and relaxed with just a touch of aggression. The wide single-piece handlebar, contoured seat, and foot-pegs form a rider triangle that is sporty yet undemanding. It allowed me to manoeuvre through city traffic with ease, kept me engaged on weekend rides, and showed potential for long hours in the saddle. Space for the pillion rider is limited but one can manage short stints comfortably.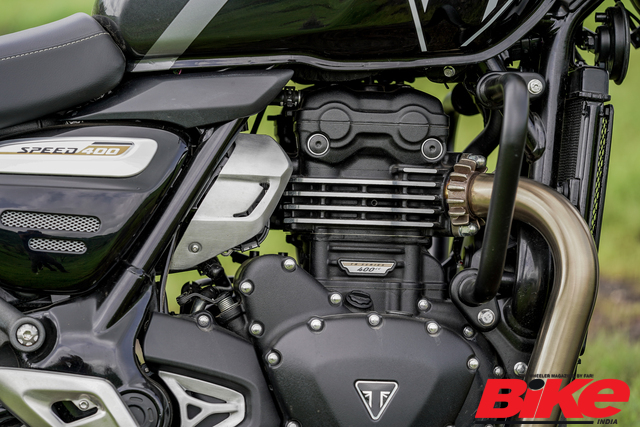 One of the most popular myths about the Speed 400's engine is that it is a derivative of the 390 Duke and Dominar engines. To settle it once and for all, just look for the final drive chain. The Speed's chain, like other Triumph motorcycles', is on the right-hand side, which is the polar opposite of the aforementioned motorcycles. Exchanging the layout of other components—including the clutch, transmission, and magnet—just to accommodate the chain seems unlikely. This is a new engine. It is a 398.15-cc, four-valve, DOHC, liquid-cooled, single-cylinder, to be precise, and it dishes out 40 hp and as much as 37.5 Nm of peak torque. The salient attributes of this mill include a healthy bottom and mid-range. The fuelling is precise and the motorcycle forges ahead in response to rolling on the throttle. "Creamy" is the right adjective to describe the power delivery and the Speed 400 offers six ratios to send it to the rear wheel. It is an engine that supports quick and fast riding and there is almost nothing to dislike about it. However, lower levels of engine noise and lesser vibrations past 6,000 rpm would be improvements that could enhance the experience.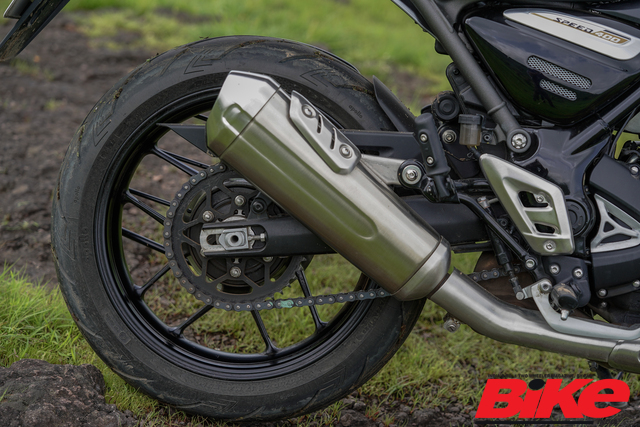 Belting it along my favourite stretch of road, shifting gears late, and enjoying the exhaust note was fun. This is a motorcycle that can be ridden fast but it is just as entertaining to cruise too. Of all its virtues, what the Speed 400's best one is its ability to carry momentum without wringing the engine to its limits.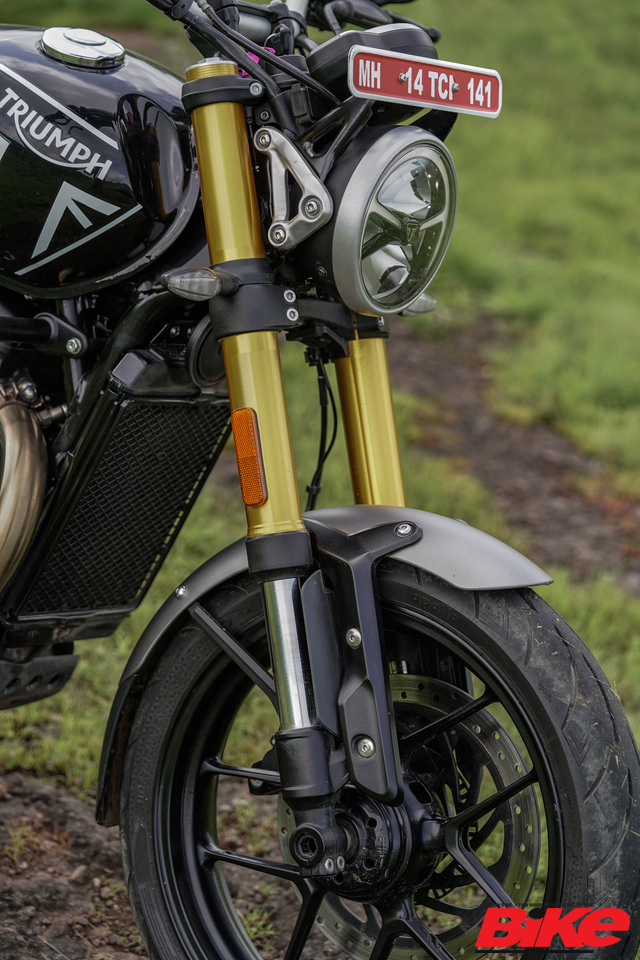 This remarkable powerhouse sits in a double-downtube spine frame that is supported by a USD fork at the front and a monoshock at the rear. The set-up works well for the mixed conditions offered by our roads. All the undulations are soaked up without fuss and one is rewarded with an admirable ride quality. Similar composure is on offer around smooth and fast curves, too, but I did not enjoy it as much around slightly bumpy fast corners. Adjustability is limited to pre-load and it is available for the monoshock only but a good setting is not difficult to find.
At the time of testing, the Speed 400 was being sold to customers with either Apollo tyres or MRF ones. We have sampled both during the first ride and have nothing to grumble about. For this road test, we used the Apollos. They perform to expectations and complement the character of the motorcycle. A four-piston caliper bites on a 300-millimetre disc at the front of the motorcycle with a 230-mm disc managing the rear. Even with two fingers on the lever, the brake pressure is commendable and the motorcycle is quick and stable to decelerate. Riding in the city is also easy. The Speed 400 responds instantly to steering input and has enough torque on tap to enable quick overtakes.
With good looks, a potent engine, and sublime handling among its hallmarks, one would be hard put to identifying a single attribute that made the Speed 400 so popular; only it is not. At Rs 2.33 lakh (ex-showroom), the Speed 400 is a tremendous deal on paper. At least 10,000 people booked the motorcycle without riding it and once they did, I do not think anyone found a reason to cancel their booking. The Triumph-Bajaj partnership has given us motorcyclists something addictive—a fun motorcycle that looks good, rides well, and is priced just right.
Also Read: Ultraviolette F77 Tested