We made the Ultraviolette F77 face the same challenges as an internal combustion engine (ICE) motorcycle and here is what the experience was like.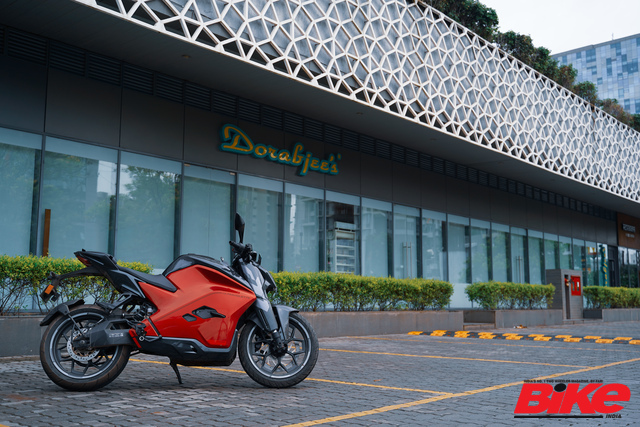 Story: Joshua Varghese
Photography: Apurva Ambep
Personally speaking, faired motorcycles have a special place in my heart. Their streamlined bodywork speaks volumes about their ability to slice through the air even at a standstill. I have also ridden some amazing naked motorcycles but never anything that looks like the Ultraviolette F77.
What is clearly a naked motorcycle when viewed head-on and from the rear gives rise to some doubt when viewed from the side. The forward half of the motorcycle's profile is just a single large piece of plastic with sharp lines and a sharper wing on each side. I particularly appreciate how they have hidden the fasteners from view. Quite tasteful. Just like the alloy wheels which look as if they were inspired by a flower. The shrouds covering the front fork are elements that I have not seen on any motorcycle in recent times and they round off the F77's sleek styling; with the beefy swing-arm and slim tail adding a muscular contrast to an otherwise sharp silhouette. The build quality is good for a start-up but the fit-and-finish needs improvement. We used the motorcycle for a few days, riding it on a daily basis, including a few runs after sunset, and the headlight offered impressive illumination.
In terms of size, the F77 is similar to most naked motorcycles and just as proportionate, too, with a wheelbase of 1,340 millimetres. The seat is 800 mm off the ground but its contour makes it accessible for many. The rider sits leaning forwards and, although it did not bother me at all while riding on relatively deserted roads, the weight on the wrists was significant while riding in traffic. The thin and hard padding of the seat only adds to the discomfort. Perhaps, something Ultraviolette can resolve in the next iteration?
The most relevant dimension of the F77 is its weight; a whopping 207 kilograms, which makes it as heavy as most middleweight motorcycles. At low speed, its heft is evident and moving the motorcycle around is cumbersome because, with the motor engaged, it is reluctant to roll back. A good feature overall but inconvenient for parking manoeuvres. Ultraviolette has thoughtfully installed a reverse mode but it needs getting used to because the process of switching modes is not instant. If you are someone who does not like the noise and vibration of a combustion engine, then the F77 delivers. However, at low speeds, the lack of any engine noise makes other sounds stand out, such as squeaks from the suspension, discs rubbing against the brake pads, and the odd creak from the panels; something I would have preferred to do without. Even if impeccably maintained, it looks like the silence will not be absolute.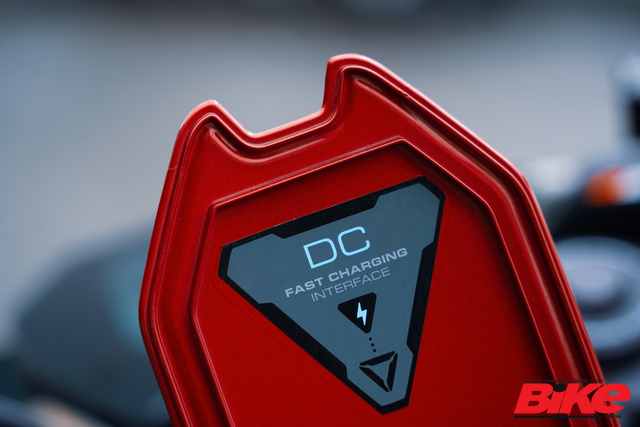 Such problems are forgotten once the motorcycle starts gaining momentum. We rode the Recon model which comes equipped with a massive 10.3-kWh battery pack that feeds a mid-mounted 29-kW motor that develops 39.4 hp. Power is relayed to the rear wheel via a chain final drive. The lack of an exhaust note is compensated for by the whine from the motor and the familiar sound of the chain; not a bad soundtrack. "Glide" mode is the most conservative map and the best for maximum range. That itself is fairly competent for city use. The torque is delivered in a sedate wave and acceleration comes in progressively, making the motorcycle easy to manage in traffic. "Combat" is a noticeable upgrade on those factors with performance that matches most 200-cc motorcycles in the market. "Ballistic" is the one to truly satisfy the enthusiast. All of the 39.4 hp and 95 Nm are available instantly and send the motorcycle accelerating hard to 100 km/h in a claimed eight seconds and it certainly feels like it. Following an instant take-off from standstill, the bike accelerates brutally until 60 km/h (in a claimed 3.1 seconds), after which the acceleration becomes more linear, tapering off as one crosses 120 km/h. Ultraviolette claims that the F77 can attain a top speed of 147 km/h.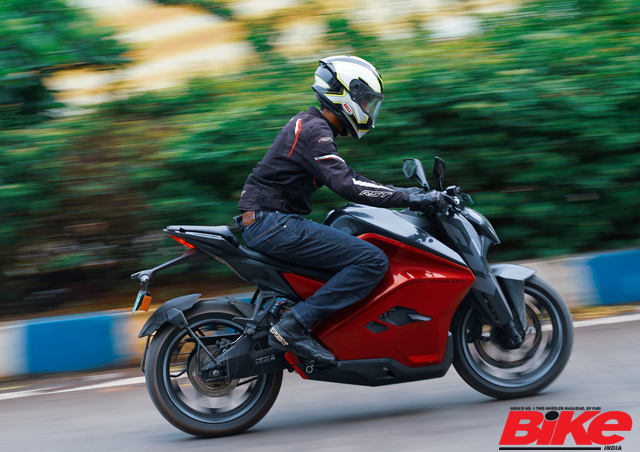 When riding fast, the front-biased weight provides reassuring front-end feel. At good pace, the F77 is fun to throw into a corner. Its eagerness to be tipped into a curve and the ability to exit with violent acceleration makes it thrilling to ride; a new experience which is a marked departure from an ICE motorcycle but thrilling none the less. The ride quality with a pillion rider is quite good but when riding alone, the ride was harsh at the rear because the monoshock had limited working range. Thus, riding over bumpy surfaces was not fun. However, pre-load adjustability at either end allowed me to find a setting that took advantage of the suspension's working range and the ride quality improved noticeably. The MRF tyres specifically developed for this motorcycle gripped well, providing impressive traction while sending usable feedback to me without ever stepping out of line, even in the wet.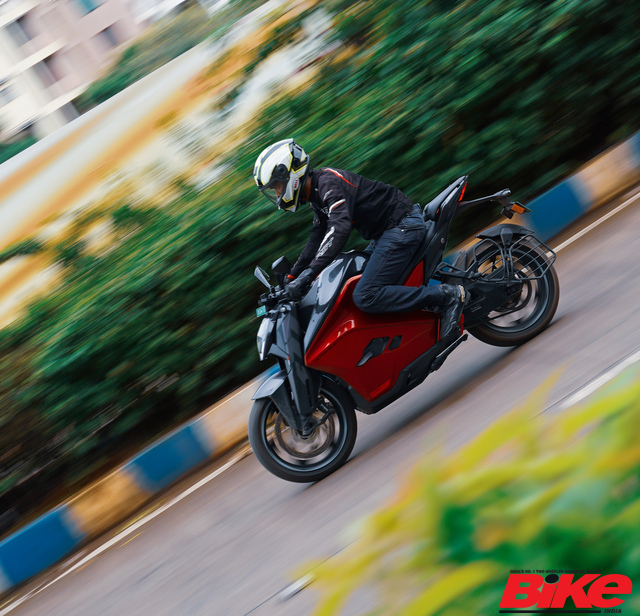 Then, of course, there is the important matter of range. With three levels of regeneration and three riding modes on offer, the F77 has a claimed range of 261 km, 200 km, and 171 km in Glide, Combat, and Ballistic modes respectively. During our test-run, we used a mix of all three modes but the most time was spent in Ballistic. Below 30 per cent, Combat was engaged automatically and below 15 per cent it went into Glide mode. So, when one is close to those states of charge, it may be best not to plan overtakes. We got a little more than 140 km with about eight per cent charge to spare, which seems fair for an everyday motorcycle. Ultraviolette claims 35 km worth of range per hour off a regular charger. From our experience, that is about 20 per cent worth of juice per hour.
The Ultraviolette F77 strikes me as the best electric motorcycle available in India right now. The build quality is good and the componentry also appears to be sound, although there is room for improvement in the fit-and-finish department. It also helps that it is quick to gather speed and enjoyable to flick into a corner at a good clip. However, unless your favourite riding road is within 150 km of your house (both ways), there seems to be no way to properly use its sportiest mode. Unless one stops for a quick recharge on the way, of course. In comparison, everyday riding is quite stress-free.
At Rs 4.55 lakh (ex-showroom), this motorcycle is prohibitively expensive when compared to its ICE peers, but if you want a high-performance and high-quality electric motorcycle, the Ultraviolette F77 is as good as it gets.
Also Read: Suzuki Gixxer SF 2023 Update Tested