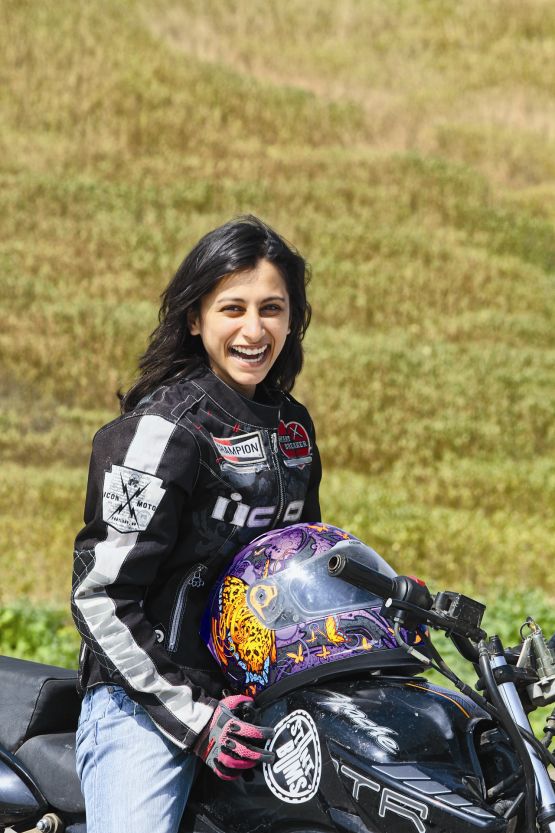 The motorcycle stunt scene in India may be in the shadows for most part, but it has always been very active. There are a few responsible riders, who, with regular practice, deliver quite a performance when called upon. We speak to India's youngest bike stunt girl, Anam Hashim, who rides with the Rubber Smokin Angels. Just six months ago, she could not legally ride a motorcycle, but now, in the couple of months she's been on the scene, she has clinched a Freestyle Biker of the Year award
Interviewed by: Jim Gorde
Photography: Rommel Albuquerque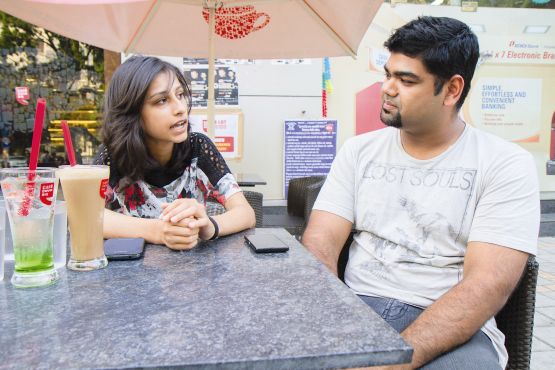 Bike India (BI): So when did the whole biking scene start for you?
Anam Hashim (AH): As a kid, I used to sit on the tank and take over control of the motorcycle from my father. Having control over the clutch, accelerator and the brakes – even when your feet are far from the ground – go a long way in getting one accustomed to a motorcycle and how it works. I was always interested in riding. It all started as a child. My father and I have been going to Nepal every year for the past eight years. I go with my father on one bike. My legs have only just started reaching the ground. This year I couldn't make the ride, though.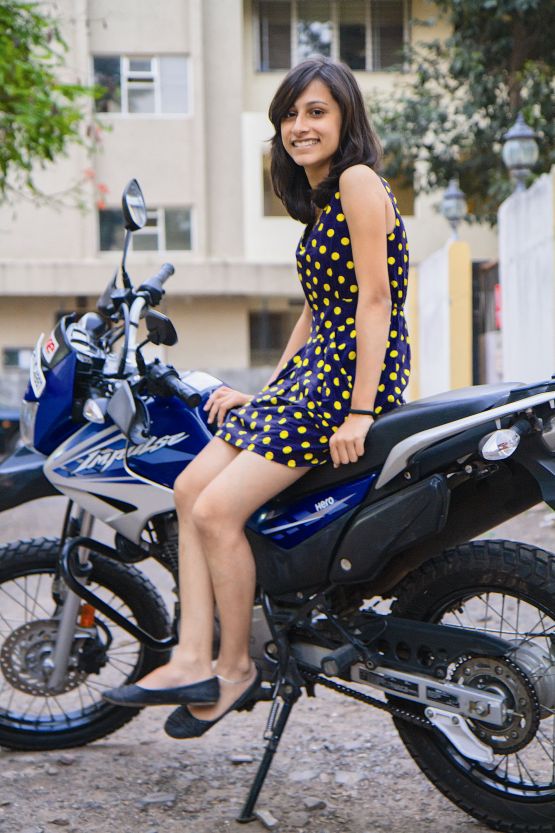 BI: And when did the stunting commence? How did you start off?
AH: When I was 16, I did my first stunt, a 'Christ' on a Honda Activa on the 21st of July 2011. Yes, I remember the date! As far as I remember, no one has ever attempted it on an automatic scooter. I was happy to have tried and successfully done something different. I realised my balance with the bike was good, so I decided to explore how much more I could do by standing up on it. The first bike I started stunting on was a friend's R15. Very easy for stoppies, considering how much I weigh.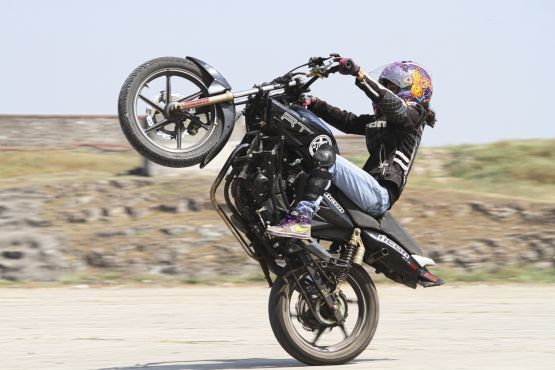 Over the past few months, team RSA helped me a lot. They have nurtured and developed many young talents. I did shows with them and got money, which I invested in my bike. I had a Honda Stunner in Lucknow, which I used to ride when I was at school, in the 10th standard. My mother thought that being in my school uniform, I wouldn't bunk classes and go stunting, but I did! Later on, I got a gig in Kanpur with the MTV Stunt Mania guys. I got paid an amount enough to go and finally get my Apache.
Leah Peterson is my idol. I follow her, quite literally, and not just on social media. She runs StuntBums, and has sent me stickers and T-shirts. So does Dena Sodano.
BI: Well, your Apache is something we need to know more about, so tell us about it.
AH: My bike has been heavily customised. Only the engine work has been done in Bengaluru. I met the guy at my stunt show earlier in March, at the Indian Women Bikers' Weekend. He would only modify Bullets earlier, but said he could do up my bike as well. I told him I didn't have a single penny to invest in my bike at the time, and that my stunts were on hold because of that. He then said he would sponsor me and called me to Bengaluru after the ride, in May. He made a handbrake setup, but it wasn't as effective as I'd hoped, because the callipers and pads were worn. The 180-cc Apache engine has undergone a bore job and is now supposedly 220 cc. It runs a larger piston and new parts, which are not stock. Even I don't know the exact specifications of what is in there. It also runs a larger carburettor from a 220.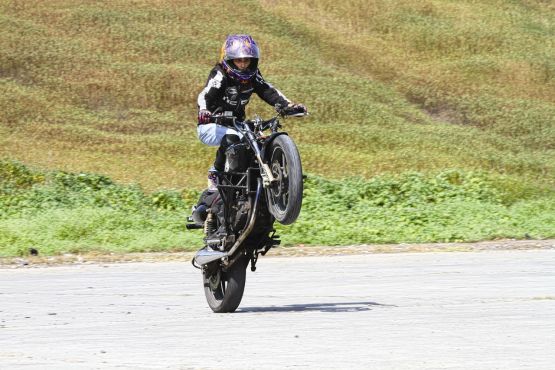 BI: What's your preferred bike for stunting? What would you love to have later?
AH: Technically, the Bajaj Pulsar is the best bike for stunting, the old Pulsar 220 or the Pulsar 200, but I didn't choose either of them because they're too heavy for me right now. Getting them to lift takes all of my strength, and I cannot afford to crash astride one of them. I started with the Apache RTR180. Even though it's not very balanced, we worked on it, put new tyres. I'll change the sprocket soon. But now, after riding on the Apache, I feel I can manage any Indian or imported bike. My favourite is the Ninja 636. It motivates me. I hope I get one down the line.
BI: So, what does the future hold in store for you?
AH: Stuntech, our stunt parts company, is up and running already. We have registered it and just need a website designer. We should be live in January 2014. We've already worked on 10 to 15 bikes in Pune. We offer free shipping all over India. For now (laughs). I'm looking for sponsors too. I want to go and participate in international stunt shows, like the ones in Indonesia or Los Angeles.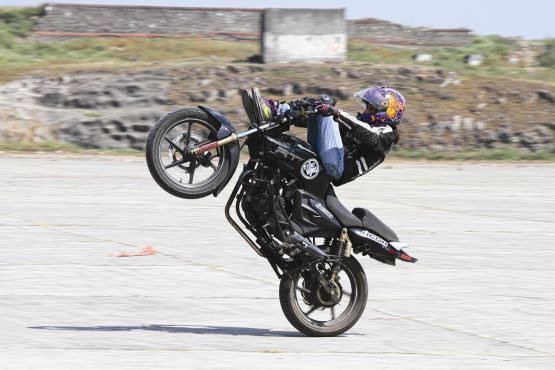 BI: What's the part catalogue like?
AH: A dual rear calliper setup and specially fabricated rear brake mount, personalised clutch lever, handbrake bracket, tank work and grip, foot-pegs, personalised handlebars: like the one on the FZ, wheelie bars for 12 o'clock and 1 o'clock wheelies – depending on the rider, and also, upgraded headlamps.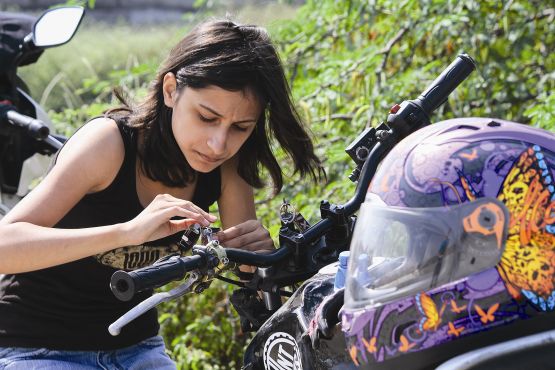 BI: Tell us something about you which nobody knows.
AH: I love to cook. I cook daily. I need to, because I'm prepared to live alone. Also, I love all animals. I recently saved some kittens from another flat by climbing up the side of my apartment building. I also like to drive.