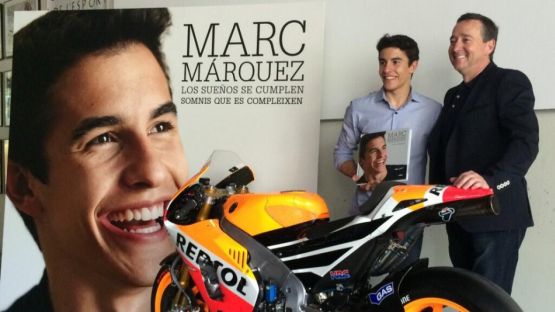 Three-time World Champion and the youngest ever rider to win a MotoGP title Marc Marquez is seen in a completely different light. While some might feel that a 21-year old penning an autobiography so early in his career sounds funny, when a man of his caliber has already proven his credentials, you can't argue with that.
So that's how it came to be that the Museo Olimpico in Barcelona hosted the launch of the official biography of Marc Marquez, most likely the first in a series of books which will be written about him. Not many are aware of the fact that before Marc Marquez became the youngest premier-class champion, this record belonged to Freddie Spencer.
The author of the book, respected Spanish sports journalist Emilio Perez De Rozas asked him to contribute to a special foreword. Spencer a.k.a Fast Freddy was also present at the Barcelona launch along with Marquez and Rozas. The MotoGP legend also addressed the media and the audience present at the launch event with a humble speech about the young World Champion.
The autobiography, however, has been penned in Spanish and the English version will take some time, so, non-Spanish speaking fans of the baby-faced champ have to wait a little longer.
Story: Sayem Parvez Syed