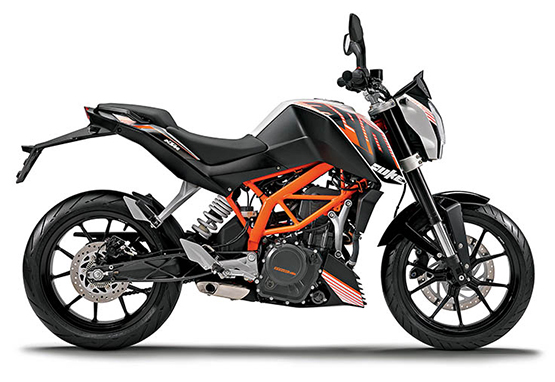 The KTM 390 Duke has shattered the equation between performance and price. Let's find out if it justifies the hype
KTM was a name hardly known in India until last year in spite of being one of the largest European motorcycle manufacturers. The reason was simple: KTM's product line-up comprised only high-capacity sport motorcycles, which were far more expensive than their Japanese counterparts. KTM were aware of this and so they found a suitable partner in Bajaj Auto in order to make small-capacity bikes. The result of this union was seen last year when Bajaj Auto launched the KTM brand in India, followed by the jointly developed 200 Duke naked street bike, which gave them an ideal start.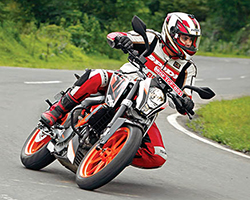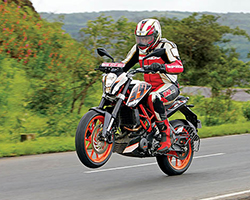 The 390 Duke is the second offering resulting from this partnership and it utilises KTM's 20 years of experience in making naked street bikes and Bajaj's frugal manufacturing methods, combined with the radical design of Salzburg-based Kiska Design, who have defined KTM products since the brand's revival.
Most of the visual mass of the 390 Duke is located at the centre and the body panels are minimalistic. This gives the bike a compact form. This design made its début with the 125 Duke (sold in Europe) in 2010 and has been continued with the 200 and 390 Dukes, which share the same chassis as well. However, the 390's orange coloured tubular steel trellis chassis and 10-spoke alloy wheels set it apart in looks from its smaller siblings, along with the new graphics and white coloured body panels. KTM have also strengthened the chassis to accommodate the added weight of the bigger engine. The seat height of this bike has been lowered by 10 mm and the ground clearance has gone up by five millimetres.
The seating posture on the 390 Duke is upright and the seat is comfortable, but compact, so there isn't much space to move around, more so for the pillion rider. The high-placed handlebar, rear-set footpegs and the extra distance between the pegs and the foot levers make for an unnatural riding position, which needs getting used to. Switchgear, handlebar grips and bar-end weights have the same make as the ones found on Bajaj's Pulsar line of bikes while the mirrors have a unique design and give an unobstructed rear view. The 390 Duke has an orange back-lit digital instrument panel. The display houses the gear indicator, clock, engine temperature and average speed and fuel efficiency gauges apart from the default speedometer, tachometer, odometer and fuel gauge. That's a lot of information on a tiny rectangular screen so the size of individual readouts is small and hard to grasp, especially the tachometer.
…click on page 2