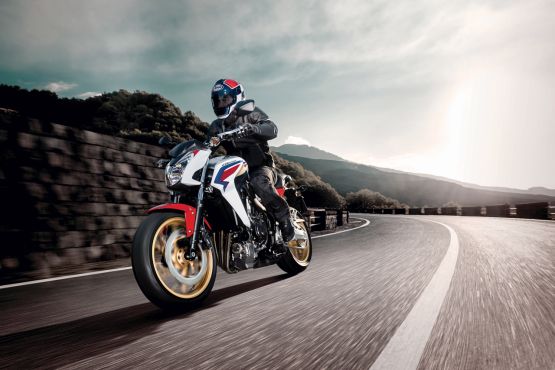 As he quaffs his Corona after a day in sunny Spain astride the Honda CB650F, Roland mulls the classic conundrum
Story: Roland Brown

Midway through the first beer in the hotel bar, after a tough working day spent blatting round sunny Spain on the CB650F, that old question about whether a glass is half-full or half-empty springs to mind: not in relation to my partially downed Corona, but to Honda's latest naked middleweight.
Viewed with glass half-full, the CB is a star. What's not to like about a stylish naked four with a hint of classic CB400F in its DNA? Its output of 85.1 PS is enough for laughs and comes with plenty of midrange; it handles and brakes very capably. It seems built to Honda's normal high standard, and costs less than most bikes in its class.
But the glass-half-empty rider sees a very different bike. A naked middleweight that's less powerful and heavier than its 2007-model Hornet 600 predecessor, has a simple steel frame and budget suspension, is built in Thailand and not in Japan to keep the price down, yet costs more than some attractive alternatives. The truth is that, as with the beer level, both views are correct.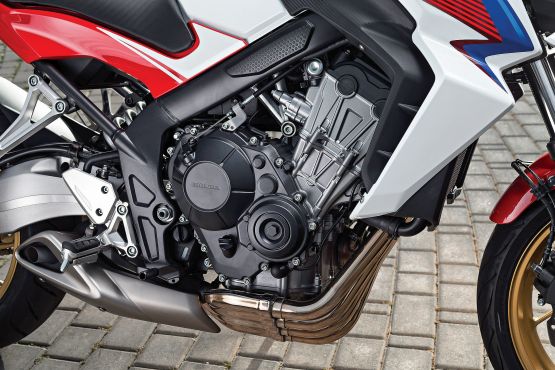 It also can't be disputed that Honda have put plenty of effort into creating the 650F, given that it shares no components with the Hornet. The new 649-cc, DOHC 16-valve engine has the same 67-mm bore as that bike's 599-cc unit, with a longer, 46-mm stroke. The liquid-cooled CB unit is designed with a minimum of wires and hoses on display, and with its oil filter at the bottom to allow room for that diagonal quartet of downpipes.
Honda say the new motor is designed primarily for low- to mid-range torque, especially below 4,000 RPM. Its maximum output of 87.2 PS at 11,000 RPM means it's 14.1 PS down on the smaller, revvier Hornet unit. The peak torque figure of 63 Nm is also fractionally lower, but the new engine is stronger lower down, and reaches its peak 2,500 RPM earlier, at 8,000 RPM.
The chassis specification seems to have taken a step backwards, notably in its use of a frame made from steel instead of aluminium. At least the oval-section main tubes help keep the CB narrow, and are stiffened by forged-and-welded plates at the pivot for the aluminium swing-arm. The front brake has bigger, 320-mm petal discs, and ABS as standard, but twin-piston callipers replace the Hornet's four-potters.