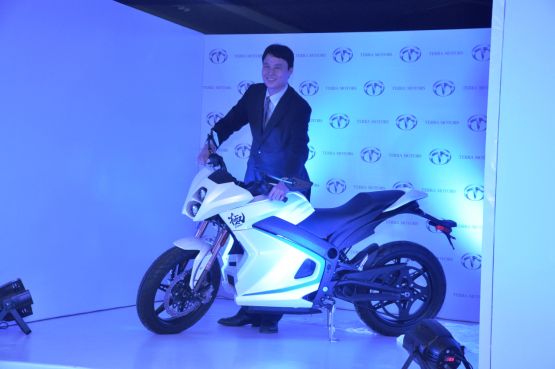 One of Japan's biggest players in the electric vehicle segment, Terra have now arrived on Indian shores. The Japanese manufacture has looked to kick things off with a bang in India by introducing their 160 km/h capable electric superbike – Kiwami.
With a 10kW engine capacity, Kiwami claim the bike produces the same performance attributes as a 1000cc fuel powered bike. The Kiwami will be a path-breaker in the Indian market as there is no electric bike that comes anywhere near such staggering performance figures, and this coupled with the fact that it has a range of 200km and only 6hrs of charging time makes the Kiwami one to watch out for in the future.
Speaking at the Kiwami's lauch, Toru Tokushige, Founder and CEO of Terra Motors said, "India is the second largest producer of two-wheelers in the world. Hence it is an important market in our strategic growth plan and we intend to invest Rs. 300 million in the Indian market next fiscal year. With this mission, Terra Motors is set to deliver electric vehicle (EV) of high quality and services in the tradition of what consumers in India come to appreciate and expect from the Japanese industry."
The Kiwami is priced at Rs18 Lakhs and leads Terra's foray into India, with other products from the Japenese manufacturer including electric scooters and electric three-wheelers also in the pipeline. The Kiwami along with the aforementioned electric scooter and three-wheeler options will all be on display at the upcoming 2014 Auto Expo.
Story: Harket Suchde