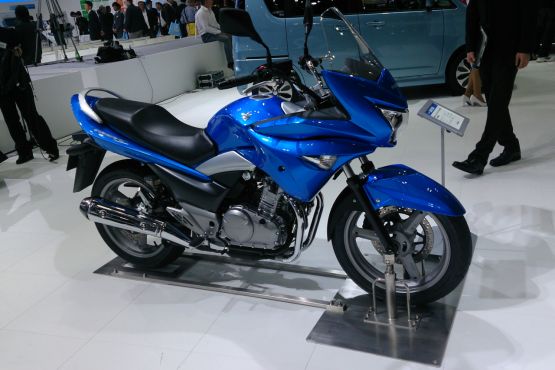 Suzuki revealed the new GSR250S at the Tokyo Motor Show, a half-faired 250cc twin street motorcycle based on the GW250 Inazuma which has long been reported to be coming to India.
The design is similar to the model shown earlier, save for the addition of the half-fairing and that big wind screen. The motor is a 248cc liquid-cooled, inline-twin running 4 valves per cylinder. It makes 24 PS at 8,500 rpm and 22 Nm at 6,500 rpm: not too extreme, but rather, just right for the traffic. The twin cylinders could mean quick acceleration with the revs building up quick, while the lower peak output ranges would mean that the power delivery could be much more linear than most other higher-revving offerings in the country like the Kawasaki Ninja 300 and the Hyosung GT250R. The output is lower than the single-cylinder Honda CBR250R and the KTM 200 Duke, but that could also mean class leading refinement. Of course, we would have to wait until the road test to find out.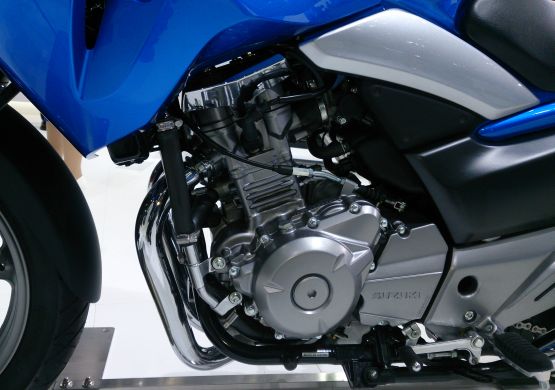 First impressions are that the GSR250S is a comfortable bike to have around the city and, without doubt, will be able to tackle the highways and corners for touring. The high, wide handlebars, dipped seat and relaxed posture dictated by the foot pegs will mean many comfortable miles nefore needing a rest. The fuel efficiency also won't be too disappointing considering the capacity and the relatively easy going nature of the engine, as can be expected going by its output rev ranges.
If Suzuki India do launch the GSR250S, we can safely assume a price tag around the Rs 3 lakh mark, given the quality of parts and the liquid-cooled, twin-cylinder motor it brings to the party.
Story & Photography: Jim Gorde