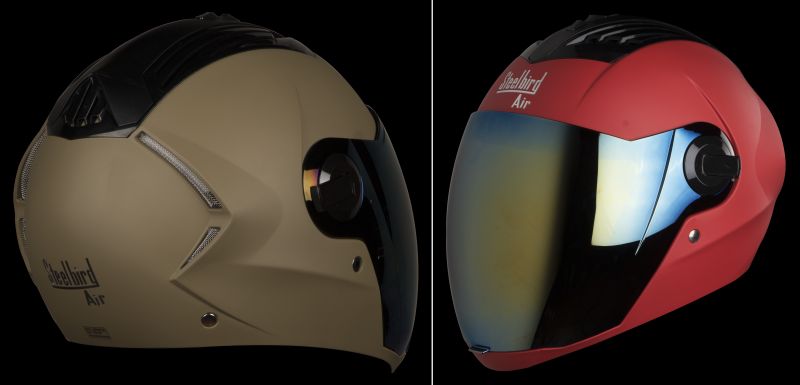 The Company claims that the new model has the longest visor in the helmet industry. The Steelbird SBA-2 has been designed by Bargy Design in Italy and is priced between Rs 2399 to Rs 2699. In spite of the massive visor, Steelbird boasts that with the "advanced technology the SBA-2 helmets offers inventive characteristics and unmatched international safety standards". The statement issued by the company claims that the new helmet offers good protection of the chin through the visor and the mouth guard.
The Steelbird comes with twin visors, with the exterior visor coated with iridium and offered in four shades – Gold, Blue, Rainbow and Silver. The helmet has been designed keeping our hot climate in mind and comes with a couple of air channels and a stainless steel mesh at the back vent, for better in-helmet ventilation and air-circulation. Other features include a stretchable neck pad for additional comfort and removable helmet padding which can also be replaced, if needed.
(Also read: New Steelbird Hi-GN helmets)
There are various colour option on offer as well, such as solid red, white and black, along with hand painted three-tone flag option. Other colour include matt black, glossy black, matt silver, matt maroon, matt Desert Storm, matt Battle green, matt Yamaha blue, matt sports red, and matt Honda grey.
Speaking about the new helmet, Shailendra Jain, Global Group Head – Sales & Marketing, Steelbird Helmets said, "Since the model has the longest visor in the helmet industry it ensures more safety for the riders. The model meets European standards. It offers utmost protection and is the most compact helmet in the world."
The company also plans to launch a motocross version of the Steelbird SBA-2 with a sun visor soon.