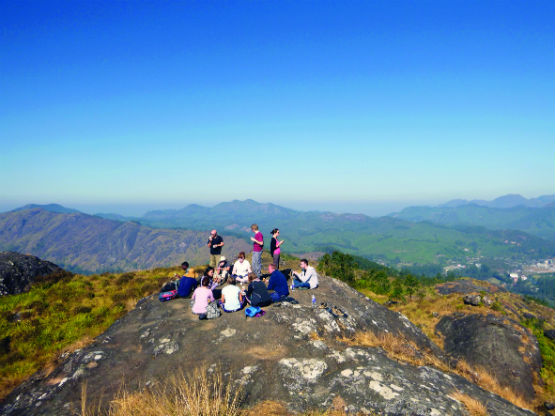 Coimbatore to Metapalayam was boring and busy, but then we began to climb up into the Nilgiris and the ghat road to Ooty was amazing. Cloud cover was up to the road edge, so no views, which was just as well as we needed our wits about us working our way through the traffic, not helped by a broken-down truck on a hairpin. We were quite relieved when we arrived into Ooty (Udhagamandalam), though in the mêlée of the approach, we lost each other when Sheonagh overtook a bus and Pat didn't notice! The only time we felt two-way communication might have been useful!
Ooty was noisy and congested, not the peaceful, beautiful hill town Sheonagh remembered, and this came as a shock. Apart from doing the usual tourist stuff, she was delighted to track down Robert Lillywhite who had fixed the Rajdoot back in 1987, and discovered his son, Colin, is a Harley mechanic in the Gulf. At the top of the steep ride to Dodabetta, we bumped into Steve Morris whom we know from Horizons Unlimited and joined him for the memorable ride down the Sigur Ghat to Mudumalai and Bandipur.
This took a long time, not just because of the 36 hairpins, but because we kept stopping to enjoy the amazing views down the valley and when we spotted elephants in Mudumalai. In Bandipur we stayed for five blissful days as the guests of Santosh "gettoffurass" Kumar of IBW fame. We were nervous when we read his instructions: 'The house is about four km after the tarmac runs out'. The Harleys are not really set up as dirt road bikes, but they did it just fine.
All we could hear were birds and the odd wild elephant. Santosh himself was busy in the run-up to IBW, so we had fun learning Kannada with his caretakers who fed and looked after us, their minimal English notwithstanding. We also spent a fascinating time with Malvikaa Solanki, herself a notable motorcyclist, who is busy creating a sustainable paradise out of five barren acres nearby (www.swayyam.org). We were incredibly lucky to see a leopard on a Jeep trek in the Bandipur tiger reserve; it was very late in the day so our photos are rubbish, but we watched him wandering down the track in front of us for a good 10 minutes.
Soon it was time to head off to Mysore; unfortunately a four-lane highway is being blasted through, so the edges are littered with the corpses of the once magnificent huge trees that used to shade people and animals.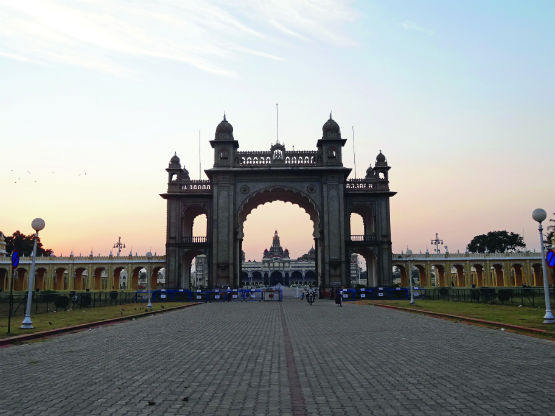 Mysore Palace was as impressive as Sheonagh remembered. We wandered through in awe, eyes darting from stained-glass ceilings to artfully-bulging pillars to intricately tiled floors. The conglomeration of stuff the Maharajahs had collected or been given was eclectic, to say the least. In the shade outside we met an Englishwoman who had been badly gored by a cow in the Pongal crowds in Mahabalipuram – we gave the cows a wide berth after that.
Sheonagh had been banging on about the temple sculptures at Belur so we set off via Chamundi Hill (to see the giant Nandi) and Shravanbelagola (to see the huge Jain statue), but it was too hot to climb the 600 steps in bare feet and riding gear, so we pressed on. Thousands of orange-clad pilgrims were walking along the road towards Dharmasthala for the Mahashivaratri festival, adding to the normal road hazards.
Pat agreed that the Belur sculptures were indeed wonderful, so we added on a side trip to Halebiddu to see some more. We decided to take the bus for the 16-km ride….four hours later, having got on the wrong bus, we got to Halebiddu via Hassan. Insult added to injury when the bus that eventually left Hassan got a puncture. The sculptures at Belur are better anyway!
We had a pleasant ride back to the coast on highways 27 and 65 to what we thought would be a small resort area at Malpe. The vast, ironically named Paradise Isle Beach Resort, was next to a tiny temple celebrating Mahashivaratri with gusto. Pat called it the 'Festival of Bad Amplification' and it was in full flow virtually round the clock.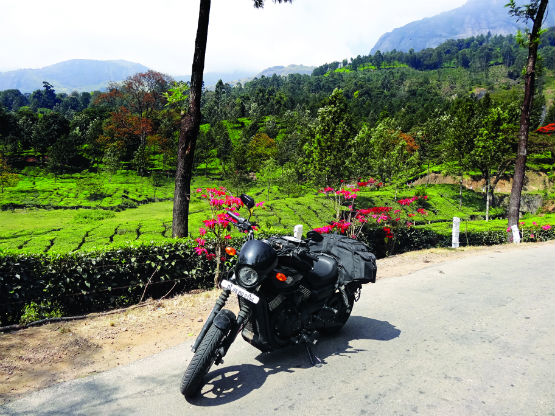 Fleeing the noise, we rode north to Marvanthe, where we found the idyllic Turtle Bay hotel tucked away out of earshot of the dual carriageway being built along the shoreline nearby (and no audible temples). Here we met two delightful guys, JP Singh of Motomonks, and photographer Sherman, who were leading a couple of Canadians on a south India tour.
Conscious that we were beginning to run out of time, we set off for Jog Falls via SH 50 and the Sharavati Wildlife Sanctuary. A beautiful and interesting road; some bits had been recently resurfaced and were wonderful, but other bits showed multiple generations of broken surfaces, making the 883 extremely uncomfortable to ride. The 750 coped better. After a lunch stop at Jog Falls, we continued on gently undulating roads through forests towards Dandeli, with nice swooping curves and good visibility; you could cruise all day like this.
Just beyond Dandeli was the superb Hornbill River Resort on the river Kali where we spent a relaxed couple of days, swimming, kayaking and forest-walking. On one walk, we even saw a Great Indian Hornbill flying overhead with a loud swoosh of wings.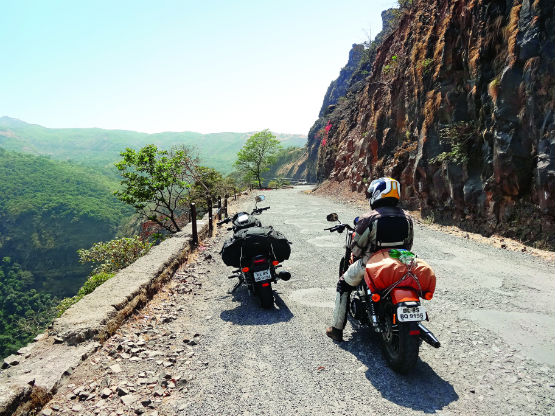 Pat was becoming too adventurous in her route selection and we ended up on an extremely rough road through Castle Rock, including a flooded tunnel under the railway, as we headed down towards Vagator. Then it was into the tumult of India Bike Week, where we were privileged to be invited to speak along with several luminaries of the travelling bike scene.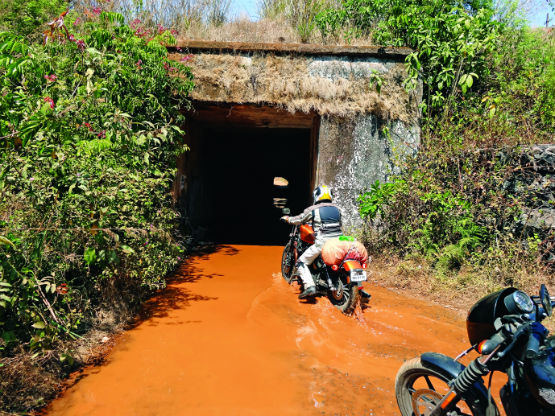 Our final day's ride was full of visual treats as we turned from the NH 66 West Coast Road up the Mahad-Bhor Varandha Ghat road. This runs past the Bhambatmal reservoir, the blue water contrasting against the red rock. From there it was a short ride back up the NH 4 and the final short Katraj Ghat road into Pune.
Our grateful thanks to Bike India and to Harley-Davidson India for entrusting us and making this amazing trip possible. And thanks also to all the people who helped us. If we haven't mentioned you in these articles, please accept our apologies.
Harleys: Our Conclusions
Over 4,900 km, each bike consumed approximately 202 litres of fuel, just over 24 km per litre. The best was 29 km/l, cruising on the highways, and the worst 19 km/l in town and on slow ghat roads. Not being able to turn the lights off in daytime meant people constantly gesticulated at us.
————
883 Iron
Good Points: Great bling factor, excellent torque, low centre of gravity so felt quite stable even on the rough stuff, very easy low-speed handling, finish quality visibly better than the 750's.
Bad Points: Seating position not very comfortable, too low for many speed-breakers, and suspension very unforgiving on rough roads. Hot exhausts and air-cooled engine not ideal for the rider in a hot climate, steering lock did not work.
————-
Street 750
Good Points: Very nice smooth engine, good torque and low centre of gravity, suspension and ground clearance coped with Indian roads better than the 883. Better turning circle than the 883's, generally felt lighter than 883, less blingy appearance so less botheration from everyone! Comfortable (for Sheonagh at 5′ 4" with shorter legs than Pat, but not for Pat at 5′ 8" with long legs). Pillion seat and places to fix luggage unlike the 883.
Bad Points: Brakes are poor considering the weight, petrol-tank cap very fiddly, untidy wiring, quality control at the factory needs to improve if this was a typical example: right-hand lower fork pinch bolt came loose (!), clip-on plastic cover over HT leads came loose, left-hand pillion foot-peg was floppy from the start.
—————————-
Best Riding Roads
SH 19 south of Munnar
Sigur Ghat north of Ooty (Udhagamandalam)
NH 93 Siddapur to Dandeli
Best for Scenery
Sigur Ghat
Sharavati Valley south-west of Jog Falls
Varandha Ghat between Mahad and Bhor