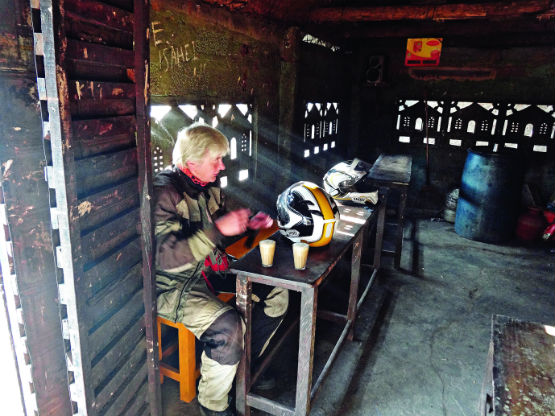 Then it was back to the coast. It was on this road that we became part of the community threshing process, or rather we tried to squeeze past the harvest laid out on the tarmac. The ride became more interesting as it passed huge salt works near Tuticorn, rice paddies and sunflower fields. Tiruchendur has its own traffic-calming methods — just dig up the main road, leave the rubble in situ along with all the bumps and holes;  fortunately, the Harleys took it in their stride.
After an idli and wada breakfast, we took a short ride down to our most southerly destination, Kanyakumari, the tip of India where three oceans meet, and into another maelstrom of pilgrims. Late afternoon, revelling in the fact that this is the only place in India you can see both sunrise and sunset over the sea, we headed for the beach to find that several thousand people all had the same idea. Next morning, up early to watch the sunrise, along with the hordes who lined the shore and every rooftop…. it was cloudy! We took the ferry out to the two small islands where we were amused to see people sneaking behind pillars in Swami Vivekananda's mandap to snatch forbidden photos, pursued by whistling guards trying to stop them. The statue of the Tamil poet, philosopher and saint, Thiruvalluvar, is truly gigantic — our heads were smaller than his big toe.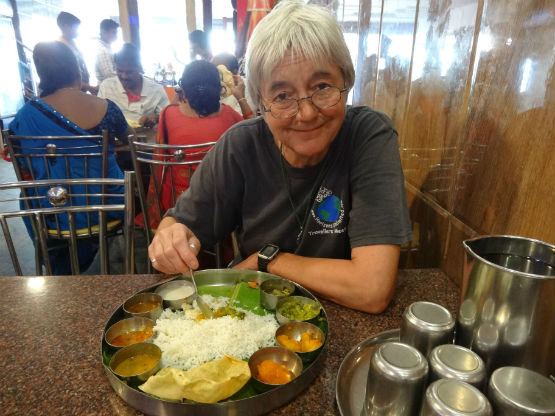 We were so overwhelmed by heat and the mass of people that we decided to head for the hills, completely forgetting to look for the multicoloured sand beach. We were quickly out of town and on to peaceful roads. After a brief nightmare on the busy NH 47 through Nagercoil, we headed inland towards the Chittar Dams and were soon surrounded by rubber plantations. Here we found quiet roads, good surface, sparse traffic, and, best of all, some proper bends at last.
Intending to spend just one night on the coast before riding up into the Western Ghats, we arrived at Kappil Beach and discovered the wonderful M R Beach & Cottages, just north of Varkala, on an unspoilt beach (with two-coloured sand!), friendly motorcycling owner, Syed, and great cook, Thomas…. and ended up staying four nights. The sea is rough here with a wicked current, but you can splash around with a bit of care. One day we took a hair-raising bus ride (the driver was trying and failed to beat the level-crossing closure) into Varkala and walked the eight kilometres back along the cliff-top and the beach to our place, with a fabulous sunset to keep us company.
If you want a quiet backwater trip with barely any tourists, buy a ticket from the tourist office at Kollam for Rs 500. A 45-minute rickshaw ride gets you to the short ferry ride to Monroe Island. You hop into a punt and are taken for a wonderful, silent ride through the canals and villages, stopping for chai or a coconut drink, to look at coir being made, past women dredging the canals by hand, as your guide points out kingfishers and other birds. The ride lasts about an hour-and-a-half, but time stops as you glide through the water.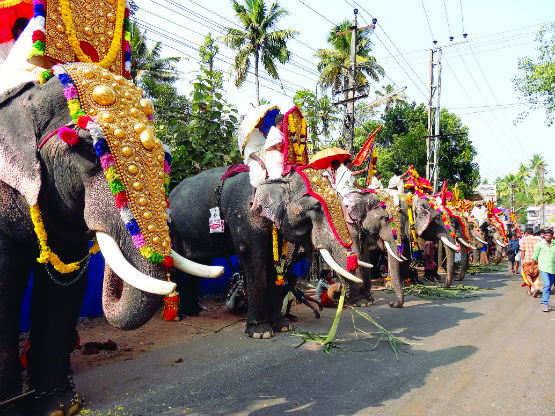 Near Kollam, 16 decorated elephants individually saluting the temple at Kottiyam, presented another traffic challenge on the main road. They were complemented by enthusiastic drummers and trumpeters.
The hills were calling and we had heard good things about Periyar and Munnar, so we set off inland towards Kumilly, taking small roads and cutting across major routes. The SH 220 from Erumeli to Kumilly was a great ride.
Keen to see a tiger, we trekked through the Periyar forest, but saw very little due to a family in the group who talked loudly non-stop. The tigers were probably covering their ears with their paws. However, from our guest-house balcony each night we were treated to the amazing sight of hundreds of huge fruit bats flying past by the light of the moon. A quick Google search revealed that these bats were first collected by Angus Hutton (Pat's mother's cousin) who was a tea planter and subsequently named the Salim Ali fruit bat.
On the SH 19 north from Kumilly through the Cardamom Hills, we really began to enjoy the riding. The surface was mostly excellent and the scenery spectacular in the clear air. The last 30 kilometres, with tea plantations hugging the contours, is a narrow hill road. Pat finally had to think about how she was using her gears, as the torque available from the 883 engine was beginning to make her lazy. This was our best day's ride so far.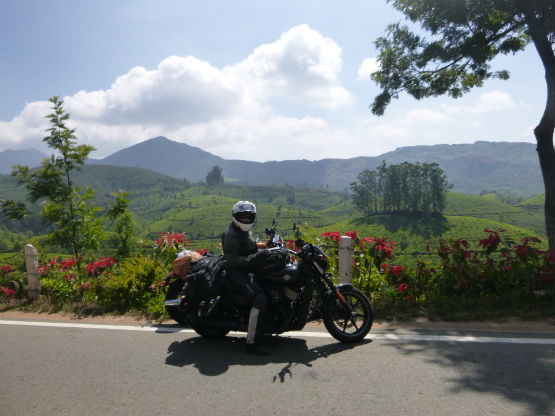 Arriving in Munnar we booked on to another trek which was much more enjoyable — no tigers, but tea and spice plantations and 360-degree views as we climbed up to 2,500 metres before breakfast.
Another stunning day's ride north from Munnar, first climbing and then dropping a long way down to Coimbatore; blood-red poinsettias on the plantation edges contrasted with the vivid green tea bushes. The road was a little tired in places — why are the worst potholes always in the shadows? As we rode through Chinnar and Anamali sanctuaries, road signs near cliffs warned us of elephant crossings. It seemed most unlikely elephants would appear in such terrain, but what do we know?
High up, waterfalls cascaded over bare rock and we rode through sandalwood plantations. Lady riders will sympathise with us as we searched for somewhere safe to pee: we spotted an ideal location and stopped. Before we could even get off the bikes, a private bus pulled up behind us disgorging a bunch of young men demanding "just one photo"!