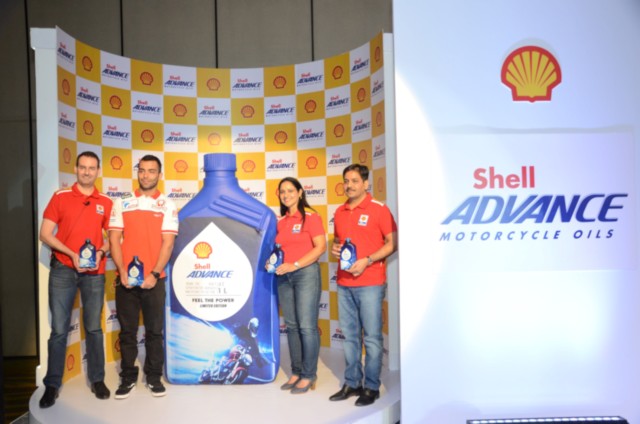 Leading global lubricant manufacturers, Shell, have introduced a new semi-synthetic performance motorcycle engine oil in 10W-30 grade, priced from Rs 453.
Launched under the Shell Advance AX7 range, the new engine oil grade is aimed at the increasing number of automobile OEMs who are looking to improve fuel economy of their vehicles by using appropriate low-viscosity, friction reducing engine oils. In line with changing market trends, Shell Advance AX7 10W-30 has been specially formulated for new powerful engines and modern bikes. As the latest addition to the Shell Advance portfolio, it will enable passionate consumers to unleash the maximum potential of their bikes and experience smooth power delivery.
The new Shell Advance AX7 10W-30 will be available in packs of 900 ml (0.9 litre) and 1.0 litre across India. There are also some innovative, convenient and attractive limited-edition packs available for early birds.
Performance bike engines are subejct to extreme operating temperatures and engine wear and stresses and require lubricating oil that provides enhanced performance and protection with minimal friction. Shell's Advance AX7 10W-30 adds superior wear and high-temperature protection even in the most challenging conditions.
Alma Pramac Ducati MotoGP racer, Danilo Petrucci, was present at the launch just a day after the Thai Grand Prix in Buriram that went down on Sunday. He said, "There is increasing enthusiasm in the youth for riding higher cc bikes, and using the right lubricant is critical in ensuring the engine health of these. Shell's involvement in premier-class motorcycle racing has helped develop the Shell Advance lubricant range for the road. With the Advance range of engine oils, bikers globally can benefit from the cutting-edge technology developed on the track. The transfer of knowledge gained from this experience to Shell's products is central to the Technical Partnership with Ducati, as MotoGP provides the most extreme test bed for Shell's products. If it's good for MotoGP, it works even better on roads."
Mansi Tripathy, Country Head, Shell Lubricants India, said, "The two-wheeler engine oil market in India is consistently growing at a healthy CAGR 7.2 per cent as per a Kline & Company 2017 report. In line with this growth, we are committed to innovate using technology to not only meet the on-road challenges of bikers, but also surpass their expectations. With the Shell Advance AX7 10W-30, we want to focus on providing powerful and exhilarating riding experiences to bikers."
Gareth Flood, Chief Marketing Officer, Shell Lubricants, India, said, "Indian consumers are becoming increasingly passionate about their bikes and are avid followers of global racing series such as Moto GP. By bringing a MotoGP rider to India for launching the AX7 10W-30, we are attempting to engage more closely with our consumers and offer products according to changing market dynamics and trends. Shell Advance is central to powering Ducati bikes on the track in extremely testing environments and this itself is a testament to its superior on-road performance."