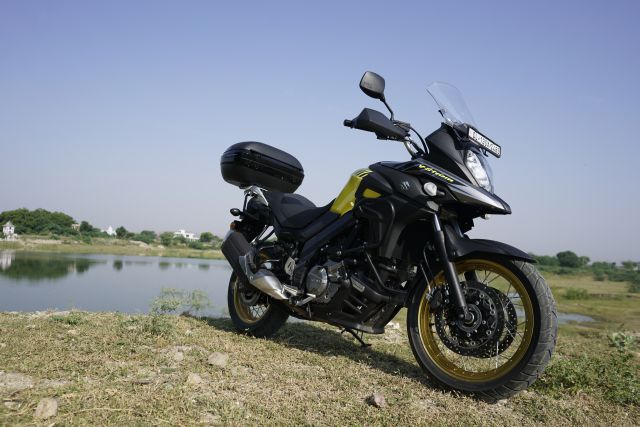 Suzuki recently launched the V-Strom 650 XT and have given us an adventure-ready bike with real-world off-road-capability for Rs 7.46 lakh (ex-showroom). The introduction of the V-Strom 650 XT puts a competent, entry-level ADV within reach of adventure-touring enthusiasts, who previously would have had to spend well upwards of Rs 13 lakh on a machine to satisfy their wanderlust. Here are seven things to know about the latest Suzuki to hit the market:
It is an extremely well-built machine
I spent a day with and covered over 350 kilometres astride the new V-Strom over a variety of surfaces, and the bike left a lasting impression of being unbreakable. The Japanese V-twin never missed a beat and feels like it will run forever, while the sturdy twin-spar frame and well set-up suspension absorbed the worst hits the trail had to offer without the slightest fuss.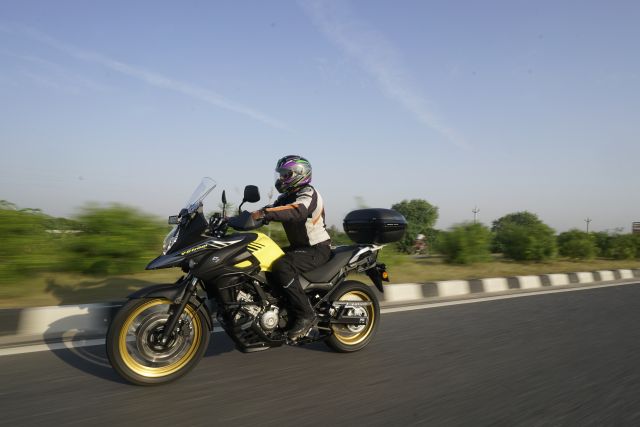 It is too quiet
The exhaust note of the V-Strom 650 XT leaves a lot to be desired. Modern noise-pollution norms mean that that you don't really get the aural accompaniment that you would expect from a Suzuki V-twin, and bikers that want to announce their presence with a roaring engine will be quite unsatisfied with the subdued beat from the slim black and chrome tailpipe.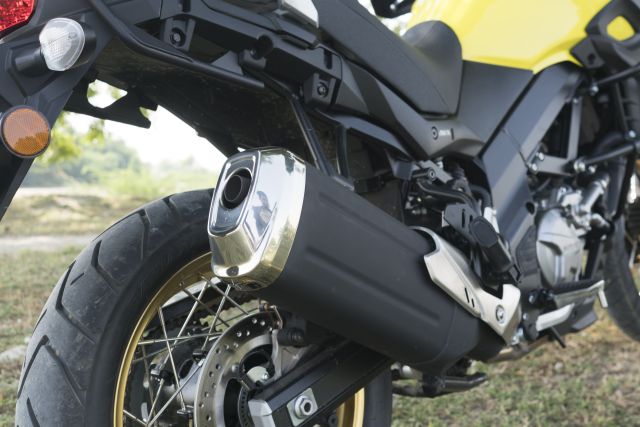 It is fast enough
With 71 PS on tap from the oversquare V-twin, the V-Strom 650 XT is no slouch. Combined with a wide spread of torque that peaks at 62 Nm and the powerplant's free-revving nature, the Suzuki accelerates smoothly through the gears and is comfortable cruising anywhere between 120 and 160 km/h — more than fast enough for any Indian highway. Top speed is somewhere in the region of 190 km/h and is achieved in fifth gear, while the tall top gear is designed to keep revs down during fast-paced cruising.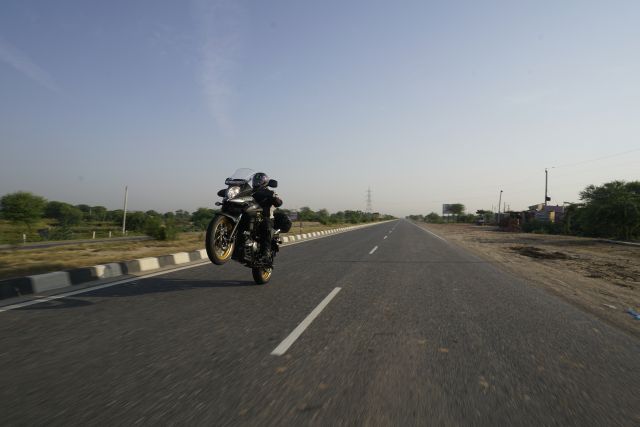 It is great fun off-road
When the going gets tough, the V-Strom gets going. Shod with dual-purpose Bridgestone Battlax Adventure A40 tyres on 19-inch front and 17-inch rear spoked wheels, the bike felt extremely at-ease in the rough stuff. The suspension damping is set up slightly stiff at slow speeds, but feels extremely pliant as the pace increases, allowing you to carry decent speeds over unpredictable trails. I found myself doing over 80 km/h over an unpaved road, and sudden ditches and bumps were dismissed without unsettling the bike one bit.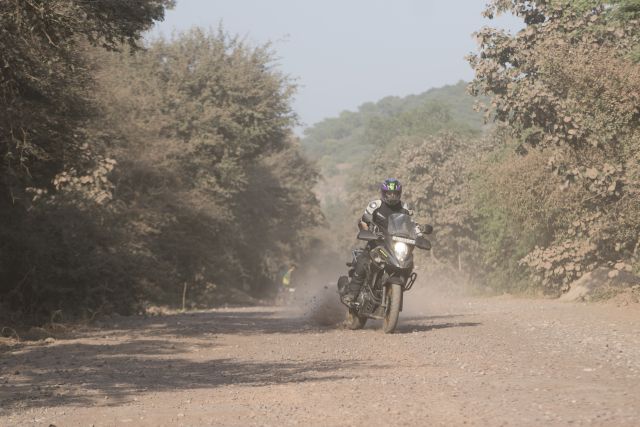 Those 19-inch and 17-inch spoked wheels are great value, and a first for the segment
Even the more expensive ADV-themed bikes from the 800-cc to 1,000-cc segment don't get these. The spoked wheels on the V-Strom 650 XT are designed for use with tubeless tyres and can take a harder beating that alloys or regular tube-type spoked wheels. The major advantage of these is that a puncture can be repaired quickly, without the need to dismount the wheel.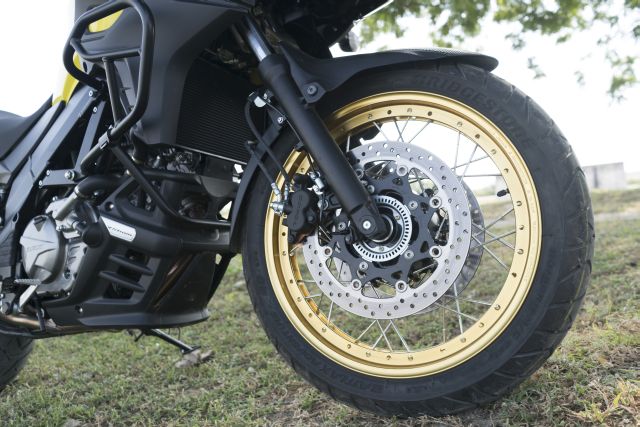 It slays corners with confidence
The tall front wheel and off-road-friendly suspension and tyres don't mean that the V-Strom 650 will be left behind in the twisties. The bike handles predictably, holding its line confidently through high-speed sweeping corners, while mid-corner bumps or road irregularities do little to unsettle the chassis. It may take a little more effort to get leaned over than a sportier machine, but this is to be expected and is easy to get used to.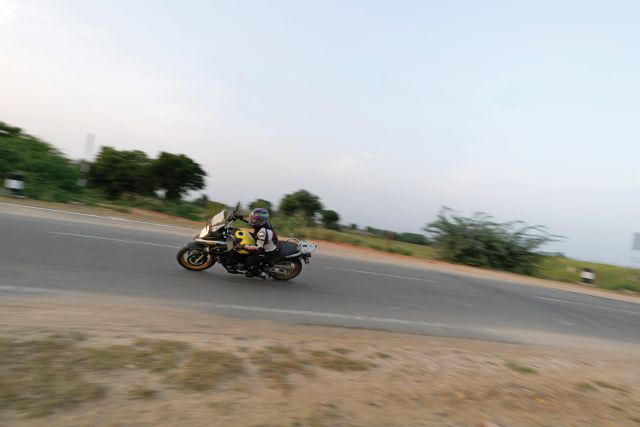 It is beginner friendly
A lot of would-be adventure bike owners are intimidated by the size and heft of these bikes. With the introduction of the V-Strom 650 XT, Suzuki have filled a void in our market with an ADV that won't intimidate a less-experienced rider. The 216-kg wet weight is easy to manage over a variety of surfaces. Switchable traction control adds a safety net, and the low rpm assist feature keeps the bike from stalling at slow speeds. The 835-mm seat height isn't too high for this class of bike and the V-Strom's reasonable weight and friendly manners will encourage inexperienced off-roaders to try things that they wouldn't dare to on a larger, heavier adventure bike.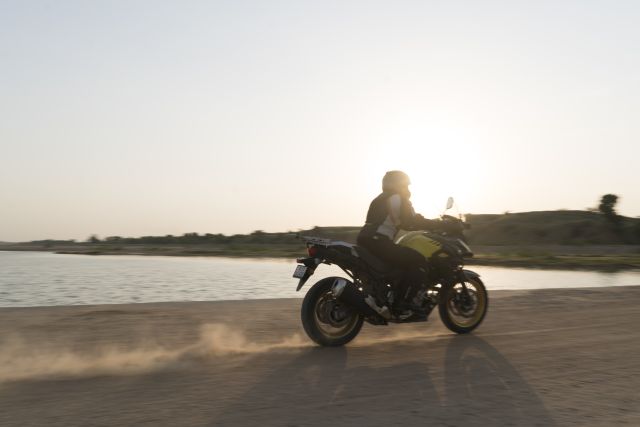 If you want to know more about the Suzuki V-Strom 650 XT, do pick up a copy of the November issue of Bike India for the complete First Ride Review.