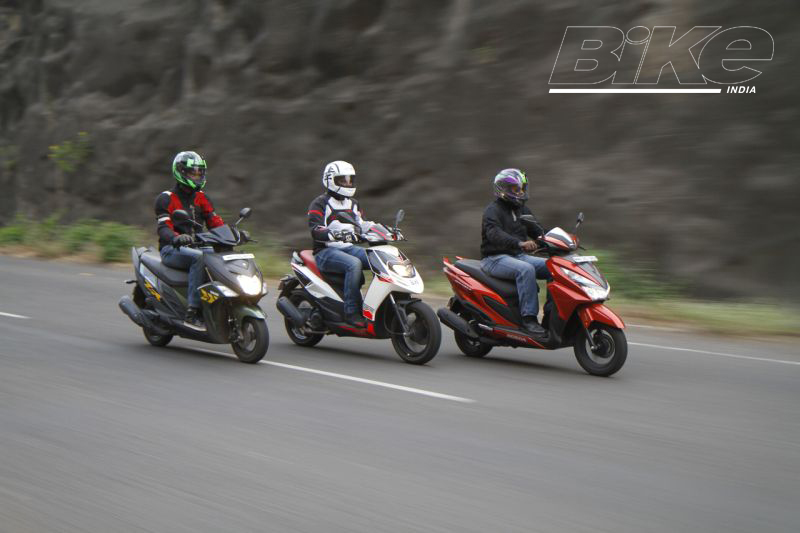 Maintaining a fine balance of style and substance, the Grazia comes with a fairly long list of features. It is the only scooter in this shootout to get a fancy digital instrument cluster which offers a range of information like speedometer, fuel gauge, trip meter, clock, and even a tachometer. There's a three-step eco riding indicator that guides the rider to get the best fuel efficiency. While the base variant Grazia comes with 10-inch wheels, alloys in higher variants ride on 12-inchers.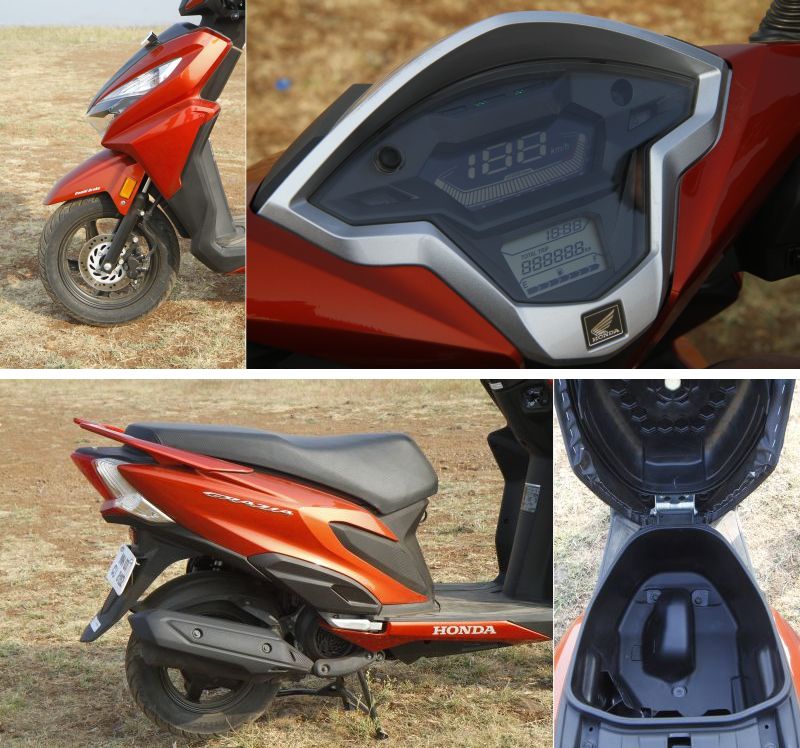 The top variant of this scooter gets a 190-mm front disc which, along with Honda's Combi-Brake System (CBS), brings it to standstill from 60 km in 2.46 seconds, travelling 18.46 metres. The brake feels progressive and the scooter remains surefooted even under hard braking. In comparison, the Ray ZR has a 20 mm smaller front disc, yet it manages to bring it to a halt from 60 km/h in 2.48 seconds. However, during the brake test it took a longer distance (20.22 metres, to be precise) and left us desiring for more bite from the brakes. The Aprilia not just gets the largest wheels, but equally large 220-mm disc with dual-piston Bybre calipers. These help anchor the scooter from 60 km/h in just 1.88 seconds, covering a distance of just 15.26 metres. The brakes offer the best feedback and are extremely precise.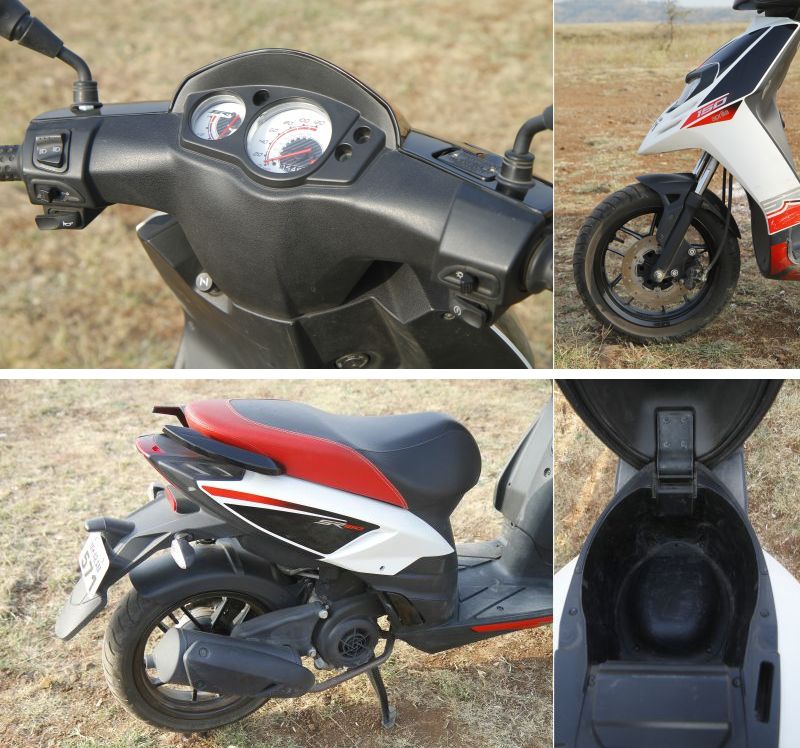 These modern scooters come loaded with a host of features, so let's discuss those too. The Honda comes with a covered storage compartment, but the lid could have been more robust. For an extra Rs 500, one can get the optional 12-volt charging slot installed within to charge your mobile phone on the go. Similarly, the Yamaha also has a couple of cubbyholes below the handlebar that can easily hold half-a-litre water bottles. The SR 150, as we said before, is barebone and without these frills. Sadly, none of these scooters comes with an external fuel filling. If it's any consolation, the Honda does get a dedicated seat-release button which is located next to the four-in-one key fob. Both the Grazia and Ray ZR have rear brake lever lock, which is useful while parking on a slope, but Honda's old-school system looks rather utilitarian on an otherwise modern and well-finished scooter.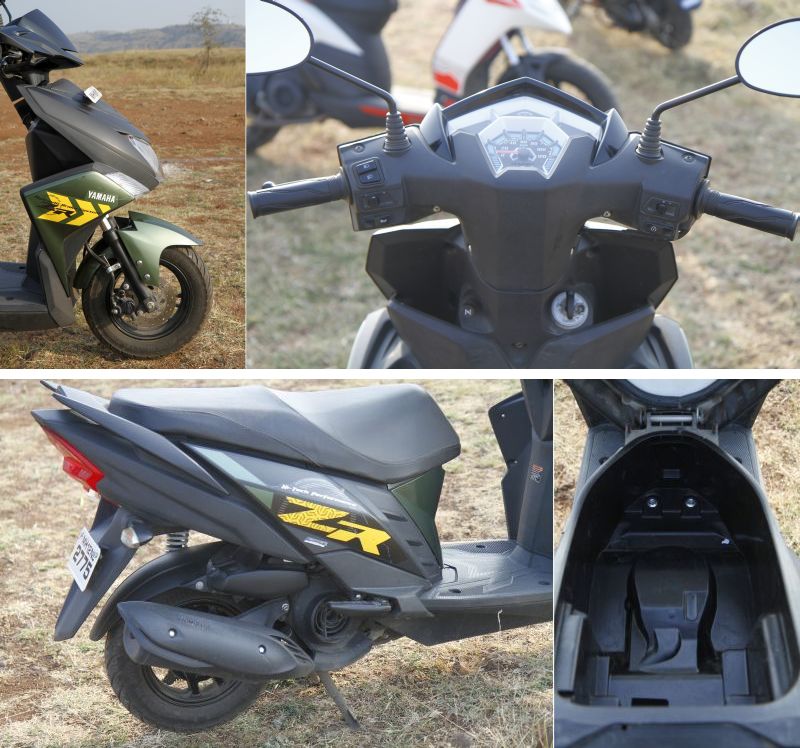 We rode these scooters outside the city, on highways and over broken roads of a hill to reach the scenic location which gave us ample opportunity to put each powertrain to test. As you already know, the Grazia, like the Activa 125, is powered by a 124.9-cc engine that makes a respectable 8.63 PS and 8.94 Nm that maxed out at 92.1 km/h. In comparison, the Yamaha, with its smaller 113-cc motor, makes a humble 7.2 PS and 8.1 Nm of torque, and managed a top speed of 86.31 km/h.
The SR 150 is set to offer the sportiest performance unlike any Indian scooter: right from its throaty exhaust note and peppy engine to the firmly tuned suspension. Give it a poke and it'll zip past practically every other scooter in sight. The 154.8-cc single punches out 10.4 PS and has a torque rating of 11.4 Nm and attains a top speed of 102.06 km/h. As you must have guessed, the Aprilia out-performs the other two as it roars to 60 km/h in just seven seconds. Surprisingly, the Grazia isn't too far behind and takes just half a second more to attain 60 km/h, while the Ray ZR takes much longer and does the same in 9.48 seconds.