Some motorcycles are special. The Royal Enfield Super Meteor 650 is easily one of them. To gauge just how much, we tested it for months to bring you this detailed report.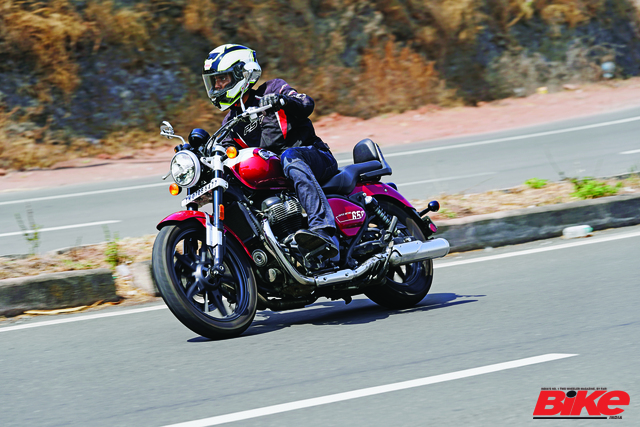 Story: Joshua Varghese
Photography: Sanjay Raikar
Cruising has to be fast yet effortless. Carrying speed for long distances in comfort without tiring man or machine; that is my definition of the word. To do that, an engine with more than one cylinder is essential. Royal Enfield began distilling that formula with the Lightning 535 and may just have perfected it with the Super Meteor 650. Dealerships have recently delivered the motorcycles booked during Rider Mania 2022 but the money keeps rolling in. It is the most premium Royal Enfield yet and it may just be the best motorcycle they have ever made. We have been using it every day for the past couple of months to bring you this comprehensive review.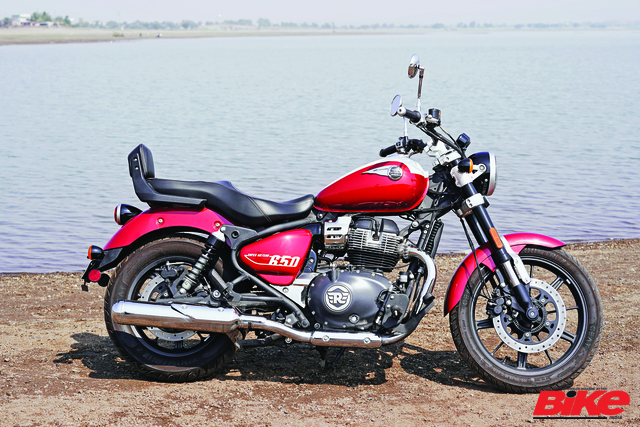 If there is a textbook for designing a cruiser, Royal Enfield's designers have certainly read it cover to cover because the Super Meteor has all the elements one would expect in such a motorcycle. In a market where middleweight cruisers have been scarce, the Super Meteor's low-slung and shapely silhouette has already made an identity for itself, thanks partly to the 19-inch wheel at the front and the 16-inch one at the rear; the latter gets a wide tyre that adds to its cruiser credentials. This motorcycle draws one in with an LED headlight which sits atop the Showa USD fork and that is enough to prove it is as modern as it is retro, but there is more. In addition to throwing a beam that is strong enough to serve all cruising needs, the headlight unit also features adjustability; the kind one can do at home with a few simple tools. The 15.7-litre teardrop-shaped fuel-tank is done up in a nice dual-tone paint scheme (because this is the Tourer variant) and it proudly displays the latest Royal Enfield badge which appears to be a version of a meteor streaking across the sky; a nice touch, if I may say so. The curves continue along the side-panels and end in a nice, flowing tail-end that completes the retro theme with relevant lighting elements. The Super Meteor is rich in curves, is tastefully painted, and features metal panels throughout—what more may one expect of a cruiser?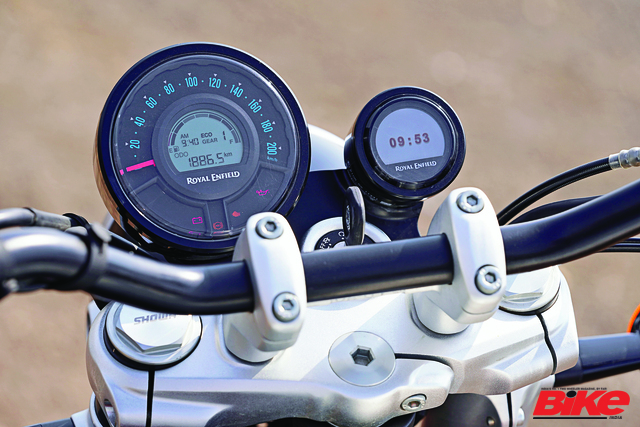 The instrument cluster is a familiar mix of items we have seen on most modern Royal Enfield motorcycles, including the small screen for Tripper Navigation. There is no tachometer on this one but it displays all the essential info and is rather well lit at night, giving it a classy appearance. Like its smaller sibling, the Super Meteor also gets the round switchgear. The quality level of the plastic is top-notch and the motorcycle gets adjustable levers as standard. Personally, I like how Royal Enfield have moved the button to toggle through the meters to the left side of the handlebar. Certainly makes things more convenient than the conventional method where one has to poke and prod a small button on the console.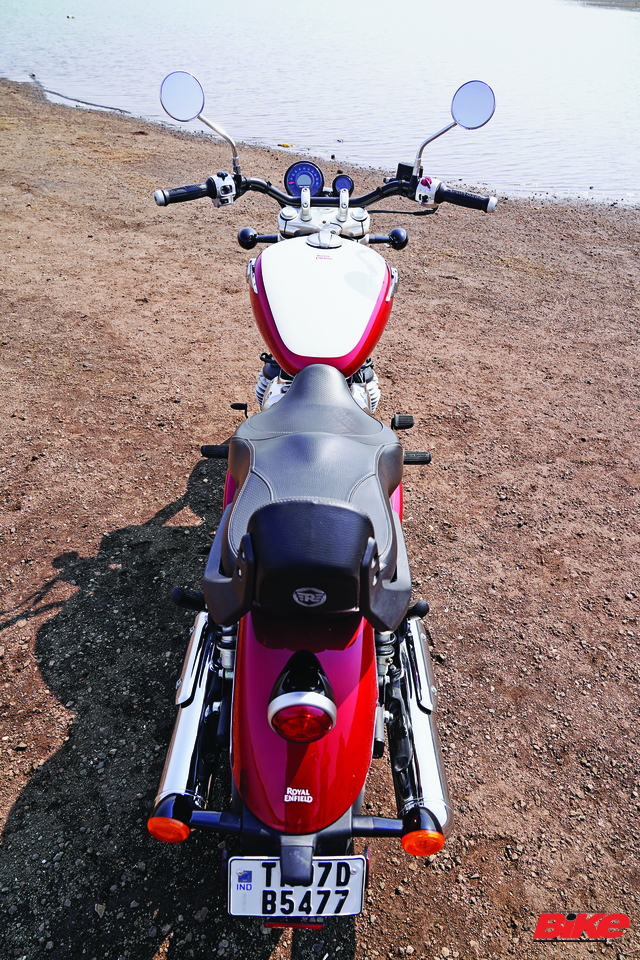 On such a motorcycle, comfort is paramount and the Super Meteor delivers generously on that front. The rider's seat is only 740 millimetres off the ground. It has a nice contour and is spacious but the handlebar is wide and the foot-pegs forward-set. Although the riding position is proper cruiser, it is still accessible to a large spectrum of riders. I have spent many hours and kilometres in this saddle over the past few months and discomfort is one thing I would never associate with it. Possibly because our motorcycle was equipped with the touring seat. In addition to being one of the most comfortable motorcycles below Rs 5 lakh that I have ever ridden, this may also be the most cushy for the pillion, particularly because of the back-rest.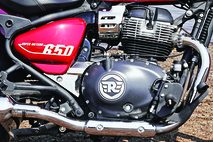 Powering the Super Meteor is the familiar 648-cc, air-cooled, SOHC, four-valve engine in a marginally different state of tune. It develops 47 hp at 7,250 rpm and a peak torque of 52.3 Nm at 5,650 rpm but the torque peaks 500 rpm later in the Super Meteor. The strengths of this engine include a healthy band of torque early in the rev-range that is supplemented by a strong mid-range which tapers gradually towards the red-line. Flawless fuelling, progressive power delivery, and a smooth throttle response make it straightforward to harness all the available torque. Like its siblings, the Super Meteor also uses a six-speed transmission but the final drive gearing has been optimized for touring. In the first three gears, it rushes forward with the verve of a locomotive, while fourth or fifth gears are more than enough to chug along nicely in town because they are also capable of quickly supplying torque on demand. Meanwhile, sixth gear is capable of letting the motorcycle pull away from 50 km/h and is also the one to use for cruising at triple-digit speeds on the highway.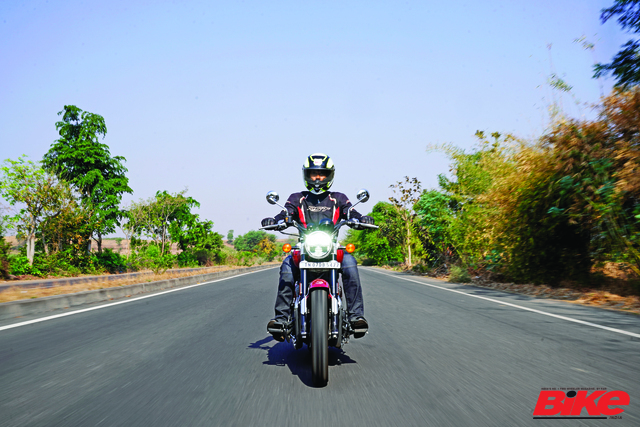 At full blast, this motorcycle clears the 100-km/h mark quickly and goes on to a top speed in excess of 160 km/h. It has what it takes to sail along comfortably at 120-130 km/h and it is commendable that it demands no extra effort or exertion from the rider to do that. Such pace is accompanied by an addictive induction roar and an exhaust note that can range from subdued burbling at low revs to an exciting roar at full blast. The heft has taken a toll on fuel efficiency when compared to the 650 Twins but over months of riding, we have consistently received between 21-27 km/litre. By the way, the last litre of fuel in the tank is dead stock, so it may not be a smart idea to delay refuelling just because there is petrol sloshing about at its bottom.
The Super Meteor tips the scales at 241 kilograms but one does not feel that weight when it is in motion. The engine is a stressed member in a spine frame that also employs bolt-on hangers. It uses a Showa USD fork at the front and twin shock-absorbers at the rear for suspension. The fork is among the most premium equipment ever used in a Royal Enfield and easily proves its mettle by offering great stability while cornering fast or braking hard. It has 120 mm of travel, which allowed me to use the motorcycle without complaint in town and on the highway. While some may say that the rear shock-absorbers are stiff, I beg to differ. The units themselves are not stiff but they have limited travel due to the way they are placed, which also explains the 101-mm travel. However, it makes for a ride quality that justifies its cruiser credentials. It soaks up small bumps and undulations with ease and only the most notorious potholes or bumps filter through. Of course, the set-up redeems itself with ease as the pace goes up. The wide handlebar offers great leverage and the front remains stable and predictable when one flicks the motorcycle. Given its heft, it is not exactly light on its feet but once turned in, it has what it takes to carry good speed through a corner. There is also a usable amount of ground clearance available, should one want to ride in an extremely spirited fashion.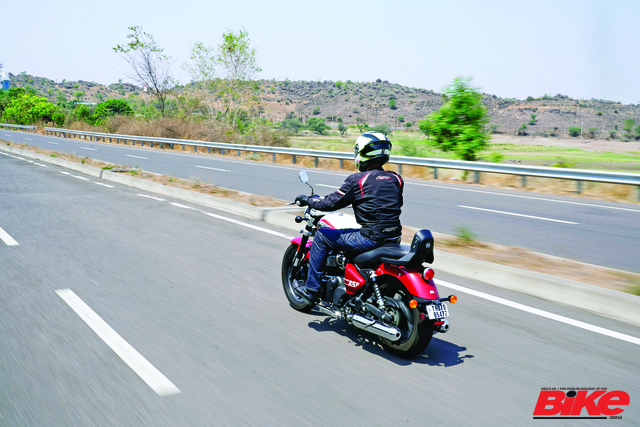 Deceleration duties are managed by a large 320-mm single disc at the front which is bitten on by a twin-piston ByBre caliper while the rear also has a similar set-up; along with the safety of dual-channel ABS. Taking the geometry of a cruiser's front end into consideration, the Super Meteor sheds speed confidently with the ABS making timely interventions whenever things appear to be getting out of shape. During my time with the motorcycle in town or on long rides, braking was never a cause for complaint. It comes with CEAT Zoom Cruz tyres and they have lived up to expectations thus far.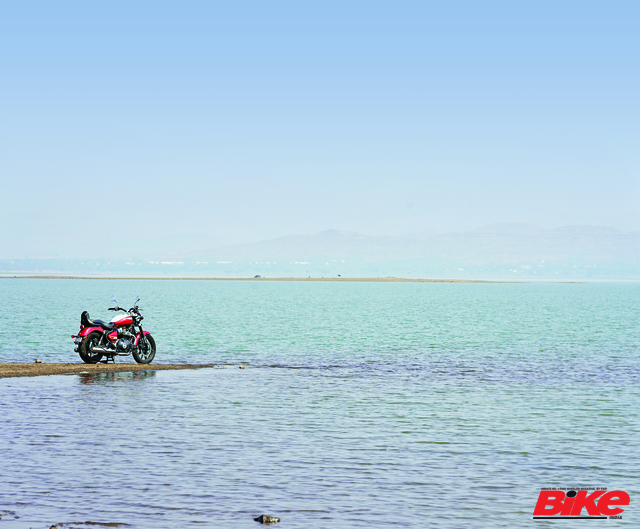 This test report was filed after riding the motorcycle for more than 2,000 km over a couple of months and during that time, it has never once let me down or even caused the slightest inconvenience. Other than being mindful of its large proportions, I have never had to put in extra effort to ride it and that is what makes it very special for me. The Super Meteor 650 is like a simple dish that is made just right. It is pleasing to the eye, uncomplicated to understand, and effortless to enjoy. It has also significantly bridged the gap to the premium cruiser segment for a large number of enthusiasts. For such a motorcycle or rather such an experience, Rs 3.79 lakh (ex-showroom) feels like a bargain if not a fair price.
Also Read: Bimota TESI H2 Carbon First Ride Review