Expectations are high for the new Royal Enfield Himalayan. Does it deliver? The mountains were the proving ground.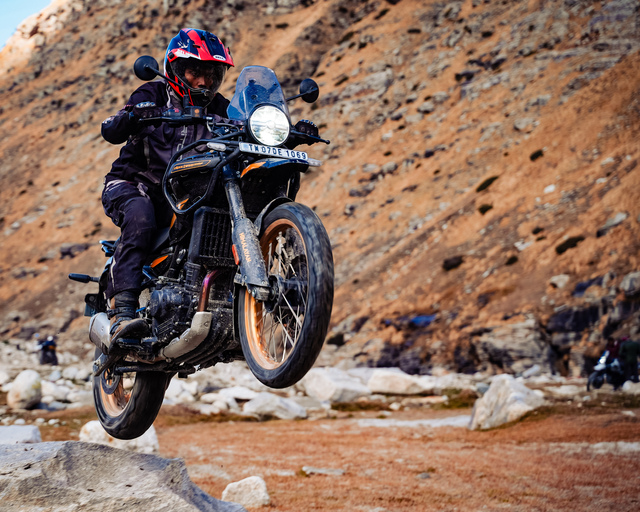 Story: Joshua Varghese
Photography: Apurva Ambep
Back in 2016, nobody knew they wanted a Himalayan. Explorers knew they needed something sturdy and reliable to go anywhere. A motorcycle that would not give up. Royal Enfield took a gamble by developing and launching their first ADV but the rewards they reaped were immense. The Himalayan has enthralled its owners: explorers who rented one, yours truly on several occasions. Its versatility and accessibility made it popular in global markets too.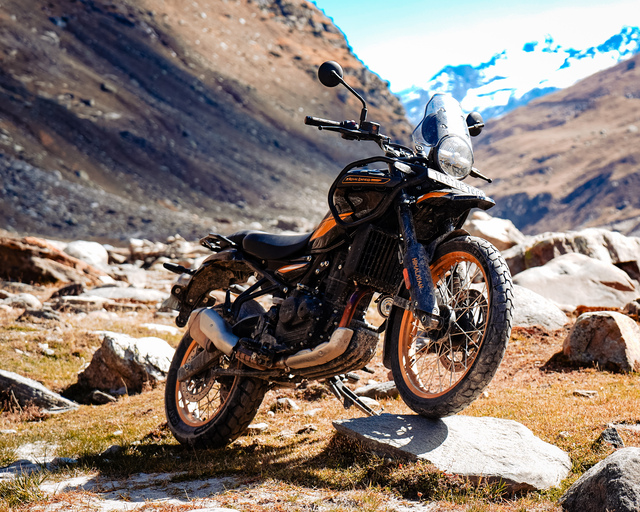 In 2023, the market is better informed and supplied. We have many options fighting for the crown of the ideal ADV. The wait for the new Himalayan was long but it made sense because the motorcycle has a worldwide reputation to uphold now. After a lot of research and development and testing, Royal Enfield took us to Manali for the first ride experience of the production model. All of us had seen photos of the motorcycle being tested but that did nothing to diminish the visual assault provided by the line-up that awaited us in Manali. Of all the colours on display, the one that caught my attention was the black-and-gold paint scheme, the one you see on these pages.
The LED headlight and Showa USD fork are the only new elements in an otherwise familiar front end. Interestingly, Royal Enfield told us that the LED headlight was, in fact, developed for the Himalayan but the motorcycle was being tested for so long that the unit ended up getting launched first on the Super Meteor.
From there onwards, the new design takes over. The boxy tank has been replaced by a larger and more shapely unit that holds 17 litres of petrol. Small side-panels attract considerable attention in profile before the design ends in a slim tail-end. At first, it may appear that the tail-light was forgotten but it has been integrated into the turn indicators. The new Himalayan is longer, wider, and taller (depending on which screen you choose). The exhaust system has been swapped for a stubbier upswept unit and the 17- and 21-inch wheels finished in gold paint give the Himalayan its familiar stance and also premium appeal. Of all the colours on offer, this is the only one that has fully painted rims. Furthermore, Royal Enfield are also offering an optional Adventure or Rally kit which has just the right accessories to make the Himalayan perform best for your specific needs.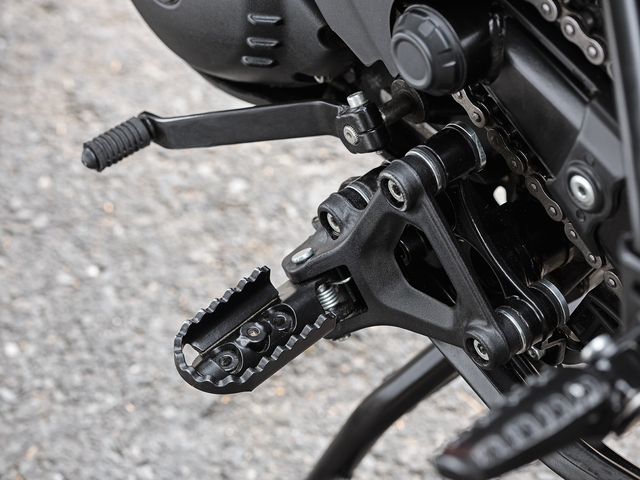 In a bid to accommodate a large spectrum of riders, the motorcycle gets adjustability for seat height. One can choose between the optional low seat or the standard unit and the seat height ranges from 805 to 845 millimetres. The rider triangle is neutral and it is easy to find a good seating position with minimal stress to the limbs and posterior. The seat may be firm but it does not compromise on comfort. The fuel tank-seat junction is narrow and the handlebar position has been revised. That made it easy for me to ride standing up, something that was a challenge for my tall frame on the previous model. To round off the experience, Royal Enfield have used rubber-mounted foot-pegs and they do a great job of isolating the feet from errant vibrations.
Where there used to be multiple dials is one single round colour TFT console. It is capable of displaying an analogue, digital or full map layout. The unit itself is anti-scratch and anti-glare, which ensured good visibility at all times. New high-quality switchgear, which includes a joystick, made navigation through the menus easy but I felt the joystick was a bit too long. For example, when I wanted to select the centre button, I ended up moving it sideways instead. The full map display made navigation easy for me but for the system to work, one needs to keep the display of their smartphone on which leads to lower battery life. Perhaps, something they could fix with a software update?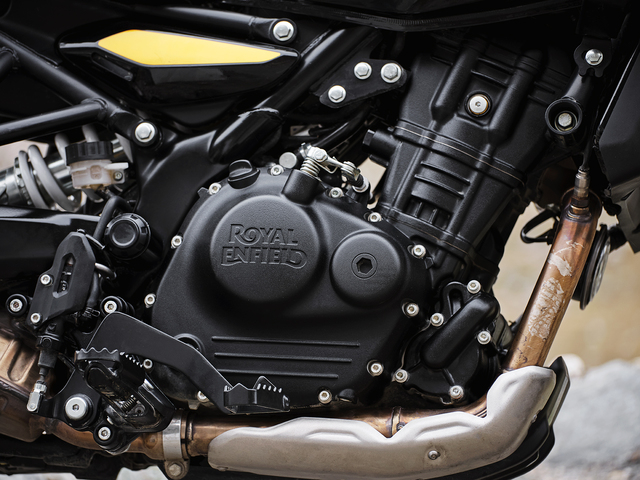 Powering the new Himalayan is a 452-cc, DOHC, four-valve, liquid-cooled, single-cylinder engine. This is the first time we get to see a DOHC liquid-cooled unit from Royal Enfield. It has a larger bore and shorter stroke than the LS410 (old Himalayan) engine and it revs to 8,750 rpm. It also has a higher compression ratio. All that gives us 40 hp at 8,000 rpm and a peak torque of 40 Nm at 5,500 rpm. That is 65 per cent and 25 per cent over the previous model's figures. This fantastic power plant is named the Sherpa 450. It is glorious to use because it has a strong low end, exciting mid-range, and there is still enough for thrilling top-end performance.
In action, the Sherpa left me speechless. The ride-by-wire throttle smoothed out my riding input when needed and in the Performance riding mode, the Himalayan was amazing. The intoxicating induction roar kept my throttle hand pinned through each gear and the engine revved freely all the way through to the red-line without any complaint. It began with a formidable low end, followed by a strong mid-range right before an equally exciting top end. Furthermore, it is so refined that I barely felt any vibrations when belting it along switchbacks and cruising at triple-digit speeds. Noticeable improvement is evident in terms of mechanical noise as well. With 90 per cent of the torque available by 3,000 rpm, this motorcycle was as friendly to use at low speeds too. Engineer Ben Ady and his team have done a phenomenal job with the Sherpa.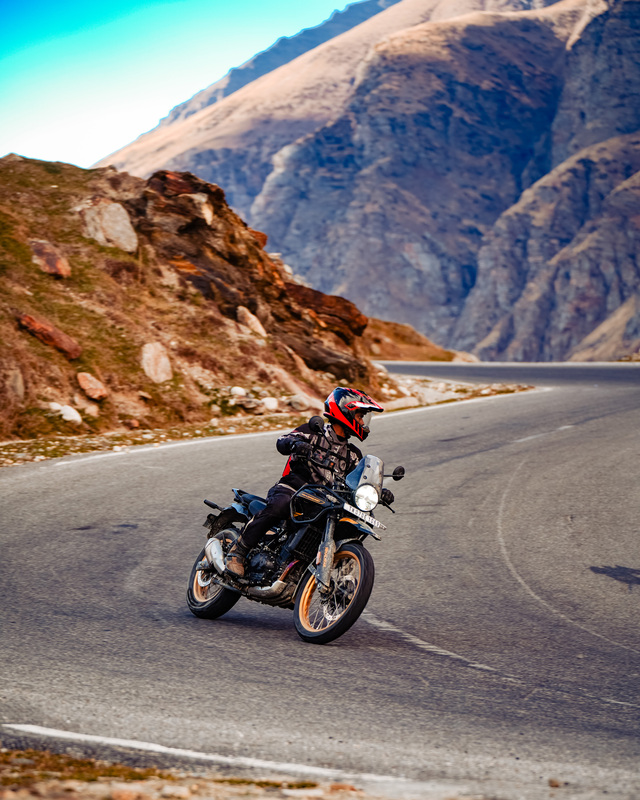 The Himalayan finally gets the sixth gear we have always wanted and it comes with a slip-and-assist clutch as well. The shifts are precise and the feel at the clutch lever is light, which should make this motorcycle easy to ride in town. Sharp observers may have noticed that the engine is now angled forward slightly. It has also been restructured to keep the weight towards the lower front end. For example, the air box is now right on top, which also increases the new Himalayan's water wading capability. They have also used thinner wall castings to save as much as 20 per cent in weight as compared to the LS410.
All that effort was made to supplement a brilliant chassis developed by Lorenzo Andreucci and team. The twin-spar steel frame uses the engine as a stressed member, further saving weight. At the front, there is a 43-mm Showa USD separate function fork which uses a spring in the left tube while the right houses the damping circuit. Meanwhile, the rear continues to use a monoshock with a linkage but it has been mounted in a different way to free up some ground clearance. The damping on both components is controlled and progressive.
On quiet and open roads, I found myself riding the motorcycle much faster than its predecessor. In fact, there were times when I genuinely forgot that the front wheel was 21 inches because it felt like a 19-inch unit at best. It is stable and planted on straight roads at speeds over 100 km/h and the suspension with its 200-mm travel at either wheel just irons out undulations. When facing corners, its neutral handling made it easy to carry speed at entry but what it did after that impressed me the most.
Once while going around a curve with the motorcycle banked over, my heart skipped a beat when the front wheel went over a bump mid-corner. What may have been a crash or at least a violent reaction from the front end was dismissed nonchalantly by the suspension and the motorcycle continued its arc around the corner as if nothing happened. With such compliance, one could also explore the limits of the new CEAT tyres and, maybe, even scrape a foot-peg occasionally. Revised steering geometry and sharper brakes also contribute to the cause significantly by encouraging one to brake deeper into corners.
Off the road, the Himalayan is easy to ride fast on trails and unpaved roads. Its suspension makes life a lot easier in that regard. The feedback from the front is rich and a steady throttle is all that is needed to get the rear end back in line quickly. It is a very forgiving chassis that will make off-roading more enjoyable for beginners and veterans alike because the motorcycle does all the heavy-lifting. In fact, it is only while dealing with low-speed obstacles that one needs some level of skill and technique to manage the Himalayan's 196-kilogram heft, but that is something one could get used to quickly.
At a time when most manufacturers give us only a few hours with a motorcycle to ride and create content, Royal Enfield gave us two days. I am glad they did because it gave me ample time to understand and appreciate the superb engineering that has gone into this motorcycle. Its road manners have improved by leaps and bounds, as has the refinement and quality. The older motorcycle was good off road but Royal Enfield have made small changes to make this one better. I would put my money down for the new Himalayan as a machine to do everything, including urban use, touring, and exploring the unbeaten path. By the way, there were some motorcycles equipped with cross-spoked rims that could use tubeless tyres. I would pay for those, too, but they are currently not homologated for India.
The new Himalayan is a beautiful motorcycle, one that is a joy to ride. A lot of research and development has gone into it, so it may not be as accessible as it once was. We do not have the price yet but my guess is that it is going to be placed very close to the Interceptor. Incidentally, this review was solely based on riding at high altitude where the Himalayan is robbed of almost a third of its power output. Now I look forward to unleashing its full potential at sea-level for a road test.
Also Read: KTM 390 Duke 2023 Review