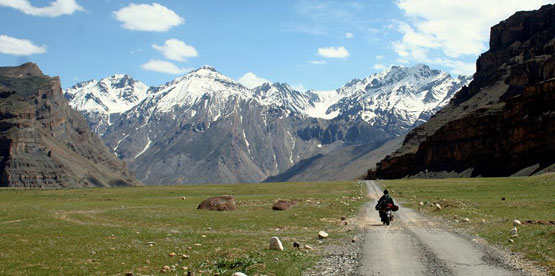 Here's an interesting adventure ride courtesy White Collar Hippie, a group of travel aficionados busy spreading passion for our planet and organize journeys for travel enthusiasts who like to explore and discover the world around them, while always adding something unique to their existing skill-set.

Scheduled to kick start this August, their next expedition is to the North India starting from Naggar Village, riding Royal Enfield Classics across Himachal Pradesh. The Hippies in association with Karma Yatri would be taking a group of 10 amateur riders through a journey that promises to 'change their life'.
When?
Between 23/8/2013 to 3/9/2013
What's in store?
According to their press release, "Starting in the Naggar Valley in Kullu, you ride off to Gushaini where you will have to ditch your bike for a very novel mode of transport – A CHAIR. How? You will sit on the chair attached to a rope across a river to get to your crib! (This is only the beginning!)"
One has the option of either camping under the stars or can settle into rustic guest houses. Also on offer are rides by the spectacular Nako Lake, through Tabo, to the village of Komic. One of the highest villages in Asia and surrounded by hills, also the home of the majestic and elusive snow leopard.
Explore Kibber, Kee and Kaza and then head to Batal, also called Choti Kashi because of its rich history in astrology. Here, locals will give you a taste of not just their delicious cuisine but also their rich culture. And finally the snow covered pass of Rohtang is a stop on the way back!
For more info visit www.whitecollarhippie.com