Reise Moto trailR Academy is the European tyre manufacturer's maiden flagship off-road training school, offering best-in-class training from distinguished experts and the pros of Dakar.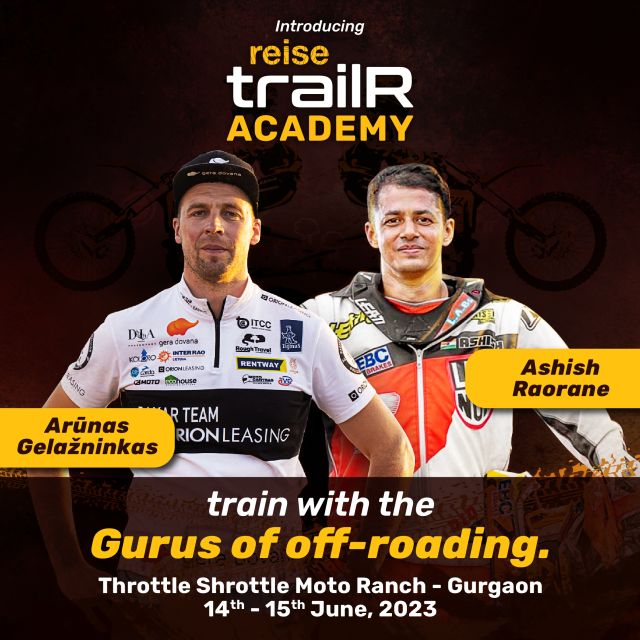 The trailR Academy will be the first-of-its-kind off-road academy that will provide off-road enthusiasts with the opportunity to be trained by experts and pros from Dakar such as the European moto athlete, Arunas Gelazninkas, who is a two-time Dakar rally winner in the Motul Original category (2021, 2022) and Tuareg Rally champion in 2019 as well as Ashish Raorane, who competed in the Dakar Rally in the Malle Moto class in 2021, Africa-Eco race in 2020, and Dubai Baja in 2019.
Launching in June 2023, Reise Moto's trailR Academy will offer a structured and meticulously planned two-day programme with three levels of difficulty, curated by these experts. Determined to make it a success, the brand plans to host multiple such sessions every year and further its proposition of enabling and elevating experiences for the Indian rider community.
Speaking about the idea behind the academy, Yogesh Mahansaria, Founder and Managing Director, Reise Moto said, "With a vision of providing the best experiences to the Indian off-road enthusiasts, we believe that it is also our responsibility to further empower them with advanced off-road riding skills. We are thrilled to announce the trailR Academy to hone their off-road riding skills under the guidance of the best industry experts who bring along a wealth of skills and lessons to share."
The trailR Academy is part of the brand's upcoming initiatives to offer specially curated brand experiential initiatives for encouraging and engaging with the 'touring' and 'adventure' moto enthusiasts in India. It is also an effort to strengthen the brand's core promise of delivering the Joy of Riding by instilling remarkable confidence in passionate motorcyclists.
The Academy is inviting applications for its maiden flagship sessions to be held on 14 and 15 June 2023 in Gurgaon and has announced a social media contest for five coveted spots to be won for this once-in-a-lifetime opportunity to learn from the pros of Dakar.
Interested enthusiasts can participate in the contest through this link.
Story: Alshin Thomas
Also read: Stripe Livery in Iceberg White for Ducati Supersport 950 S