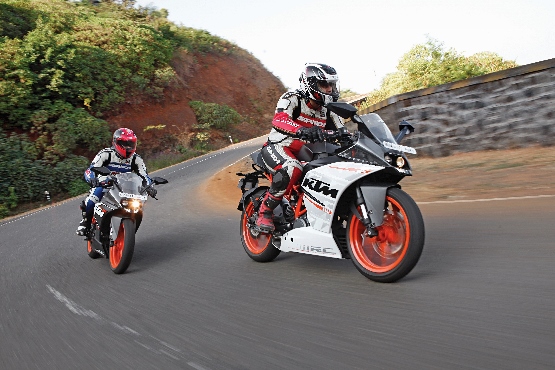 PS: Agreed, but as you mentioned earlier, I am willing to overlook the vibrations for the bump in performance and the advantage in braking. The 390 has a 300-mm disc brake at the front and a 230-mm disc brake at the rear and the bike is equipped with ABS as standard. So while the 200 gets its tail up under hard braking, the 390 comes to a standstill without losing composure.
AS: I would probably have said the same things about braking. The 200's brakes, which are essentially the same as that on the 390, do have feel, progression and bite. The one thing that the 200 doesn't have is ABS, which, I think, is a shame. Given how good the brakes are, at least the option of having ABS should have existed. I mean, they are producing an ABS-equipped version on the same assembly line in any case. The tyres help too. The RC 200's MRFs offer good grip levels and are a perfect match for the motorcycle.
PS: The 390 requires more traction to put the extra power down and gets the sticky Metzeler tyres for that purpose. The tyres, therefore, share the credit for the 390's sharp handling but be prepared to shell out Rs 16,000 every 8,000 to 10,000 km to enjoy the high grip levels.
AS: Eventually, it all boils down to individual preference. Expectedly, the RC 200 is the smaller and, therefore, the less frenetic of the two motorcycles. I'd say, it's ideal for someone who commutes to work on a motorbike but then loves a good handling motorcycle so that he can have his share of fun on the odd days that he may be headed for the twisties of the mountains, or a racetrack (if he's in Chennai or Coimbatore. BIC isn't right for these bikes).
PS: The 390 is quite literally a 'ready-to-race' motorcycle. Take delivery and head to the racetrack! It's an attractive motorcycle which can make your daily commute exciting and has you covered till you upgrade to a middle-weight bike. And at a very competitive price of Rs 2.36 lakh (on-road, Pune) too. At this price, there is practically nothing you can buy that will give you the same sort of performance.
The key then would be to decide which of these two characters you are, and the choice of motorcycle should come to you quite naturally. Money being no object, of course, for there is almost a Rs 50,000 difference between the two. At the end of the day there wasn't a right or a wrong bike, for both are extremely good and capable motorcycles meant for very similar people. Note, similar but not identical.