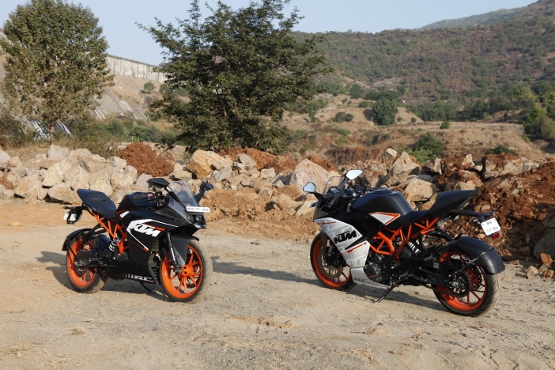 AS: True, the ride quality, while not really jarring, is on the firmer side of life. But I'm willing to overlook that one simply for the way the bike goes. That 199.5-cc liquid-cooled single is a peach. The 25 PS and the 19.2 Nm of torque do wonders for something that weighs just shy of 150 kilos – 149, to be precise. Fabulous power-to-weight ratio. Power delivery is also so linear that you have to shift down a lot less. A very useful thing when riding through crowded streets.
PS: I was afraid you would bring that up. Well, the 373-cc single pot motor of the bigger RC has lost its flexibility on the way to making 43.5 PS. The bike gets snatchy at low speeds and requires frequent gear changes, also because the gearing is short. The maximum power comes at 9,000 RPM and the 35 Nm of torque is generated at 7,000 RPM. The engine puts the hammer down at 7,000 revs but, trust me, with its free-revving nature and crisp throttle response, there is never a dull moment on the 390 and the engine performance feels just right for this bike.
AS: Yes, the 200 does feel a little lacking in the gut when you want to roll the throttle open, coming out of a bend. I mean, it's got enough but it feels like the chassis is capable of so much more. The only way to get around it is by keeping the engine revving relatively higher than you would on the 390 to get the desired drive out of the corner. I suppose that's the downside to sharing the cycle parts with the 390. Throttle response, however, is as good. Also, the engine doesn't vibrate as much.