The only slight drawback was that the suspension at both ends has a lot of travel – 160 mm from the 43-mm Marzocchi forks up front, and 165 mm from the Sachs rear shock. That meant there was a fair bit of pitching, especially under braking when the ABS-equipped Brembo monobloc callipers did their normal excellent job of slowing the MV hard.
The front end moved around more than was ideal, though adding some compression and rebound damping with the adjusters at the top of each leg did help. The upmarket Lusso version of the Turismo Veloce has Skyhook semi-active suspension, which should be a real benefit. But that model is not due in showrooms for another two months, and the launch bikes were all the standard Turismo.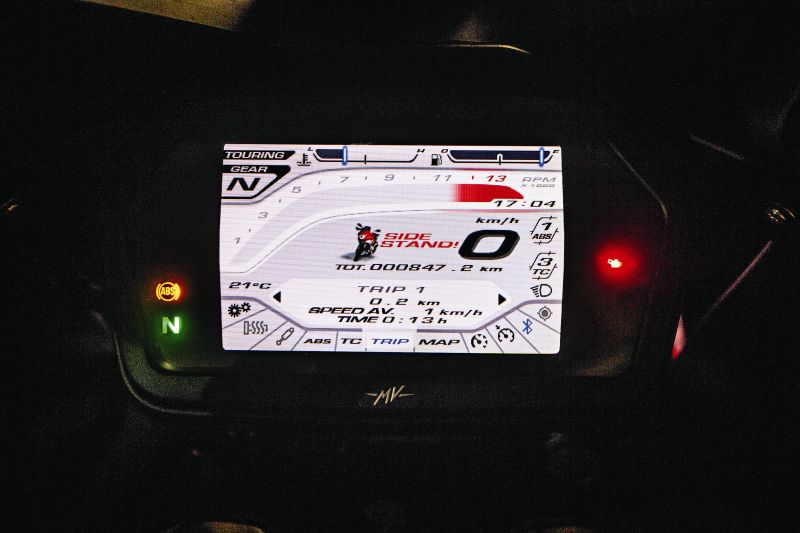 At least the generous travel contributed to the very smooth ride, which combined with the fairly thin looking seat to make the MV respectably comfortable. After a fairly full day's riding with one stop for lunch I was just starting to feel slightly twitchy. We'd averaged slightly worse than six litres/100 km despite a healthy pace, suggesting the commendably large 22-litre tank will give most owners a range of well over 300 km.
Other details are mostly good, including the LED lights and the TFT instrument panel, which is attractive and has plenty of info (including fuel consumption), although some of its figures are on the small side. Mirrors are reasonably wide and usable, the simple switchgear includes a cruise control button, the fairing has a couple of small compartments for coins or toll tickets, there's built-in Bluetooth, plus two USB and two 12V power sockets.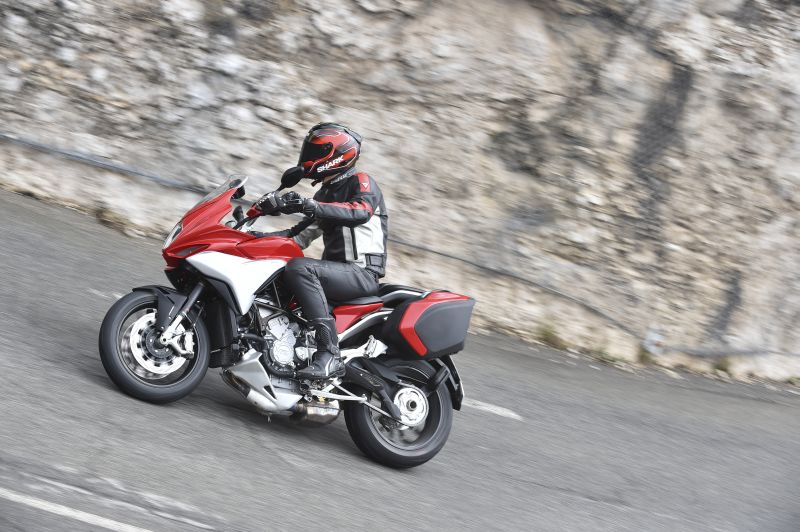 The Turismo really lives up to its name when fitted with the panniers, which are so much a part of the design that few bikes are likely to be sold without them. They're shaped to fit round a pillion's legs, and each is large enough to hold a full-face helmet despite their narrow width. They seemed well-finished although as an owner I wouldn't have been impressed that one of the cords that prevent the lids from opening too far snapped its plastic mount.
Even so I'd certainly include the panniers if buying a Turismo Veloce; or better still the Touring Pack that also includes heated grips and centre-stand. There's also a limited 'Edition 1' model that includes those extras plus a sat-nav, and has the late former MV President Claudio Castiglioni's signature on the tank; of which 150 units are being sold worldwide. The Lusso, which has heated grips, centre-stand and a GPS sensor as well as the semi-active suspension (but not panniers), costs roughly 20 per cent more than the standard model.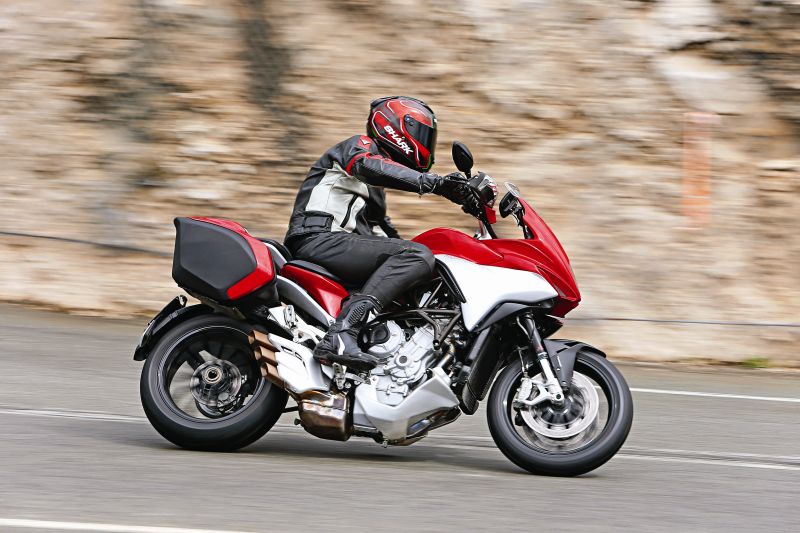 Neither Turismo Veloce is cheap but that's to be expected, and even the standard model is a seriously practical and distance-friendly bike that still manages to retain plenty of MV's traditional attributes of style, performance, sweet handling and classy image. As well as being one of the most important MVs of recent years, it's also one of the best.