The sharply shaped seat unit contributes to the lean look of a bike that is too tall to match the sleek aggression of MV's sportier models but still manages to seem light, compact and attractive. The rider's part of the intricately shaped seat is reasonably wide and, at 850 mm, high enough to give shorter riders a few problems with slow-speed manoeuvring, although the bike's light weight and generous steering lock help.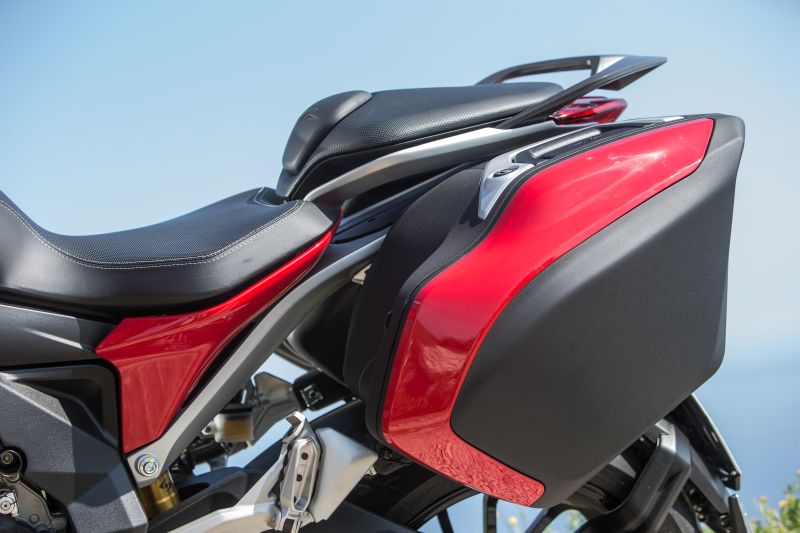 So does the generally accurate fuelling, which, as is usual with MV, comes with a choice of four maps, three pre-set (Rain, Touring and Sport) and one customisable. For general riding I mostly used Touring, which was fine when the launch route headed out along the southern French coast near Nice, though 'Rain' gave a slightly smoother response that was slightly better in town. The MV had a slightly grumbly, harsh sound and feel at low revs, and a slightly sharp clutch action that required concentration and a good handful of revs when pulling away.
Once up in the hills, switching to the 'Touring' mode let the Turismo Veloce's midrange-heavy motor show what it could do, which was send the bike charging forward at every opportunity, feeling enjoyably lively and with its front wheel frequently threatening to rise. The Brutale 800 is a very strong engine and this one's even better low down, helping make the bike very easy to ride, even in the sharper 'Sport' mode with its quick response combined with the light throttle action.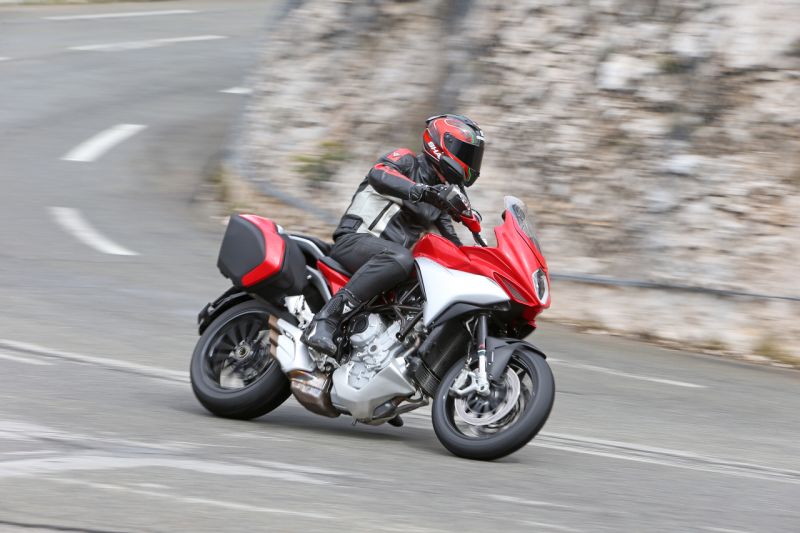 The Turismo stayed smooth at higher revs, too, though it tended to hit the 11,500-RPM red-line and then the limiter if I didn't make sure to click up on the quick-shifter, which worked very well in both directions and was impressively easy to use. As normal with MV, there's an eight-way adjustable traction control system that changes with riding mode and was well worth having on the often damp and slippery roads, and which allows the occasional wheelie, in 'Sport' mode at least.
The bike's good for about 225 km/h and the fairing does enough to take the wind off the rider, though it's quite narrow. So is the screen, which can quickly be adjusted through 60 mm, on the move, with one hand, via a Ducati-style pinch lever. But even in its highest position it was too low to prevent some noisy turbulence. The hand-guards also gave some protection although they're set slightly too low to keep off all the cold air.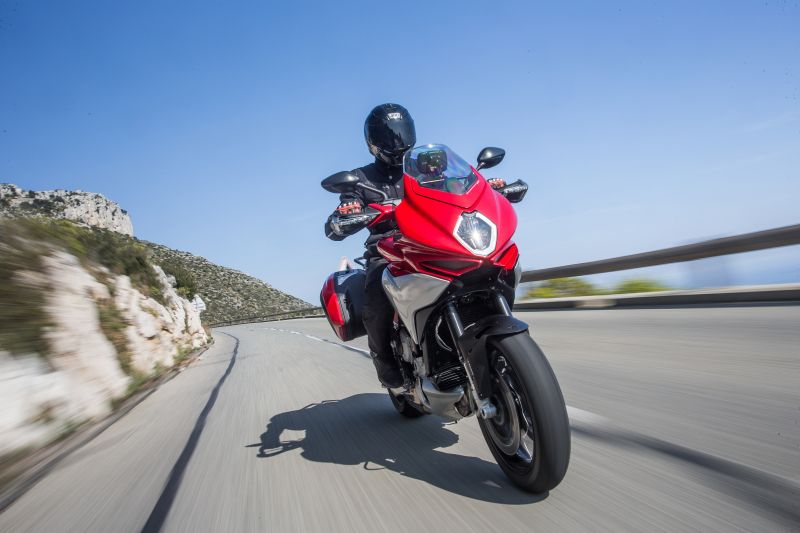 Handling was superbly agile, helped by the MV's wide bars, sporty geometry, short wheelbase and light weight. In the Alpine foothills near Grasse the bike was brilliant fun to flick around the twisty, often steep roads, even when the surface was damp enough to make the Pirelli Scorpion Trail tyres prove that they gave very adequate grip, despite not being the stickiest of sports-touring rubber.