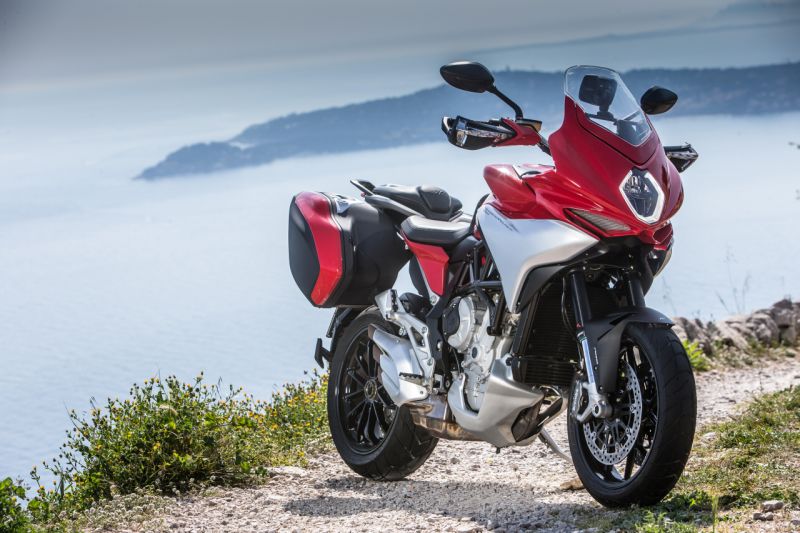 We rode the MV Agusta Turismo Veloce 800 in southern France following its launch. Here is our first impression
Story: Roland Brown
Photography: Milagro
MV Agusta President Giovanni Castiglioni says the Turismo Veloce 800 is one of the most important bikes his firm has produced, and it's easy to understand why. "It's a new concept for MV Agusta, and an important moment for the company – like the original 750 F4 in 1997 and the first Brutale in 2000," he says. "This is the first MV you can have as a first bike. Normally, an MV is a second bike that people buy for their emotions at the weekend."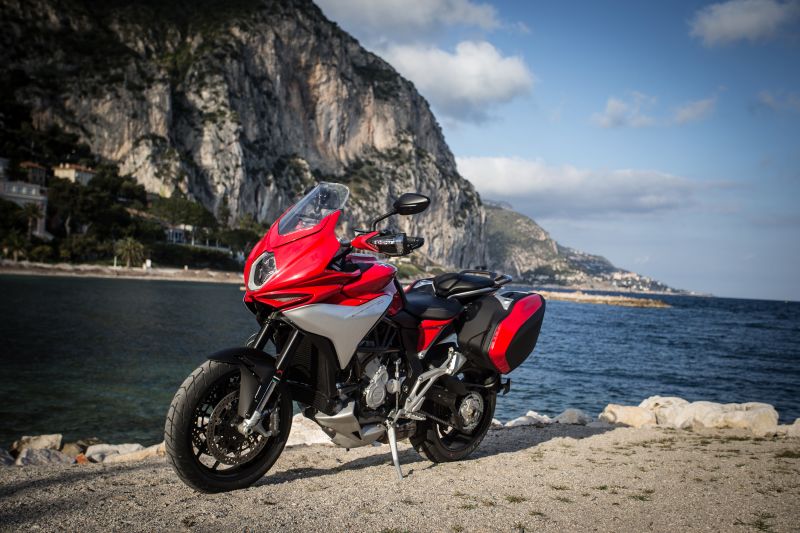 The "Fast Touring" is MV's first-ever sports-tourer, and represents the beginning of a new two-wheeled family that is a big part of the Italian firm's plans for further expansion. With its 798 cc, DOHC three-cylinder engine and a main frame made from steel tubes and aluminium sections, it shares its layout with the existing triples. But it's designed to be different, with a half-fairing and adjustable screen, upright riding position, and as much emphasis on comfort and practicality as on performance
There's another respect in which the Turismo Veloce is unusual, because its engine produces less power than the Brutale 800 unit on which it's based. However, although the Turismo's peak output of 110 PS is well down on the 140 PS of MV's sportiest triples, it's still a very respectable figure for a bike that weighs just 191 kg dry, and has a substantial increase in mid-range torque.
The 12-valve motor shares its dimensions and contra-rotating crank with the other three-cylinder models but has softer cams, new pistons, a revised intake system and a new exhaust whose trio of stubby silencers are angular in cross-section and quieter in sound. The Turismo Veloce has the hydraulic clutch first fitted to the recently released Stradale, and adds a mechanical slipper clutch plus a quick-shifter that works on both up- and down-changes.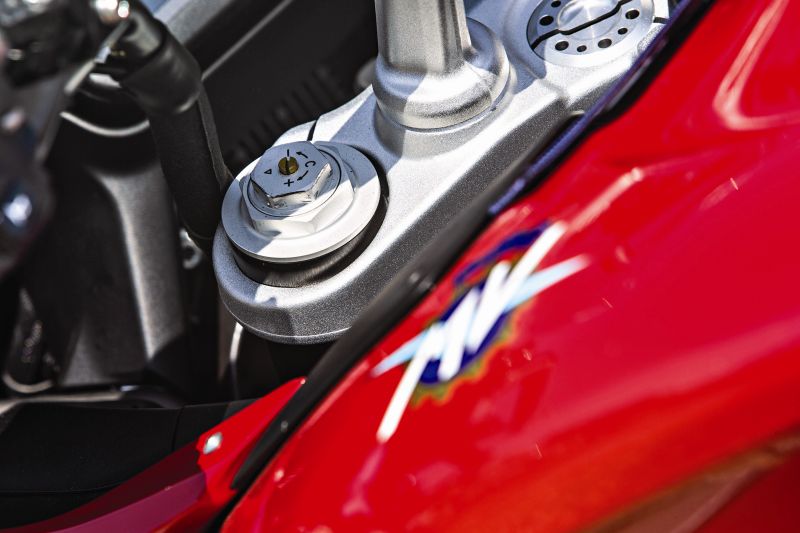 Although the main frame is shared with previous triples, the Turismo has its own rear subframe: a lightweight structure, made from two aluminium pieces, that not only holds the seat but incorporates substantial pillion grab-handles and the distinctively shaped panniers that are an integral part of the design, and tuck in so well that they're narrower than the handlebar.
Mind you, at 900 mm the slightly raised, one-piece handlebar is pretty wide, combining with the short fuel-tank to give a very upright riding position, and with the bike's light weight to make it seem much smaller than most sports-tourers. Foot-rests are low enough that there's plenty of legroom, although being very tall I found my legs splayed out slightly because my knees didn't fit in the tank's cut-outs in the way that normal height riders' legs did.