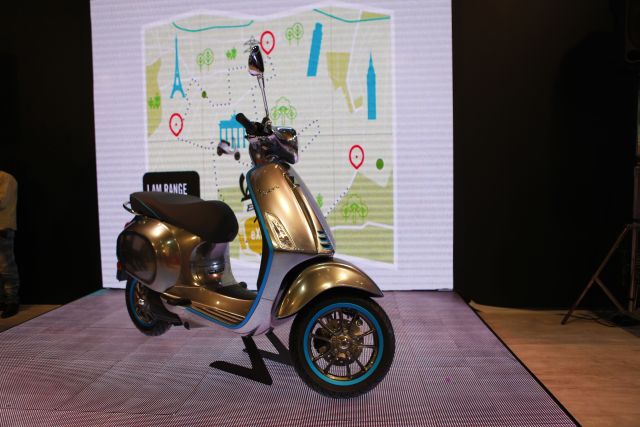 We recently did a story about the launch of the Vespa Notte 125, the Piaggio Group's most affordable scooter yet; you can read that story here: https://bikeindia.in/vespa-notte-cheapest-vespa-scooter-in-india-launched/. The news today is that the Italian marque has now announced that they will soon begin production on the Vespa Elettrica, an electric scooter that will take the iconic Vespa design into the future.
Piaggio had earlier promised that they would start production of the Elettrica by late 2017, a deadline that is long past, but the latest reports suggest that production will start later this month. Sales are expected to kick off in Europe, before the model is introduced to the United States and then Asia, and we will hopefully see this Italian electric on Indian roads.
The Elettrica will be powered by an electric motor rated at 4.0 kW (5.4 PS) of peak power with 2.0 kW (2.7 PS) of continuous power on tap, with a decent amount of torque as well, we expect. Expect two riding modes — 'eco' and 'power', as well as a reverse mode to help with getting out of tight parking spaces. Range is expected to be in the region of 100 kilometres, and the scooter will be equipped with an on-board charger to ease charging on the go. The full TFT dash will pack in all the info a rider may need on the go, and the scooter will also feature smartphone connectivity for a bit of added convenience.
Vespa have also mentioned that a hybrid 'X' model is also in the works, which will use a conventional petrol engine as well as a battery pack, and use the engine as a generator to charge the battery back on the go. The hybrid model is expected to push range up to 195 kilometres; 145 on just the petrol motor, and another 50 on electric power alone. It must be noted here that the hybrid model gets a smaller battery pack, to make room for the engine.