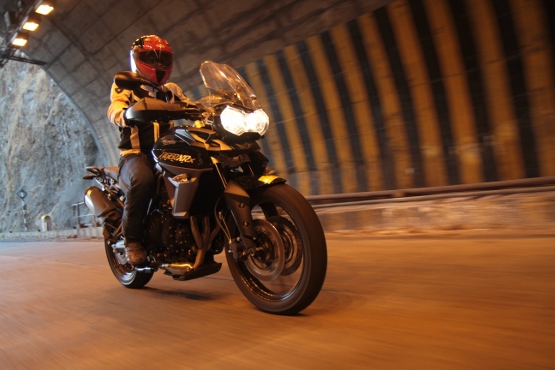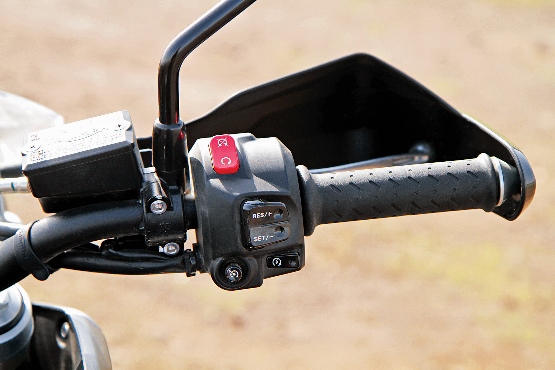 Take a moment, familiarise yourself with all the controls on the bike. Apart from the engine kill switch and the starter button, there are a few buttons on the right also, for cruise control. And a couple on the left — in addition to the horn, indicators and passing light — for scrolling through the information on the digi-analogue instrumentation that is tilted at a rider-reader-friendly angle. Then fire her up.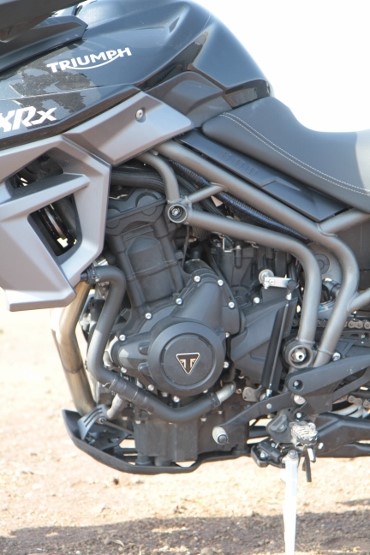 What greets your ears is a high-pitched whine from the liquid-cooled, 12-valve, DOHC, 800-cc in-line triple-cylinder engine. Max output from the unit is 95 PS, which comes in at 9,250 RPM, and 79 Nm at 7,850 RPM, which is plenty for touring across the length and breadth of the country, if you ask. We can tell you with some authority that crossing the 160 km/h marker isn't tough and you can cruise at 120-130 km/h pretty much all day (so long as the road conditions permit, of course). Transmission is via a six-speed gearbox that slots in with a nice positive click. What is amazing is the amount of bottom- and mid-range that the bike sports. At one point on the ride to the photo shoot, the bike picked up cleanly from just over 40 km/h in sixth! That indicates that overtakes on the highway will mostly be accomplished by a twist of the wrist without any requirement for downshifting on most occasions.
The other noteworthy thing about the Tiger (and this applies to both the XRx and the XCx) is the addition of ride by wire on the new bike (the previous Tiger 800 XC we rode last year did not have this). On the new bike the throttle action is effortless and you can practically roll the throttle open using just your thumb and index finger. It has also made the power delivery more linear than before. There are seldom any sudden rushes of power that might catch you unawares. While some might think that this will rob the bike of a certain degree of excitement, on the plus side this superbly linear delivery makes the bike extremely easy to ride and adds heaps to rider confidence.