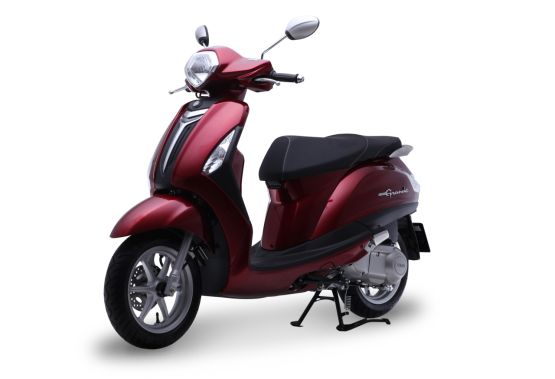 India Yamaha Motor is currently focussing on the fast growing scooter market in the country, and the Japanese manufacturing behemoth is all set to launch a premium 125cc automatic scooter in India. Even thought the company's Ray, Ray Z and Cygnus Alpha scooters have acquired a respectable share of the market, all three of them are powered by the same 113cc engine.
Meanwhile, the scooter market has expanded into the 125cc segment and has multiple players, and Yamaha are playing catch-up. They're working on a 125cc scooter and are all-set to enter the market by July 2015. It will be a premium offering based on the 125cc Nozza Grande variomatic scooter launched by Yamaha in Vietnam last year. Test mules have been spotted in India and the variations in styling of the Indian version of the scooter are clearly visible. However, it will retain the retro-modern design theme and proportions of the Nozza Grande.
The scooter will get a new name in India and unlike the Nozza Grande, fuel supply to the 125cc air-cooled engine may be managed by a carburretor instead of an electronic fuel injection system in order to keep the price competitive. The engine will incorporate Yamaha's 'Blue Core' technology and a variomatic transmission, and we're hoping it makes 10PS or more.
Pricing of the new Yamaha 125cc scooter is expected to be around Rs 60,000 ex-showroom and a front disc-brake will add another Rs 6-8,000 to the price. It will be manufactured at Yamaha's new plant in Chennai and media reports suggest that the company will produce 1,20,000 units of the scooter annually.