Most riders come back from a ride and just hang their gear to dry, hoping the moisture and the smell will just disappear. Some plan to clean it later, but forget about it when they get caught up with other activities. What if there was a quicker alternative?
This is where the Muc-Off Foam Fresh comes in.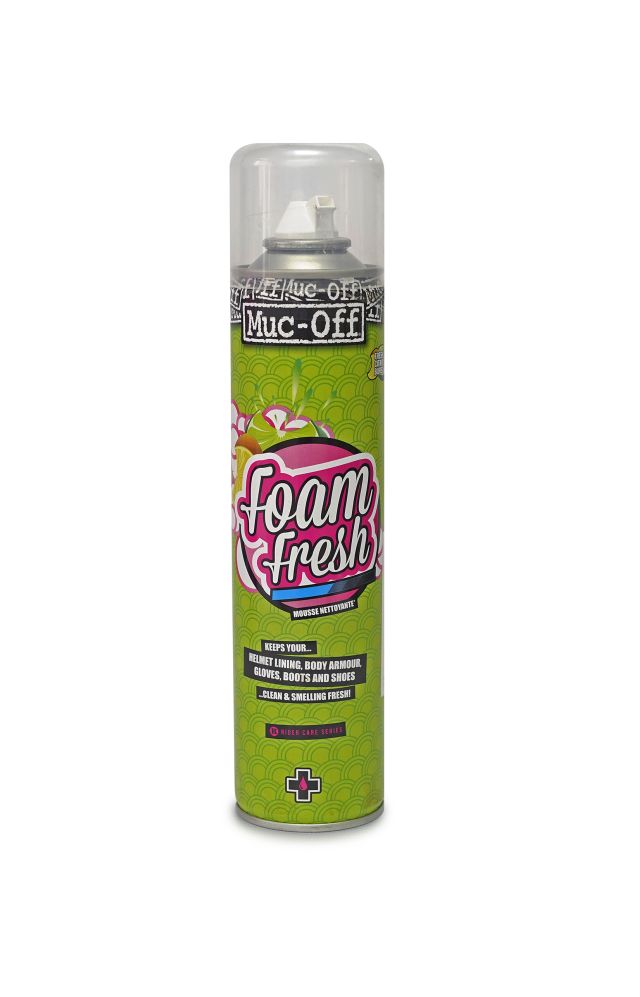 The Muc-Off Foam Fresh is a foam cleaner that is retailed by Big Bad Bikes, India. It is specifically designed for use on helmets, shoes, and any soft or sensitive material like leather or carbon-fibre, that comes in contact with a rider. According to the manufacturer, this product is perfect for getting rid of nasty odours and bacteria that can build up in riding gear over time. So we decided to test it out using a helmet that had been lying unused for some time.
The first step was to give the helmet a basic cleaning. We removed the liners which had dirt stains and a musky scent, and proceeded to spray the foam all around it as per the instructions on the bottle. We must admit, it was quite fascinating to see the liners foaming. The rest of the instructions said to just let it soak and dry. This is when the foam agitates all the dirt and grime on the surface. The excess foam just needs to be simply wiped away using a cloth, leaving behind a fresh citrusy fragrance.
Our observation was that the Muc-Off Foam Fresh was able to eliminate most of the odour instantly and some of the stains were removed after a good rub with a cloth. The foam was easy to apply and did not leave behind any residue. The liners now look much cleaner than they did before. We also noted that the Foam Fresh has a strong scent, which can be overpowering for some. However, we also found out later that the fresh scent doesn't last long as it ideally should have, especially for a 400-ml bottle that is retailed for Rs 840.
Overall, the Muc-Off Foam Fresh appears to be a highly effective and easy-to-use product for keeping your riding gear fresh and clean. If you're in need of a solution for getting rid of unwanted odour on your gear, Muc-Off's Foam Fresh is worth considering.
Story: Alshin Thomas
Also read: Clan FRML 1.0 Riding Shoes Product Review