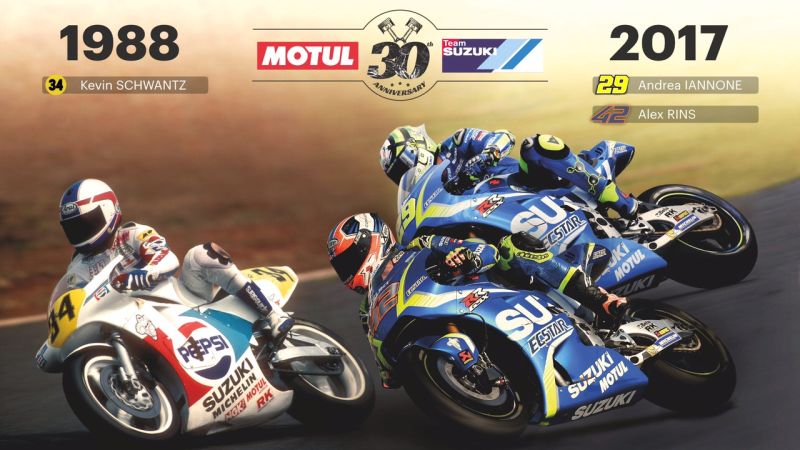 The upcoming race weekend at the Twin Ring Motegi, Japan, will mark 30 years of partnership between Motul and Suzuki at the pinnacle of motorcycle racing. The French lubricant manufacturer and the Japanese two-wheeler giant began paving their road to MotoGP back in 1988. Back then, the highest form of racing was the 500-cc Grand Prix World Championship.
The partnership has borne fruit to a whole line of racing-inspired lubricants from Motul called 'Factory Line'.
Since 1988, these two brands have been tackling year after year of Grand Prix motorcycle racing, accumulating experience and expertise side by side. They claimed the championship twice during the past 30 years, once with Kevin Schwantz (1993) and once more with Kenny Roberts Jr (2000). Apart from that, they have also had 39 victories. The most recent win was claimed by Maverick Viñales during the previous season, before he shifted to Movistar Yamaha.
In the current season, the Ecstar Suzuki team is represented by Andrea Iannone and Alex Rins.
Commenting on the milestone, Masahiro Nishikawa, Executive General Manager, Motorcycle Operations, Suzuki said,"Suzuki Motor Corporation is proud to have enjoyed such a long and mutually beneficial relationship with Motul. A 30-year partnership with one single technical partner in the rapidly developing world of Grand Prix motorcycle racing is an extraordinary achievement for both companies."
Adding on to what Nishikawa said, Hervé Amelot, President, Managing Board, Motul said,"Motul is extremely proud of the very special relationship it has with Suzuki, one of the world's best known and most successful manufacturers. What has been achieved in MotoGP has been the result of a great collaboration over 30 years which is focussed around communication, vision and an endless pushing of the boundaries of technology. We look forward to many more years working together, and will enjoy celebrating this anniversary with Suzuki!"
Story: Joshua Varghese