Honda, being one of the greatest motorcycle manufacturers in the world, were super-quick to read the writing on the wall. Rather than continuing to try to save face by offering excuses that it was the shortcomings in riders' skills that were responsible for the poor reviews, Honda applied a serious redo and the result was a 28-degree steering angle that pulled back the trail to 4.5 inches, while it retained the slightly longer wheelbase, thus transforming the CB 750 Super Sport in to a true Super bike. In fact, it was often described as fast, fun and safe; high praise for any motorcycle, considering that it includes every attribute that describes a motorcycle's desirability.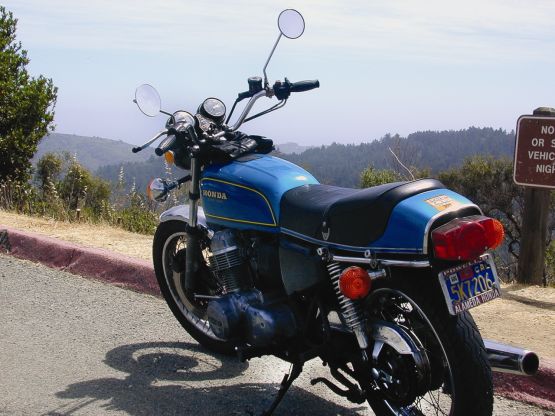 In fact, the present writer can personally attest to having grounded the rather large diameter exhaust system on numerous occasions with relative ease on right-hand corners, much to the dismay of the bike's owner.
Present-day large-capacity motorcycles have evolved and developed to the extent that they may not bear much resemblance to the CB 750 in terms of power output and fully faired race-bike mimicry, but look hard beyond the exterior at the true DNA and you will surely recognise the heartbeat of the CB 750, albeit shrouded in a water jacket, maybe incorporating twin camshafts instead of just one, and an extra pair of valves per cylinder to complement the fuel delivery system, injected instead of carburetted, and electronic ignition instead of the twin contact-breaker points that provided the sparks to ignite the charge in the CB 750's cylinders.
However, by the dictates of natural evolution, nothing stagnates. What stands out is that the CB 750 Super Sport was clearly the first instalment in what was to be a focused and continued development process for not just Honda motorcycles. Sport bikes from every major motorcycle manufacturer around the world have been influenced to some extent by the blueprint that Honda R&D penned for the CB 750 Super Sport.
And if this doesn't qualify it without reservation as a Modern-day Classic, then I don't know what would.